Red Bull Racing Formula 1 driver Sergio "Checo" Pérez came in third at the Austrian Grand Prix on Sunday, overcoming an awful qualifying session on Friday and narrowly avoiding a time penalty in the feature race after rivals Aston Martin appealed to the governing body, FIA, protesting the Mexican pilot's performance.
The race at the Red Bull Ring in Spielberg, Austria, saw the Netherlands' Max Verstappen continue his domination of the 2023 season, taking a seventh victory this year. Teammate Pérez, however, was the one who sparked discussion after the race.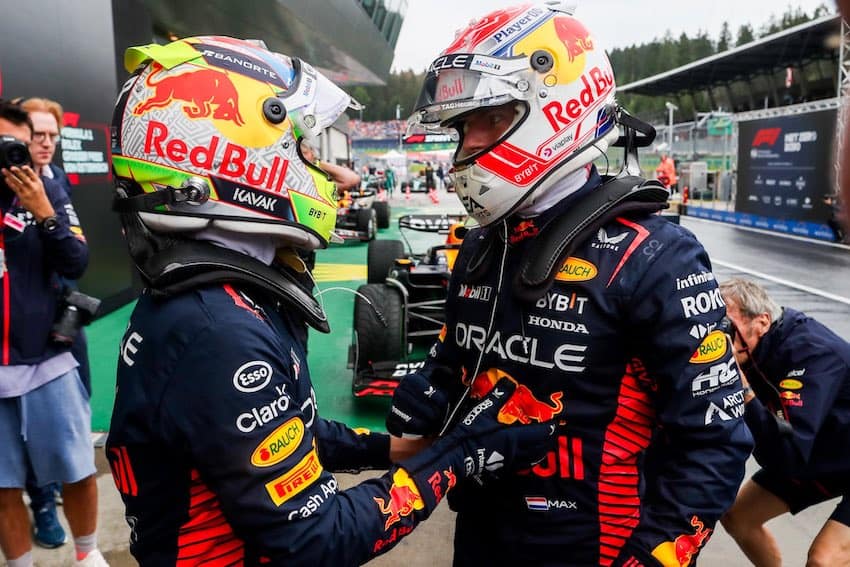 All the Guadalajara-born driver's qualifying session laps were deleted for track limit infringements, forcing him to start 15th. It was the fourth straight qualifying session in which Pérez has classified outside the top 10 as an early title charge has faltered in mid-season.
Track limits refer to the area surrounding the curbs at each corner of the track. Due to the high downward aerodynamic force of modern F1 cars — known as downforce — they are able to use small areas of the runoff behind each corner to maintain their speed — something the FIA is trying to prevent through issuing time penalties.
Pérez's daring performance in Saturday's short-form sprint race — which saw no track limit infringements on his part — saw him finish second, even briefly snatching the lead from Verstappen. 
After the Dutchman took the checkered flag, Verstappen expressed his annoyance with Pérez to the team, calling his audacious overtake at the first corner "really not OK," suggesting that it had been a dangerous move, and telling F1TV that they "had to have a chat about it."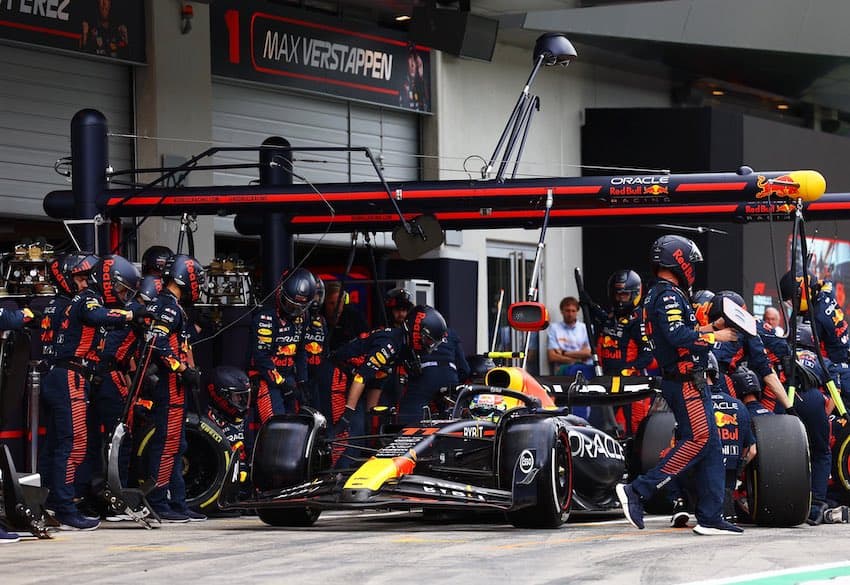 However, he later told the Associated Press later that he and Pérez had already settled the issue. 
In Sunday's feature race, Pérez struggled to recapture his spark from the previous day and finished third, behind winner Verstappen and Ferrari's Charles Leclerc.
The Aston Martin team of fifth-placed Fernando Alonso protested the final race result, claiming several drivers who finished ahead of the veteran Spaniard had failed to respect the track limits and should have been penalized as a result.
Ultimately, Pérez escaped a penalty, though several other drivers — including seven-time world champion Lewis Hamilton — were not so lucky. Frenchman Esteban Ocon saw a 30-second time addition as a result of four separate track limit breaches.  
Pérez remains the only other Formula 1 driver besides Verstappen to win races this season, and his two victories ensure that he remains second in the table as the championship heads to the United Kingdom for the British Grand Prix at Silverstone this weekend.
Mexico News Daily