United States prosecutors have requested that a judge dismiss Mexico's former security minister Genaro García Luna's statements on the grounds that they contain misleading information.
García Luna is set to stand trial in Brooklyn, New York on Jan. 9. 
García Luna, security minister under former president Felipe Calderón from 2006 to 2012, was arrested by U.S. authorities in Texas in 2019 on charges that he colluded with the Sinaloa Cartel. He is accused of drug trafficking and accepting multimillion dollar bribes.  
Following his arrest, García Luna presented documents by high-ranking U.S. officials, including Robert Mueller and Hillary Clinton, which he had used previously to support his 2013 visa application.
In a letter to Brian Cogan, the presiding judge, the prosecutors are requesting the dismissal of the testimonies praising García Luna, as they believe they could mislead the jury. 
"The fact that the defendant received such praise and courtesies in his capacity as a high-ranking official of the Mexican government has nothing to do with the question of whether the defendant accepted bribes and conspired with the Sinaloa Cartel," the letter reads. 
"The defendant tries to humanize his case with these arguments, when at the same time that he met with U.S. officials he continued to conspire with the Beltrán Levya brothers faction of the Sinaloa Cartel to traffic drugs to the United States." 
Prosecutors claim that introducing these elements to the court would be misleading because they suggest that the U.S. officials who praised García Luna would have already investigated him, concluding that he was not corrupt.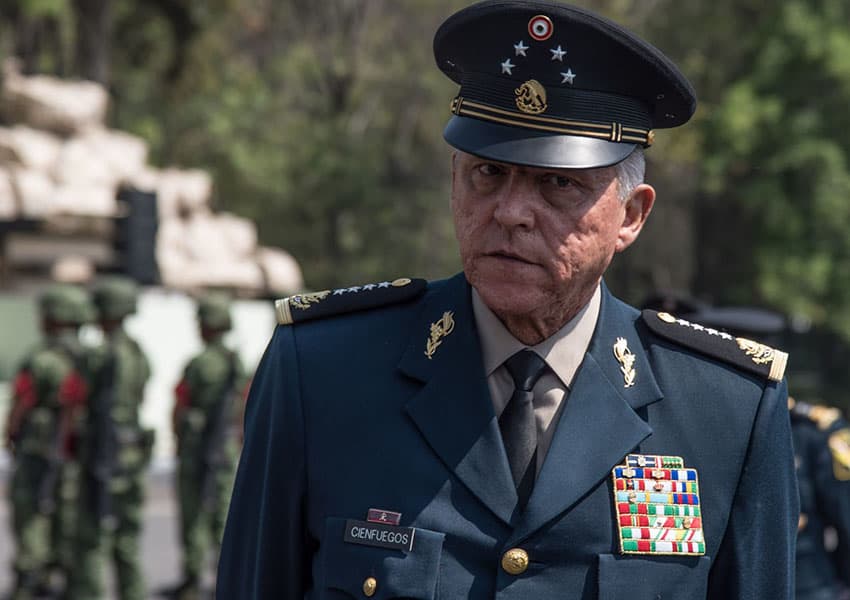 The prosecutors note that if García Luna's defense presents other evidence related to U.S. officials, that they should be called to testify and should be subject to cross-examination. 
They also seek to exclude arguments related to the case of former defense minister Salvador Cienfuegos.
U.S. authorities arrested Cienfuegos in October 2022, but dropped the charges and allowed him to return to Mexico. 
"In November 2020, the United States Attorney General (William Barr) requested the annulment of the charges against Cienfuegos. The United States Government's dismissal of the crimes against another Mexican official (García Luna) is irrelevant, since it is a different case. The government, with all due respect, asks the Court to extend its priorities so that the proceeding against Cienfuegos is not mentioned," the prosecutors said. 
On Dec. 15, during President López Obrador's morning press conference, Deputy Security Minister Ricardo Mejía Berdeja exhibited the extensive criminal structure that operated under García Luna, underscoring the range of criminal collusion by high-ranking government officials. 
García Luna is expected to plead not guilty. If he maintains his innocence but is found guilty, he could face a minimum sentence of 20 years and a maximum sentence of life in prison.
If he pleads guilty and accepts the prosecutors' offer to be a cooperating witness, he could be sentenced to only about seven years in prison in exchange for incriminating others for drug trafficking.