On International Women's Day, a 28-year-old haul truck driver at Mexico's largest gold mine provides a shining example to young girls everywhere that nothing is beyond their capabilities.
Five years ago, Yazmín Morquecho Robles decided to go to the Peñasquito Mine in Mazapil, Zacatecas, to ask for a job.
She was offered a position as a driver inside the huge open-pit mine but despite never having driven a vehicle of any type — and being told by some men that the job "wasn't women's work" — she decided to take up the offer.
Now she is a highly proficient operator of a massive Komatsu 930E that is capable of moving up to 500 tonnes of material at a time.
Even though it's more than eight meters wide, almost eight meters high and 15 meters long — and despite measuring just 1.54 meters tall herself — Morquecho refers to the humungous vehicle as "mi camioncito," or my little truck.
However, that's not the only pet name she has given to the vehicle.
Shortly after starting her job, Morquecho recalled, she decided to dub her truck Camilo, telling the newspaper El Universal that a horse owned by her father shared the same name and in order to calm it down, he would say: "Tranquilo, Camilo."
When she was driving the Komatsu on a rainy day and felt the four-meter-high tires slipping on the wet surface as she descended the face of the mine, she suddenly found herself saying: "Tranquilo, Camilo."
She managed to regain control of the vehicle and from then on, the name stuck.  Now, Morquecho not only considers "Camilo" an excellent work partner, spending up to 12 hours a day inside the vehicle, but also a companion.
It's not unusual for her to chat to the truck to get problems off her chest or simply to make the day go faster.
Morquecho told El Universal that the opportunity to work as a haul truck driver at the mine owned by the Canadian firm Goldcorp Inc. had enabled her to earn a good salary and achieve her dreams while also helping her parents.
She also said the job makes her happy and after appearing in a company magazine, she received an invitation from Komatsu to travel to a company factory in the United States.  She hopes to make the trip later this year.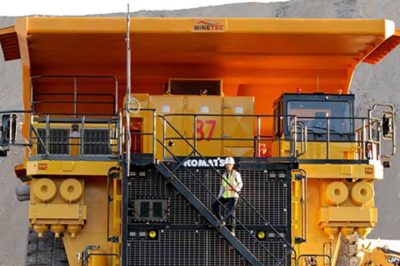 Despite some initial trepidation, Morquecho is now well and truly convinced that women can make excellent miners.
"Before it was thought that this trade was only a man's job; there was an idea that if a woman went into a mine . . . there could be disasters," she said.
But now "women have shown that we can do heavy work," the miner added.
Source: El Universal (sp)