Authorities in at least two states have announced that people will be required to show proof of vaccination against Covid-19 or a negative test result to enter public places such as restaurants, bars and shopping centers.
Mazatlán Mayor Luis Guillermo Benítez Torres said citizens must carry their vaccination certificates with them when they are in all public places, while Quintana Roo Governor Carlos Joaquín said people won't be permitted to enter such places unless they can prove they have been vaccinated or recently tested negative to Covid-19.
Benítez said the rule will take effect in the Sinaloa resort city on Saturday, a day after the vaccination campaign to inoculate people aged 18 to 29 with a first dose of the Sinovac vaccine concludes.
"To stop this pandemic in its tracks, … starting Saturday we're going to demand that all citizens carry their vaccination certificate against Covid in order to go to any public place," he said, adding that the aim of the measure is to encourage people to get vaccinated.
"A lot of people are not wanting to … get vaccinated and they are partly responsible for this [pandemic] continuing; it's proven that the vaccine works," the mayor said.
Sinaloa is currently the only maximum risk red light state in Mexico and Mazatlán ranks third among its 18 municipalities for active cases with more than 500. Only the state capital Culiacán and Ahome in the northwest have more.
Benítez said people aged over 30 who didn't get vaccinated when shots were offered to their age group will have another opportunity to do so. He also reminded Mazatlán residents that the use of face masks is compulsory in public places.
In Quintana Roo, Governor Joaquín said Saturday that businesses must make proof of vaccination or a negative result from a Covid-19 test performed in the past 72 hours a condition of entry. The same rule – which took effect Monday – applies to staff, he said.
A worker at the Las Tiendas shopping mall in downtown Cancún said Sunday that the rule hadn't yet been enforced but would be.
"I couldn't tell you from when but those who are not vaccinated won't be able to come in," a woman identified only as Ruby told the news website Por Esto!
"We predict our sales will decline between 50% and 80%," she said.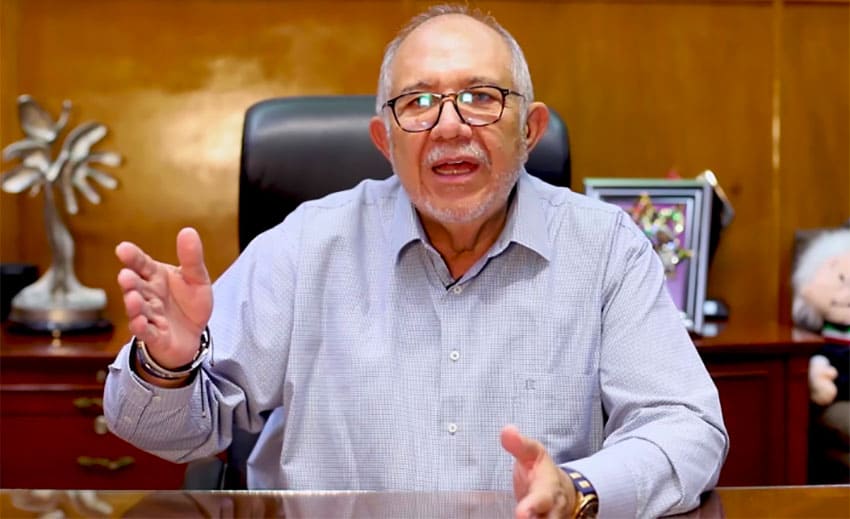 Jesús Ayala, who owns a business in the mall, acknowledged that the rule will have to be enforced because it's a state government order. Sales will fall but "health comes first," he said.
A security guard at the same mall told Por Esto! that the proof of vaccination/negative test requirement for entry would take effect by Tuesday at the latest. He also said that a rapid testing station with the capacity to perform 200 tests per day would be set up outside the shopping center.
Quintana Roo, currently high risk orange on the stoplight map, is one of several states that have seen a recent increase in case numbers as the highly contagious Delta strain of the coronavirus takes hold in Mexico.
Joaquín also reminded businesses that they must adhere to 50% capacity limits and restaurants and bars must close by 12:00 a.m. while the orange light risk level remains in effect in the Caribbean coast state. Any establishments flouting the rules will be sanctioned, he said.
"The objective is to save lives and achieve a balance with the recovery of economic activities," the governor said.
Meanwhile, the number of active coronavirus cases across Mexico remains above 100,000, according to Health Ministry estimates, a level on par with the number of active infections at the peak of the second and worst wave of the pandemic at the start of 2021.
The Health Ministry reported 5,920 new cases on Monday and 171 additional Covid-19 deaths, lifting the accumulated totals to 2.75 million infections and 238,595 test-confirmed fatalities.
An average of 9,045 new cases per day were reported in the first 26 days of July, a 157% increase compared to the daily average in June. This month's average daily reported death toll – 213 – is 33% lower than the average in June, an indication that vaccination is saving lives.
Almost 60.9 million vaccine doses have been administered in Mexico since the first shot was given on December 24 and 47% of the adult population has received at least one dose, the Health Ministry said Monday. However, some states have much lower coverage rates.
To address that situation, President López Obrador announced Monday that vaccination would be ramped up in the five states with the lowest rates: Veracruz, Puebla, Guerrero, Chiapas and Oaxaca.