For those frustrated by long lines at Oxxo, here's some good news: Mexico's largest convenience chain has opened a cashierless checkout branch in Monterrey where customers simply enter the store, select their products and leave.
The first location of an Oxxo Grab & Go store is the "only one of its kind in Latin America," according to the company, and is aimed at consumers who want to "make life easier" and save time.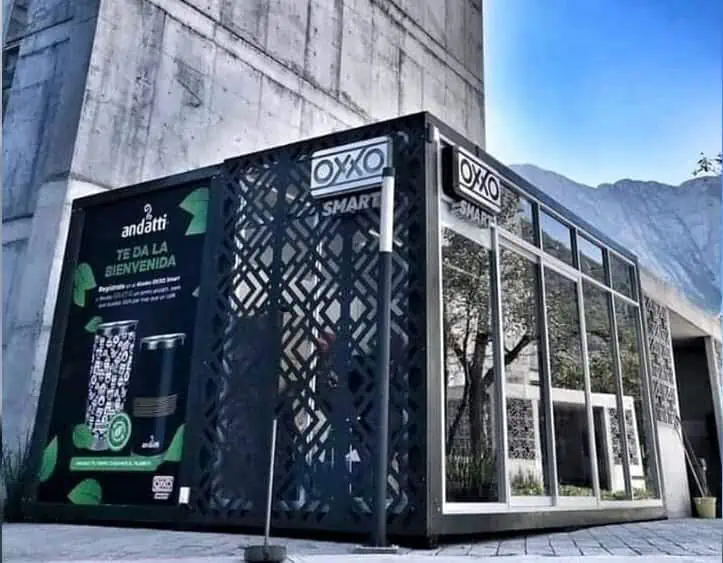 Here's how the digital branch works. First, the customer must download the free mobile app "Oxxo Smart Tec Grab & Go" onto their phone, register their data, and enter account information for a credit or debit card.
After that, a QR code will be generated, which the user will scan when entering the Oxxo Grab & Go. (Remember, there is only one so far — on the main campus of the Tecnológico de Monterrey in Nuevo León.)
From there, the customer will shop as normal, gathering items from shelves, counters and refrigerated cases. But instead of taking them to a cashier, the person will simply head for the exit, and as they leave, the camera and technology system will automatically total up the products and send the customer a receipt on their phone. There is no need to scan barcodes from any of the items.
"Through Grab & Go, we seek to offer a unique shopping experience, driven by technology that is replicable and relocatable in universities, plazas and parks," said Ricardo Leyva, director of transformation and strategic planning at Oxxo.
Grab & Go locations could also work in hospitals, apartment complexes and office buildings, Oxxo said in a statement.
"The concept is in the evaluation stage through a test in the city of Monterrey, to analyze its feasibility and performance," Oxxo added.
The store in Monterrey that opened on Feb. 10 is part of a new format called Oxxo Smart that was launched earlier this year by Mexican company Femsa, the retail and bottling giant based in Monterrey. Among its holdings, Femsa controls the largest independent Coca-Cola bottling group in the world and operates the Oxxo chain.
Femsa has been busy in the last week or so, divesting its stake in Heineken beer, saying it's going to continue at its current rate of opening 800 to 1,000 Oxxo stores a year in Mexico and announcing that it's going to take another stab at opening Oxxo stores (as many as 900) in the United States.
And in a call with analysts on Friday, Femsa officials indicated that the company will ramp up its focus on its core businesses and invest US $1.7 billion in them in 2023.
"Most of that investment will be in the convenience division, as we continue to expand stores, and there will be increased investment in [the bottler]," said Eugenio Garza, Femsa's chief financial officer.
Earlier, Femsa reported a 28% decline in its fourth-quarter earnings compared to the same period in 2022, due in part to foreign exchange losses stemming from a strengthening Mexican peso, Reuters reported.
Two years ago, Oxxo began testing self-service kiosk outlets in shopping malls where people could do self-checkout (paying by credit or debit card) and make payments on water, phone and cable bills.
"Grab & Go is one more innovative element that is part of the Oxxo Smart stores, a concept that seeks to offer products and services in customizable formats," said Lucy González, director Canal Tradicional de Oxxo. "With this proposal, we want to fulfill our mission to simplify the lives of our clients and collaborators, creating memorable experiences."
Not having to wait behind eight other people when you just want to buy a bag of ice in Zihuatanejo — that will be a memorable experience!
With reports from Expansion and El Financiero