This month, my sister, niece and I had the honor of being invited to the quinceañera party of my husband Alex's godchild, Valeria. I already knew that it is a rather elaborate rite of passage for girls in Mexico, and I did a little research before going, but I still found the experience both moving and, shall we say, peculiar. 
At its core, it is the coming-of-age for teen girls. Nothing weird about this as many cultures have something similar for teens, like bar/bat mitzvahs and high school proms. The closest event to it north-of-the-border is the Sweet 16 party, which I understand from my U.S.-based sister, is making something of a comeback there.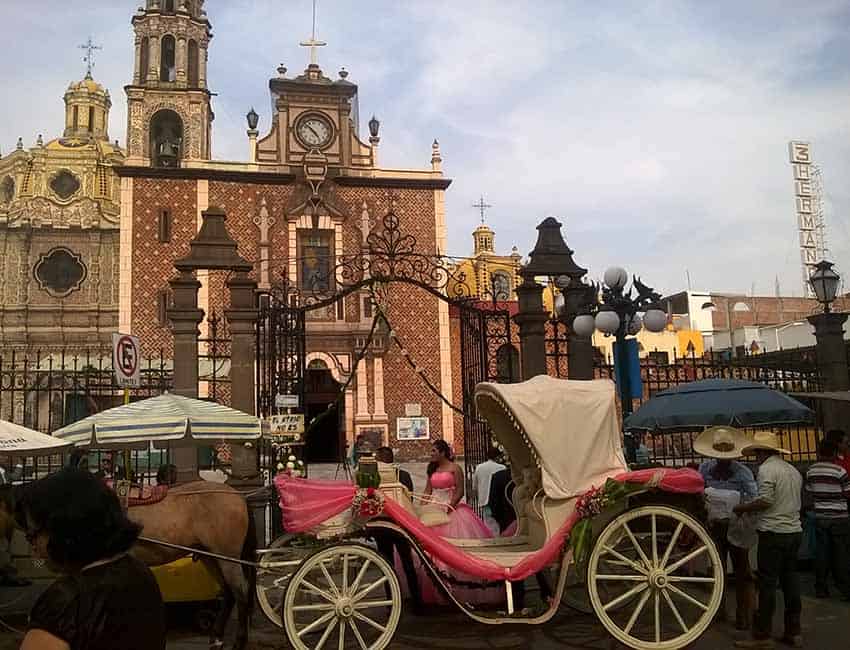 Quinceañera literally means "of 15 years." In this case, it refers to a girl who turns 15 years old.
The term for the celebration used to be la fiesta de quinceaños (the party for turning 15) and the girl was known as the quinceañera, but with exportation of the tradition to the U.S., where the term quinceañera got conflated into both the girl and her party, the double usage has migrated back to Mexico, and it's not uncommon to hear the party referred to as a quinceañera here as well.
Although the ritual has claims of pre-Hispanic influence, the celebration likely dates back no further than the 19th century, probably based on European debutante balls. 
The original purpose was the same as the debutante tradition: to present an upper-class girl ready for marriage to her society and find her the best match possible. 
In the quinceañera's earlier history, the traditional included a Catholic mass, where the girl announced her virginity and piety, as well as the the ball, where she demonstrated her physical and social fitness to become a wife and mother.
Changes in women's roles since the 20th century have certainly had an effect, but the main elements remain the same. The mass is now held to give thanks that the girl has reached this milestone, no sexual declarations needed.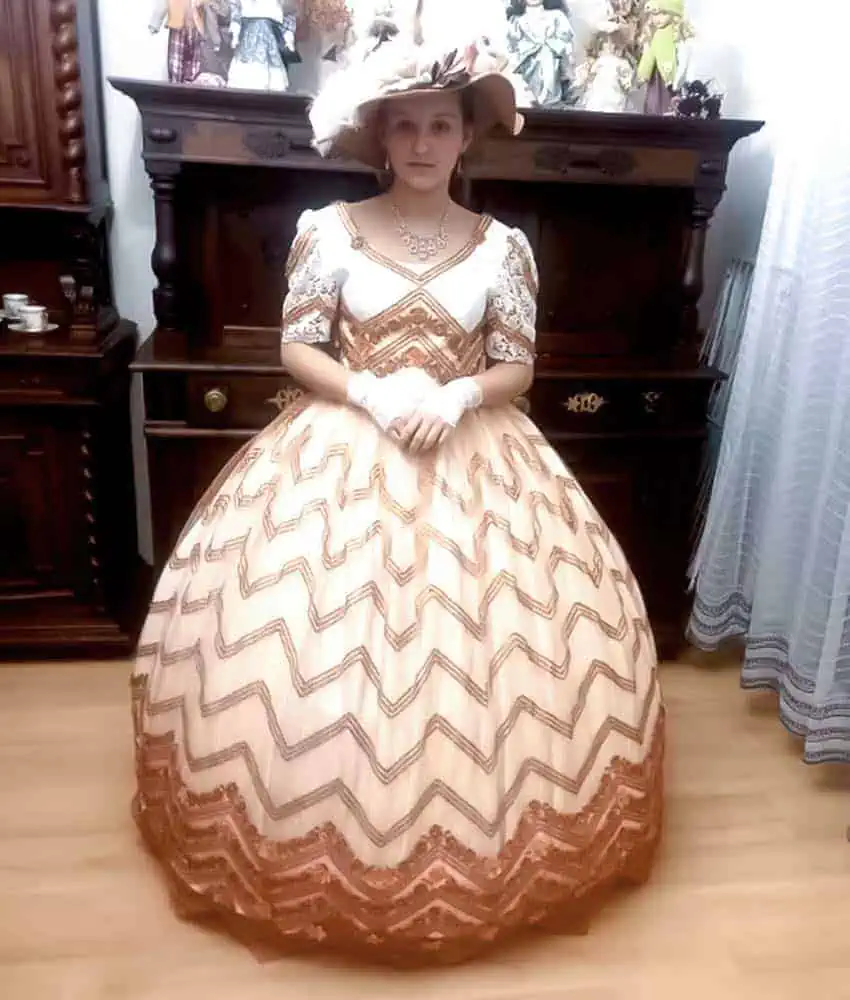 These days, the girl still dresses in a very formal gown and is accompanied by several young men in matching formal attire called chambelanes. It still contains many of the elements of a wedding: a rented hall, a cake, a banquet, limousines, photographers, flowers.
The rituals during the night include the dancing of a waltz by the girl and her father and, depending on the family and/or region, with other male family members and/or with one of the chambelanes. 
The father also gives a heartfelt speech and leads a toast to the new woman in society. 
There is one other important dance, or more accurately show. The girl changes the gown for a modern, often revealing, outfit to perform a dance number with her chambelanes, something they practice for weeks in advance. The celebrant is the star of the show, and she returns to the gown afterwards. 
The gifting of a doll (or some kind of toy) is an important rite as well. Depending on the family and region, the celebrant gives one away to a younger girl or receives a special one as a "last toy" before adulthood.
Valeria's quinceañera ball had all of the main elements, but there were some unique twists: The main one was that the family opted for a package deal with the dance hall, which included just about everything except alcohol, the dress and the mass (which she opted out of).
It meant her chambelanes were not her young male relatives and friends, which is traditional, but professional dancers, and she starred in several "shows" in both her ball gown as well as other outfits.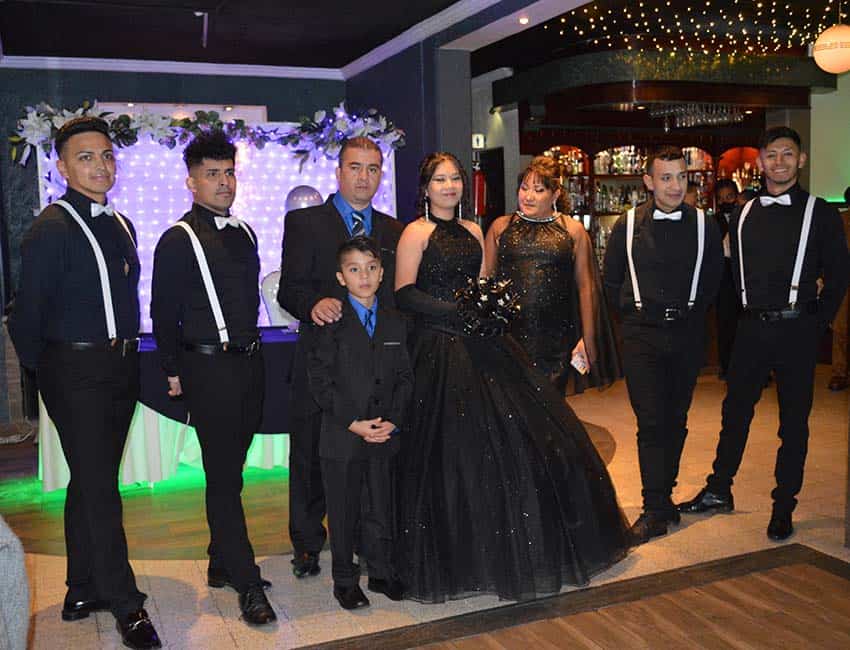 But, you might ask, isn't it all expensive?  Absolutely, especially when you consider the girl's future wedding. In 2019, the El Peso de Dinero website estimated that quinceañera events cost on average 137,000 pesos (about US $7,000), although that figure can be significantly higher. 
Cost and modern values have put pressure on the tradition, since a good marriage no longer has the same economic importance to the young woman and her family. Traditionally, the cost of this event is borne by parents and godparents, but this is difficult for most families.
My husband and Valeria's godfather Alejandro gladly contributed, saying, "I am like a second father to her, and part of her next step in life." 
Modern adaptations can include scaling the event down and the integration of modern trends. 
Gown colors and styles now vary widely, and invitations are now videos shared through email and WhatsApp. Valeria's "shows" had outfits and moves to imitate the sexuality of popular music videos, something I was (somewhat) prepared to see her do — although to me, she will always be a baby.
I had a much harder time with the dancer in a stormtrooper costume gyrating next to her like a stripper. 
That said, my sister, niece, husband and I all teared up more than once during the night, as we and others had chances to show Valeria just how special she is.
One significant change to the quinceañera rite of passage in the 20th century was the extension of its popularity to the lower classes in Mexico, with just about all families now marking the occasion somehow. Many poorer families use a system of padrinos and madrinas to help them afford it — not literal godparents but volunteers who offer to pay for some aspect of the event.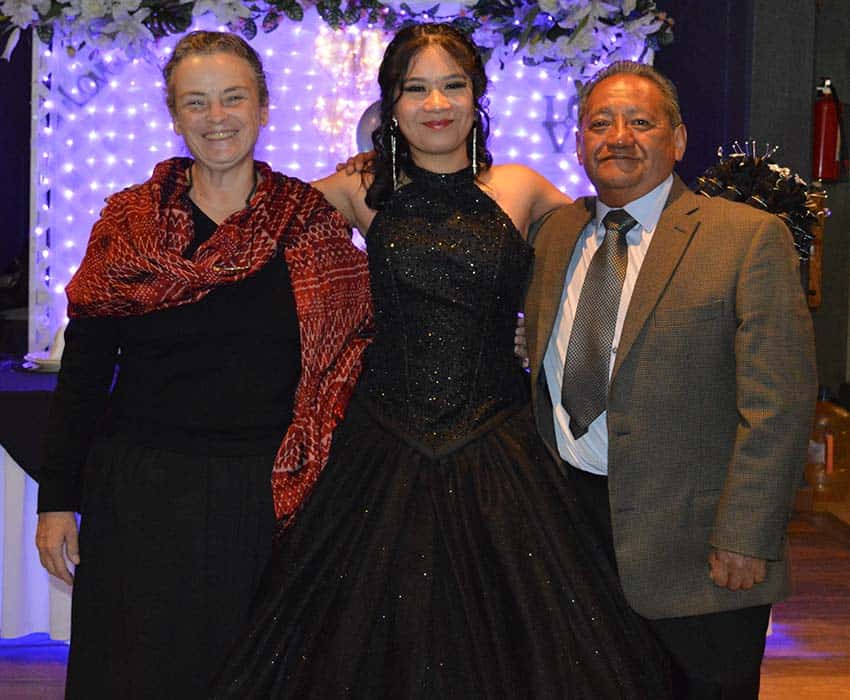 As my sister Joanne and I have known Valeria for years, we happily volunteered to be the madrinas of the alcohol, even though it was a new concept for us.
OK, full disclosure: it was Joanne's idea.
Alex, as her true godfather, bought the formal gown, but since the rest was a package, the other contributions were done in cash rather than through purchases.
The migration of quinceañeras to all the social classes has actually made them passé with girls of Mexico's upper classes, with many of them now opting for expensive concert tickets, trips and even practical items such as an education fund, which shows that such girls think of their future selves as something other than marriage material, and likely more as individuals than members of a family.
For economically lower-classes, family ties still remain the most important social safety net, and traditional quinceañeras remain an important way to reinforce such ties. Add to this that for many 15-year old girls, becoming "princesses" for a night, surrounded by admiring friends and family, is highly attractive. 
Valeria and her family value the quinceañera precisely for these reasons, with Valeria telling me, "The traditional quinceañera is a beautiful and unique experience, and it is very important to share it with those I love since I get only one chance to do it." 
Leigh Thelmadatter arrived in Mexico 18 years ago and fell in love with the land and the culture in particular its handcrafts and art. She is the author of Mexican Cartonería: Paper, Paste and Fiesta (Schiffer 2019). Her culture column appears regularly on Mexico News Daily.