An indigenous sculptor from a small village in Yucatán has recreated the ancient Maya process of extracting blue paint from a native plant via a chemical reaction.
Luis May Ku, 48, saw years of research finally pay off in January, when scientists in Italy and Mexico confirmed that his formula was genuine, making it officially the first time that the world has seen the traditional Maya Blue pigment made in almost two centuries.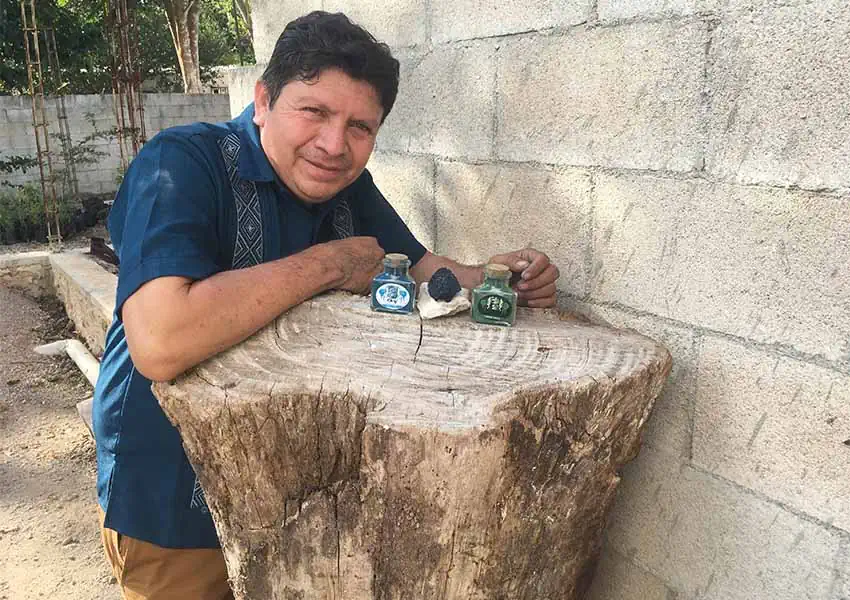 Perhaps even more impressive is that this happened within the confines of a self-made laboratory.
The ancestral pigment is known for its unique resistance to weathering, allowing it to appear relatively untouched after more than 1,000 years. It was made and used by Mesoamerican cultures during a period extending from about the eighth century until just after the mid-19th century.
Fantastic pre-Columbian murals and pottery fragments discovered around important archaeological sites show evidence the color was considered exclusive to the gods or to those chosen for ritual sacrifice.
Studies show that the Maya often applied the revered pigment when depicting Cháak (the rain god). Pre-Columbian archaeological sites like Chichén Itzá and Bonampak in Chiapas feature murals with it. Maya Blue was even exported to Cuba by the Spanish in the 1860s.
This is where the dye's trail ran cold, however. Knowledge of the technique for making the dye disappeared during the colonial period. The pigment would not even be remembered again until the 20th century, when mineralogist Herbert E. Merwin reported in 1931 that he'd seen a vibrant, mysterious color — a bright blue with undercurrents of green — in murals at Chichén Itzá.
Over nearly 100 years, archaeologists and scientists, curious about the forgotten pigment, did numerous chemical studies on samples from pre-Hispanic items and eventually determined that Maya Blue was made from Indigo suffruticosa, palygorskite and calcium carbonate, but how it was made remained a mystery.
Then in January, from his home in Dzán, Yucatán, a village of 6,000 people, May received the call from Dr. David Buti at the Institute of Science and Cultural Heritage in Florentino, Italy and Dr. Rodolfo Palomino Merino at the Autonomous University of Puebla, and May's dream came true.
Both academic institutions had confirmed his samples containing palygorskite, calcium carbonate and indigo had caused an "intercalation between the indigo molecules" — a type of chemical reaction — that resulted in an authentic Maya Blue.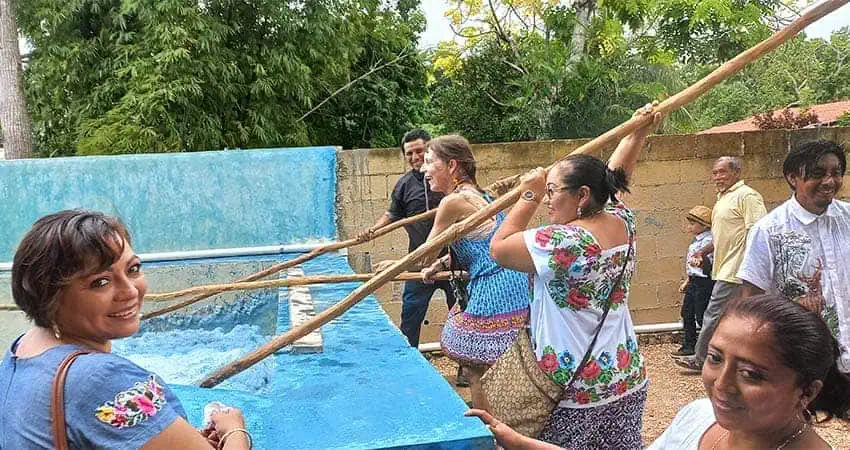 "I was ecstatic because it was the return of a pigment that had not been seen in the world for almost 200 years in its traditional form," May said. "Maya Blue was used by my ancestors exclusively in ceremonial practices, and even then, it was in limited supply. It was the color of the gods, and only the elite were permitted to use it."
He traveled from village to village where he lives, looking for the right variety of indigo, called Ch'oj in the Mayan language and añil in Spanish. In the end, what he sought turned out to be right under his nose.
In the back garden of the Cobá, Quintana Roo's municipal cultural center, where he works as a primary schoolteacher, a curious shrub caught his eye.
"The kids had fashioned it into one of the goalposts for soccer games," he said. "I asked my dear friend, the caretaker, Don Justino, to please protect it for me as it could be an important part of our cultural heritage."
Don Justino said he would keep his promise because he always used its leaves to treat severe stomach pain, a traditional medicine passed down from his grandparents. Although he was unaware of its use as a dye, he still surrounded it with fencing to keep it safe for both of them.
"All knowledge of Ch'oj had passed down for generations as a medicinal plant, but its use in Yucatán as a pigment was, seemingly, lost forever," Luis May said.
"The only memories villagers had of a blue plant involved their grandmothers using it to whiten clothes. Before washing traditional white garb, a particular plant was left in a tub of water overnight and then stirred. The dirty clothes would replace the plants and swirl in the water for a short time," he explained.
"The key point here was if the clothes were left too long in the mix, they would eventually turn blue. Left for the appropriate time, however, it would merely whiten them."
This was the clue May needed, and in November 2019, around seven helpers from Cobá mixed his cocktail in a large concrete vat filled with water.
At first, only white foam appeared on the surface of the water. But after an hour, it began to turn blue, which was met with collective cheers.  Luis realized, however, that the tone was too pale and that more work was needed to perfect the pigment into an authentic Maya Blue.
"In Cobá, we had extracted the blue tint from the plant, yet the Maya Blue I mixed in my laboratory at home in Dzán was the missing piece," he said. "I was on my own when it happened. It changed from a pale blue into a vibrant turquoise."
When he saw the color's intensity, he said, he knew he had it.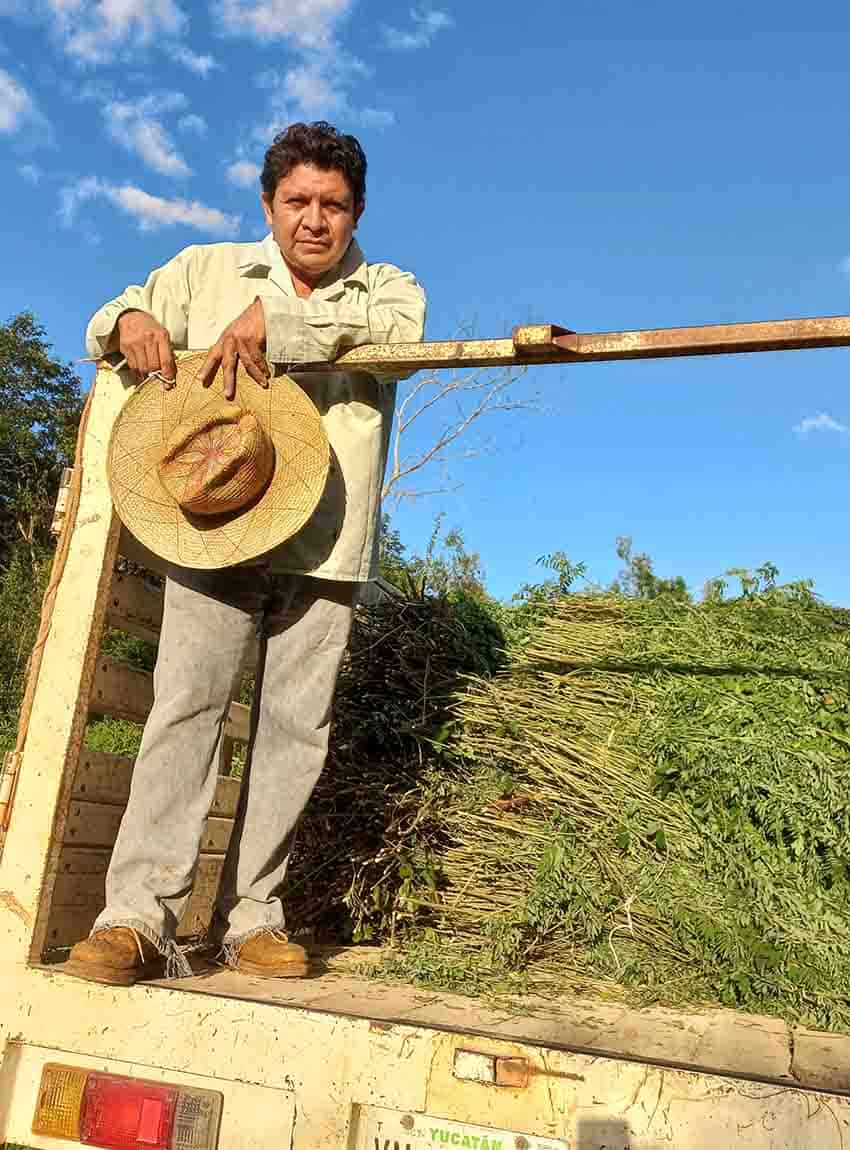 "I jumped with joy. I repeated the process, and it provided the same tone," May said. "I experimented with different natural additives. Sometimes I froze them or let them rot before using them. Let's say I used many techniques that failed before I finally found it."
May would not reveal the crucial details of how he rediscovered the pigment, preferring to keep it as a family secret. He admitted dismay at a lack of funding to pursue his research from the Mexican government; his sole financial backer has been the British Museum in London.
He claimed he would have shared the recipe with his people had government officials not "used him" for propaganda instead of genuinely supporting his project.
"Photos were taken of me with some scientists, and I was promised my sample would be analyzed in the laboratories at the National Autonomous University of Mexico (UNAM), something that never happened. The financial aid they told me I deserved, that would spur on my research, also never arrived."
While the knowledge of how to make Maya Blue may have been lost for centuries, May notes that awareness of the Ch'oj plant never really left the Maya people on the Yucatan Peninsula.
"I have a theory that could perhaps link the modern application of Ch'oj with its use in pre-Hispanic times," Luis said. "My wife and I are teachers at a bilingual primary school (Maya and Spanish). Sometimes we set exercises regarding Mayan botany, and one day, my wife found an old book that mentioned Ch'oj as a plant used for the treatment of epilepsy.
"According to this old book, once the plant was removed from the water, the afflicted would have their clothes washed in the mixture for a short period, and then put them on, wet and all. The belief was it could clean the body. The concept of purification from the simple touch of the blue color had transcended through time into this book containing treatment for epilepsy."
"These are memories from an ancient past that have survived until today," he said.
Mark Viales writes for Mexico News Daily.