When orders to "stay at home as much as possible" reached my community, I noticed an immediate result, which could be considered peculiar. Suddenly, there were many more people walking up and down our rustic, cobblestone streets than I had ever seen before.
They were out there early in the morning walking their dogs and back again in the evening to catch the often splendid view of sunset over the nearby Tequila Volcano. Self-quarantining seemed to have given all of them a new appreciation for the pine and oak forest in which we live and for the great outdoors in general.
I also noticed that, after weeks of "staying at home," many people began to send me emails with questions like: "Do you know if the Primavera Forest is now open to visitors?" and "Can you recommend someplace I can go to commune with nature without running into anybody?"
In response to people like these, I offer a short list of outdoor sites in western Mexico which meet three criteria: first, they are, for the most part, places where you are unlikely to bump into a single soul. Second, they are all unfenced and open to the public. And finally, they are places where I've never heard tales of unsavory characters lurking about.
So, if you live in western Mexico and have been cooped up for too long, here are a few options for getting away from it all without getting infected.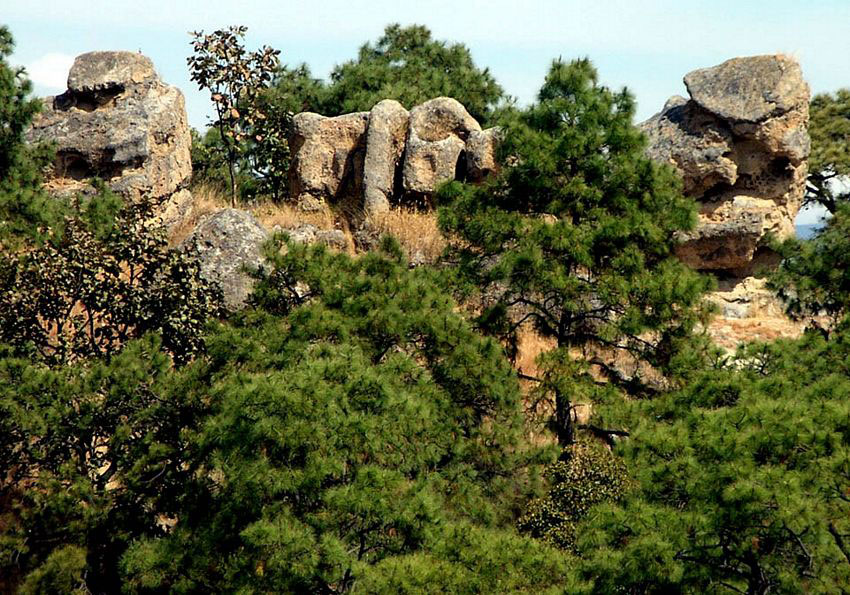 Villa Felicidad
This is a sprawling, uninhabited area just east of Tala, Jalisco, filled with big rocks of amazing shapes which may resemble walls, bathtubs, armchairs, tree trunks and much more, depending entirely upon your imagination. It's also home to the utterly unpolluted Río de las Ánimas where you can find cool, clean pools to splash in. It's a perfect place for a picnic! Look for "Villa Felicidad" on Google Maps. Driving time from Guadalajara: one hour and 11 minutes.
Hacienda La Cofradía
How about going for a stroll through the ruins of a 19th-century neoclassical hacienda? Rancho de la Cofradía del Puente lies alongside the Arenal River, not far off the old highway linking Guadalajara to Tequila. A plaque there says the building had "a double corridor with three apartments that were connected by an arcade made up of nine arches held up by Tuscan pillars that today lack a roof."
The property was once in the middle of extensive agave field and they were producing tequila here as early as 1800. This hacienda is one of several old tequila distilleries or tabernas located near the town of Amatitán.
To visit the hacienda, ask Google Maps to take you to "R8P8+7Q La Villa de Cuerambaro." Driving time from Guadalajara: 57 minutes.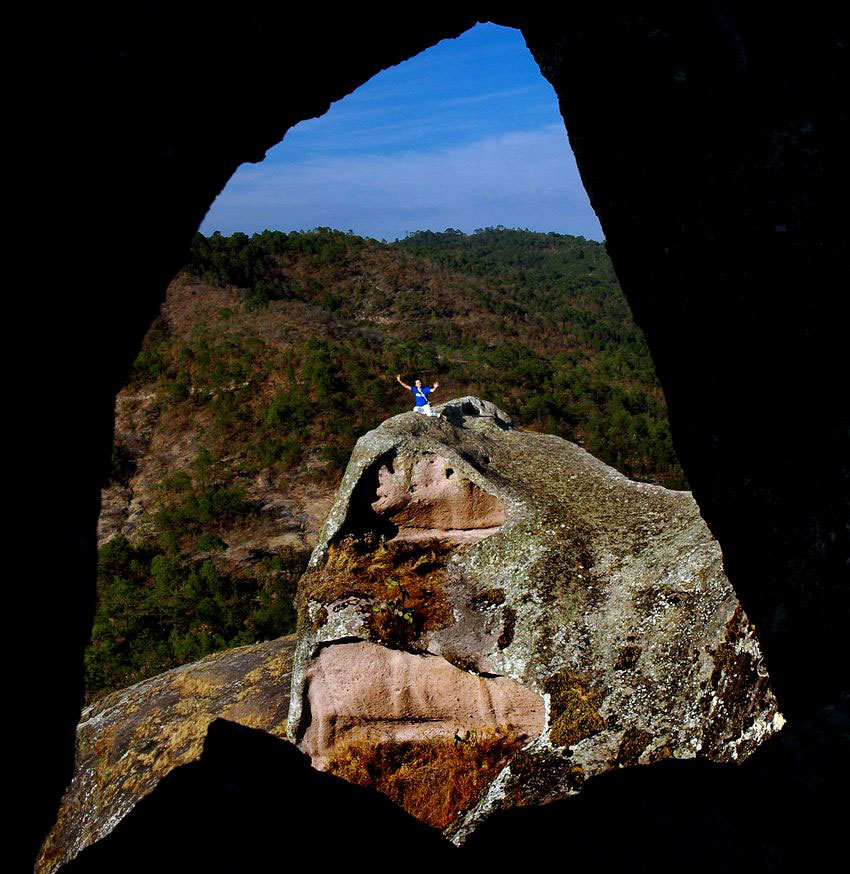 La Campana
Here is a small, beautiful and very curious mountain not far from Mascota, Jalisco, where you'll see exotic rock formations shaped like giant waves. The walk to the top takes less than half an hour, but you'll feel like you've stepped onto another planet. For more details, see La Campana, Jalisco's Psychedelic Bell. Ask Google Maps to take you to "9CC4+67 Los Volcanes, Jalisco" and you'll find yourself at the trail head. Driving time from Guadalajara is about two hours.
The Teuchitlán Andador
This is a three-kilometer-long hiking and bicycling path which follows the short but scenic Teuchitlán River from its source to the point where it enters La Vega Dam. At its south end it turns into a path on a narrow strip of land, with a marsh on one side and the lake on the other: a great place to spot waterbirds.
You might expect to see white egrets, tiger herons, lily trotters, ibises, anhingas, cormorants, puffins and more.
As for human beings, I've never seen one here, even though the trail is quite near a string of fine restaurants along the lakeshore. To reach this spot, ask Google Maps to take you to "M5G5+64 Teuchitlan." Park and walk south to see the waterbirds. Driving time from Guadalajara: one hour.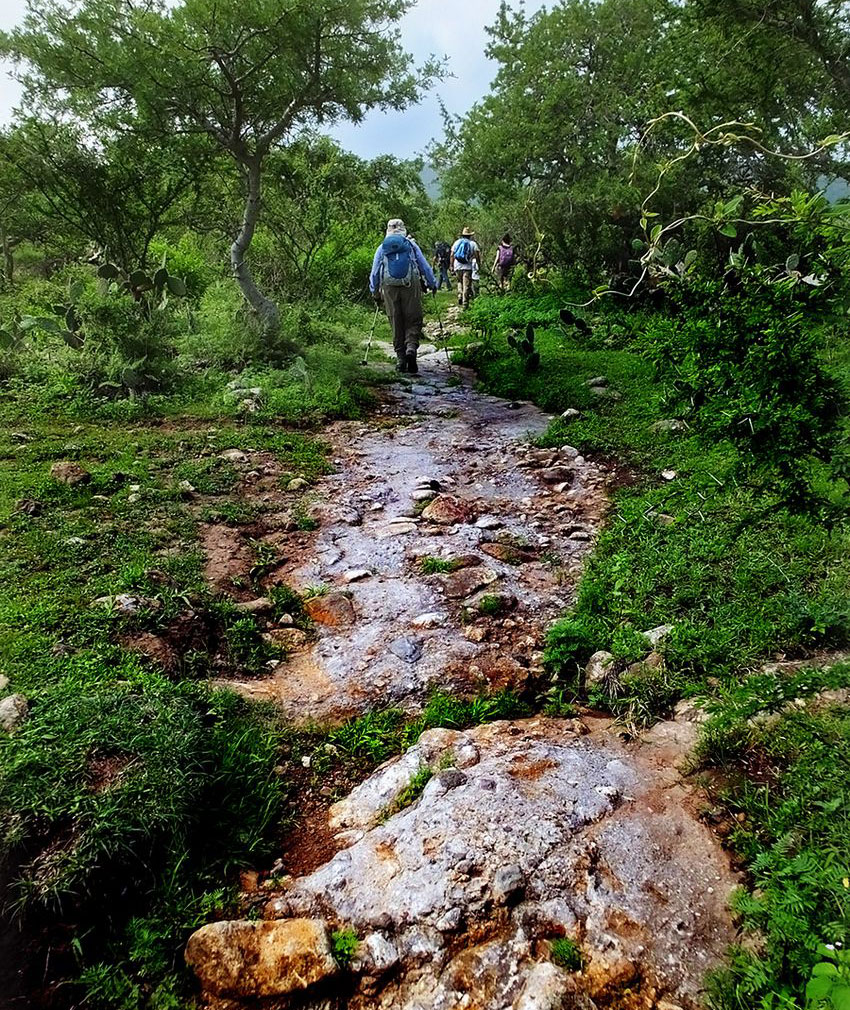 Cerro Viejo
"The Old Hill" is a picturesque mountain that fills the skyline overlooking Lake Chapala. Its peak is 2,960 meters above sea level and reaching the top would take you many hours of hard hiking. I am not sending you all the way up there, but just inviting you to enjoy one of the mountain's lovely foothills, which is easy to reach from the little town of San Juan Evangelista, home to some of Jalisco's most talented potters.
Let Google Maps take you to "9MRM+4Q San Juan Evangelista, Jalisco," on the shores of Lake Cajititlán. You'll find yourself at a bridge over the Macrolibramiento expressway. Walk across the bridge, and you are on your way into the beautiful foothills of Cerro Viejo. Driving time from Guadalajara is about 50 minutes.
La Maltaraña Mansion
This strikingly beautiful casona, with 365 doors and windows, was built in the early 1900s by Manuel Cuesta Gallardo, one-time governor of Jalisco and the man responsible for reducing the size of Lake Chapala by 33%. La Maltaraña was also known as La Bella Cristina in honor of Cuesta's daughter.
For more information, see Some Chapala spots well worth a visit. On Google Maps this elegant old house is identified as "68G8+R7 Jamay, Jalisco." Driving time from Guadalajara: two hours.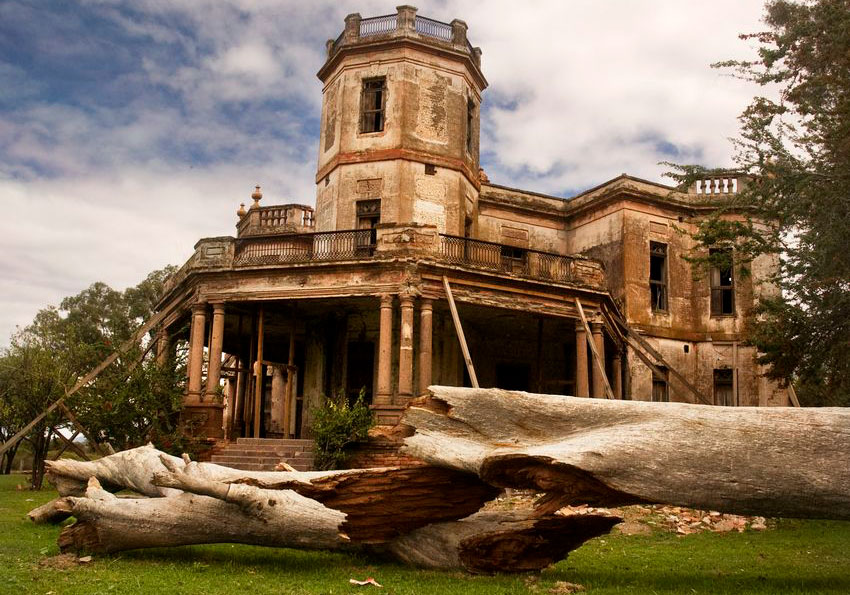 The Ghost Town of El Amparo
Apart from the ghosts, you'll find the ruins of one of Mexico's most successful gold and silver mining operations, one of the very few companies that kept operating right through the Mexican revolution. For the full story see Amparo: the rise and fall of one of Mexico's most controversial mines.
To visit some of the most intriguing of the old buildings, ask Google Maps to take you first to Etzatlán, Jalisco. Once you are there, tell Google Maps to direct you to "PW29+6R Etzatlán."
This subterfuge is to make sure you approach Amparo from the north, on a far better road than the awful one coming from the south. Driving time from Guadalajara: two hours.
El Diente

     
This is the only one of these eight sites where I would expect you to find a few people — almost certainly rock climbers — whom you may see high above you dangling from a handhold in one of the huge monoliths standing tall on the hillside.
[soliloquy id="120623"]
You may enjoy watching Jalisco's best bouldering enthusiasts do their stuff (with little danger of contagion) or you may prefer to wander off on your own to discover other rocks which, instead of resembling a tooth, may remind you of a turtle or a teapot.
One advantage of El Diente is that it's located only five kilometers from Guadalajara's Ring Road, but nevertheless bestows solitude, peace and beauty upon its visitors. For more info see El Diente, a forest of rocks. To get there, look for "QJR3+CF Rio Blanco, Jalisco" on Google Maps. Driving time from the center of Guadalajara: 50 minutes. 
Enjoy your escape to the great outdoors where — as Burt Lancaster put it in The Kentuckian — the air "has got a clean taste like nobody ever used it before."
The writer has lived near Guadalajara, Jalisco, for more than 30 years and is the author of A Guide to West Mexico's Guachimontones and Surrounding Area and co-author of Outdoors in Western Mexico. More of his writing can be found on his website.