In the 1950s, 60s, and 70s, Acapulco represented the ultimate in luxury and glamour.  Hollywood royalty and "the rich and famous" flocked to its exclusive resorts. Celebrities bought homes and hotels. Everybody who was anybody spent their free time in this tropical paradise. 
Acapulco lies on a stretch of rugged cliffs, surrounded by lush jungle with golden sands, calm azure waters, and exceptional weather – exotic and movie-set perfect for a resort area.
The Duke of Windsor – briefly the King of the United Kingdom until he abdicated the throne to marry Wallis Simpson – was the first of the jet setters to discover the beauty of Acapulco in the 1920s. Several decades later it was discovered by Hollywood royalty.
Hollywood royalty discovers Acapulco – a tropical paradise
In 1947, when Australian Errol Flynn first flew down to Acapulco with his buddy Teddy Stauffer – the Swiss musician-turned-hotelier – it was little more than a handful of buildings surrounded by jungle. But Stauffer saw the potential in what he described as "a beautiful tropical paradise".
Rita Hayworth and her husband Orson Welles came to Acapulco when they starred in the 1947 film The Lady from Shanghai – a film which contains some stunning shots of Acapulco's beaches. They both became frequent visitors.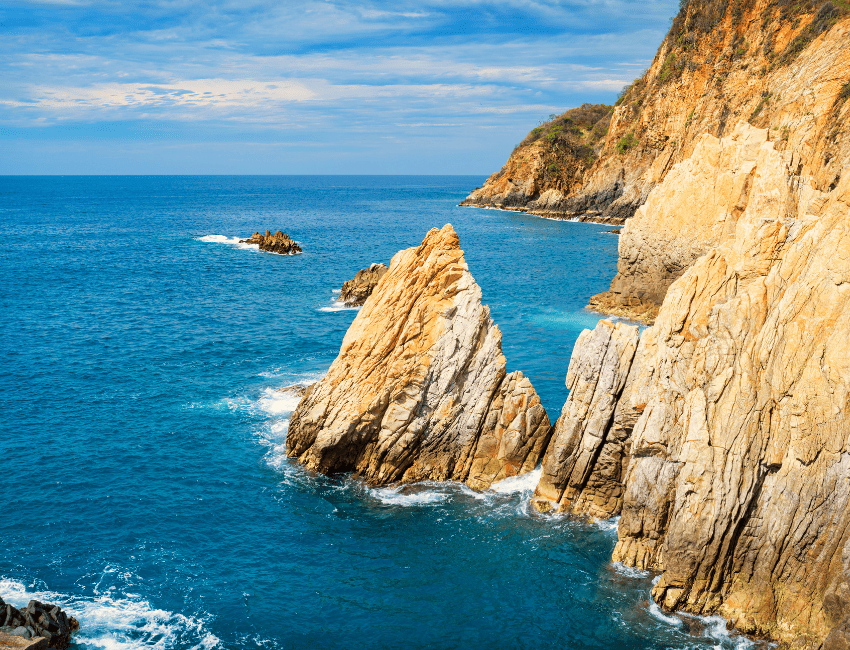 Former president of Mexico Miguel Alemán (1946 – 1952) had a special place in his heart for Acapulco and was the driving force behind the construction of the Avenida Costera Miguel Alemán – a six-lane thoroughfare along the ocean which attracted nightclubs and restaurants that now bears his name.
Los Flamingos becomes the first luxury resort for Hollywood elite
In 1954, Bo Roos – a top Hollywood business manager – and his friends John Wayne and Johnny Weissmuller (best known for his starring turn as Tarzan) purchased Hotel Los Flamingos, a cliffside spot with a spectacular view of the open sea. Roos then imported their Hollywood posse including Cary Grant, Fred MacMurray, Errol Flynn, Richard Widmark, and Red Skelton to spend time at the hotel which became a hang-out for the "Hollywood Gang" – a group of macho leading men led by Wayne and Weissmuller.  
It is said that Weissmuller invented the bar's signature drink, the Coco Loco, which was served in a coconut with hibiscus flowers floating on top or festooned with a colorful miniature umbrella hat.  After his days of fame and fortune faded, Weissmuller lived out the rest of his life at the hotel which became known as "La Casa de Tarzan."
Villa Vera and Las Brisas add to the glamour and glitziness of Acapulco
Ten years after his first visit Stauffer opened Villa Vera Hotel and Racquet Club.  Its quaint villas and private swimming pools immediately became a popular destination for celebrities. In 1957, Elizabeth Taylor married Mike Todd at the resort. Frank Sinatra hid out at Villa Vera when the mob was after him. 
Judy Garland, Dustin Hoffman, Engelbert Humperdinck, George Hamilton, Gina Lollobrigida, Liza Minelli, Ava Gardner, and Brigitte Bardot stayed at the resort. Zsa Zsa Gabor created a stir in the enclave when she plunged into the pool naked. Lana Turner lived at Villa Vera for three years.
The popularity of Villa Vera was quickly followed by Las Brisas, built in 1957, which hosted others from the entertainment industry's A-list. The resort had the classic elegance of 1950s Hollywood. Constructed on 40 acres of land on the cliffside surrounded by jungle, the resort boasted 250 casitas, each with its own private swimming pools, pink and white jeeps for transportation, and a spectacular full view of the bay.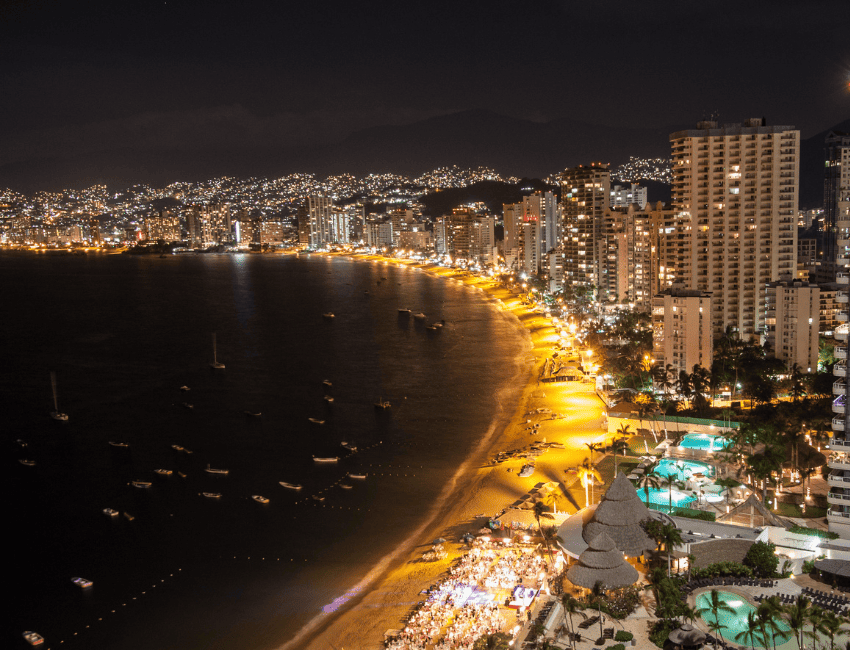 Las Brisas was the ultimate in luxury. The resort sported its signature "power pink" and a palette of various shades of white throughout including the staff uniforms. From the moment a celebrity was whisked up the hillside in a pink and white jeep (each one named for a celebrity), they were ensconced in elegance. The lawns and gardens were meticulously manicured, the casitas impeccably clean, and fresh hibiscus petals were scattered across the surface of the private pools. Each casita had a Magic Box with latched glass doors inside and outside where staff would leave a steaming pot of coffee and a basket of freshly baked sweet rolls every morning.
Diversions and glitzy parties abound
When you were tired of lounging around your pool, there was the Sunset Bar, or you could go to the swim-up bar in one of their two saltwater pools. For a full breakfast, there was El Tulipán, the resort's sky-high restaurant with a spectacular view of the bay.  For fresh fish and Mexican specialties, you could have dinner at La Concha.
Other attractions included going to La Quebrada to watch death-defying cliff divers plunge from 135-ft cliffs into the Pacific Ocean, or boarding a jeep for a safari to a coconut plantation at Cayaco, a picnic on the beach, or joining burro races or paddle canoes up a jungle river. At night there was the very popular La Perla nightclub or glitzy parties.
One of the hostesses with the most memorable parties was Dolores Olmedo, "The Grand Dame of Acapulco."  Her home, La Casa de los Vientos, hosted Mexico's largest collection of Diego Rivera paintings. She was Rivera's muse, and she so admired the artist she built a studio for him adjoining her house. When Frida Kahlo died, Rivera lived his final four years of life in her Acapulco home.
Hollywood becomes infatuated with Acapulco
Elizabeth Taylor honeymooned in Acapulco after seven of her eight marriages (she married Richard Burton twice). Mexican actress Dolores del Rio, who had affairs with both Orson Welles and Errol Flynn, met her future husband American millionaire Lewis A. Riley in Acapulco and built a palatial home at the top of the rocky cliffs as did Orson Welles and Johnny Weissmuller. Jack and Jackie Kennedy honeymooned in Acapulco. 
In the 60s and 70s, Las Brisas became the retreat of choice for the rich and famous who wanted exclusivity and privacy attracting luminaries Tom Cruise, Sylvester Stallone, Kevin Costner, Sophia Loren, Johnny Carson, Buzz Aldrin, and Elizabeth Taylor. After their trip to the moon, the Apollo 11 astronauts relaxed there with their families. Lynda Bird Johnson honeymooned at Las Brisas.
Hollywood was infatuated with Acapulco luring a new generation of star power including Robert Wagner, Stephanie Powers, Farah Fawcett Majors, Joan Collins, and bestselling author Harold Robbins.
The 1963 film "Fun in Acapulco" starring Elvis Presley and Ursula Andress introduced a broader audience to the beauty of Acapulco.  By the 1970s Acapulco was at its zenith and La Costera was a diamond necklace ringing the bay. 
More restaurants and hotels opened. The introduction of discotheques provided another form of entertainment and decadence. The first disco hotspot was Armando's LeClub.  The disco Studio 52, an homage to Studio 54 in New York City, also became a trendy place to dance the night away. 
Merle Oberon, who hosted legendary parties, made news worldwide in 1979 when she gave the Shah of Iran – Mohammed Reza Pahlavi – temporary refuge at her home.  Howard Hughes spent the last few weeks of his life at a penthouse that encompassed the entire top floor of the Acapulco Princess, an Aztec pyramid-shaped luxury hotel built in 1971. The unofficial photographer of the rich and famous, Slim Aarons, captured iconic poolside images and photos of actors like Kirk Douglas and Ronald Reagan alongside fashion designers Oscar de la Renta and Emilio Pucci. In the 50s, 60s, and 70s everybody who was anybody was seen in Acapulco.
Acapulco begins to lose its luster
By the late 1970s, Acapulco's glamour began to fade. Like an aging diva, the glamour took on the look of seediness and decadence. The 1980s saw an explosion of high-rise hotels, mass tourism, increased pollution, and crime which drove away the jetsetters. The glamour and glitz of yesteryear ended, leaving behind only legendary stories of what once was.  However, the natural beauty of Acapulco persevered, and the resort continued to attract tourists and honeymooners.
The most recent devastation by Hurricane Otis took its toll on the city. Will Acapulco – like a Phoenix rising from the rubble – once again become a glamorous and glitzy destination?  With enough government and private investment, the resort can experience a renaissance.  It will be exciting to watch as this tropical paradise goes through another transformation.
Sheryl Losser is a former public relations executive, researcher, writer, and editor. She has been writing professionally for 35 years.  She moved to Mazatlán in 2021 and works part-time doing freelance research and writing. She can be reached at [email protected]