The Mexico City neighborhood of La Obrera is always on the move. It begins each day with public transport darting this way and that, parents rushing to drop off and then pick up their children — working in between and often after, and ends each evening with taco stands flooding into the streets.
The typical bells and whistles (literally) that comprise daily life in the city are fluid in this neighborhood just south of the city's historic center and east of the hipster haven La Roma (via Doctores).
Amid all this commotion is a new eatery that doesn't quite blend in at first glance. Its spirited sunflower murals and classic marquee-style neon sign on the facade add some pizzazz to the busy avenue Eje 2A.
La Mera Obrera, as it's called, is a market-style restaurant occupying the space of a sewing warehouse that had been empty for about a decade.
In the weeks before and since opening on February 7, curious neighbors and passersby popped in to take a look. Street art isn't an uncommon sight in this borough, but the fact that a new business was going up in a long-abandoned storefront piqued interest.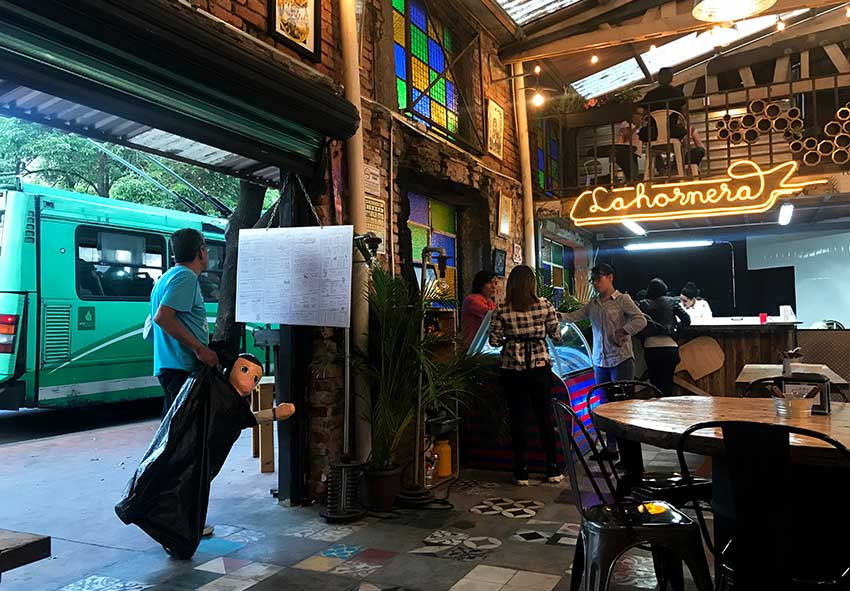 "This place is emblematic for being a working-class neighborhood," said manager Florencia Beati. "It's known for being an area that had a lot of factories, such as those that made textiles, which have historically hired a lot of women. Actually there was a factory that fell during the September 19, 2017 earthquake right near here, where a lot of seamstresses died."
La Mera Obrera is a gastronomic project headed by and employing women, and features three different kitchens: La Hornera, where pizzas and empanadas stand out; La Parrillera, home to grilled steaks and Argentinean choripan; and La Pescadera, which serves up a mango and fresh fish ceviche as well as baja-style fish tacos.
At the back of the restaurant stands the ample bar called La Quita Penas, which urges patrons to drink their sorrows away, be it with a mezcal cocktail or a gourmet agua fresca.
Women are making a lot of noise these days and it's impossible to ignore them, Beati said. Though La Mera Obrera is not directly aligned with feminist movements, mostly because there is a wide misunderstanding in the world about what that term means, she says the idea behind La Mera Obrera is to promote equality.
"At first when we were opening, and especially when word got out that this was a place run by women, the first waves of shock came out and people said we shouldn't open here because the neighborhood has a bad reputation," Beati said.
"But in all cities, all over the world, there are neighborhoods that are considered dangerous. We are trying to break with that because what we have seen here in these past several months of getting things in order is that this is a united neighborhood, filled with people who care about each other."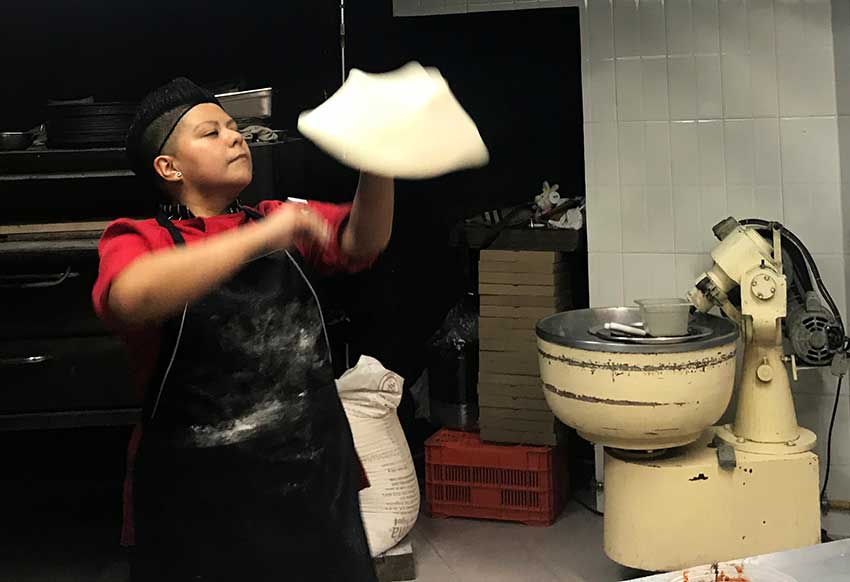 And while La Mera Obrera is comparatively chic as a late-night eatery and bar in a working class neighborhood whose culinary offerings are mostly based in small mom and pop restaurants and sidewalk stand delights, it retains enough grit of its warehouse past that it doesn't seem off-putting in the neighborhood.
Out of place? A little bit. But what would that really mean? Isn't La Obrera also allowed a hot little spot to move into? Diners and drinkers were many during several hours on its second Saturday in business.
The music remains at a reasonable decibel level and the wooden beams seems to absorb any wrong notes or excessive volume, keeping the open space surprisingly well-suited for conversation.
Exposed brick leaves the warehouse vibe intact, and with splashes of color throughout and elegant chandeliers hanging from the ceiling there is a juxtaposition of old meets new. But in a way that offers both a seat at the table.
Paintings on the walls symbolize working women, with graffiti lettering that reads, among other things, "Cualquier mujer puede" (any woman can.) All art was completed under the direction of local artist Mora de Torres aka Viví Cabrón. The seating is a mix of round and picnic-style tables that seem like they could have come right out of a woodworking shop, each featuring a quote from a famous woman in history, such as Frida Kahlo, for example.
"This is a neighborhood where there are a lot of typical cantinas, spaces that are traditionally for men," Beati said, adding that the motto of La Mera Obrera is "women always organized and united."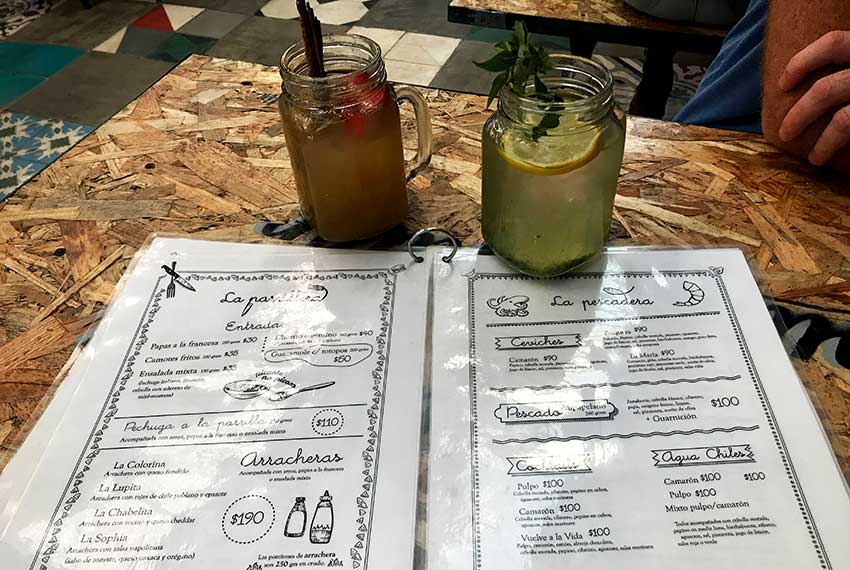 "This is a place opened by women, and operated by women. We are only women who work here. But this is a way to say 'hello, we are here and we are all equal.' There is no competition, no difference. There is friendship. We have a good vibe here. Society needs more spaces like this. When you go to Condesa, Polanco, etc. you find places where you will be attended only by men. Well, here, it'll be by women."
The promotion of equality goes deeper than simply offering jobs to women.
"We know that there is a lot of discrimination that people face when they look for work, especially in this industry," Beati said. "There are women who say they can't find work after a certain age, or they can't find a job that is flexible enough to allow them to care for their children as well as earn the money they need. And trans women, forget it. They face such strong discrimination. But here we are proud to hire a diverse group of women, from all backgrounds."
Angélica de la O grew up accustomed to the kitchen scene; her grandmother had a restaurant in the city's Tepito neighborhood. She learned about gastronomy in other places as well, such as El Salvadoran restaurants in Montreal, Canada, and Mexico City's popular Perro Negro pizza chain. Grateful to have learned her pizza making skills there, she's ready to start anew at La Mera Obrera.
"I was surprised to see an advertisement for a place that was looking for women pizza specialists," de la O said. "I've had great male colleagues, but the pizza places I have worked at are mostly dominated by men. There's this idea that women aren't strong enough to do all the work, like lugging 40-kilogram bags of flour around. But the idea here is that women can do it.
"Of course we can. The idea isn't to under-appreciate the work that men do. It's really to exhibit that women can also do the same work and that we can support ourselves with it."
Though La Mera Obrera has only a few weeks in operation, de la O says she's been thrilled with the turnout so far, and of course the customer feedback. There's been a crowd every day and night, she said, and she believes that will only increase. The opportunity to take on a managerial role also appealed to de la O, not only for her sake, but to see that option for other women in general.
"We have wisdom among ourselves to dialogue and to solve problems, even though at times working with all women can be difficult because of our moods and temperament," de la O said.
"But here we all support each other. We all help each other out if someone needs something. I love it. In some other places, you are limited in what you can do because men will say that you can't do something, or you shouldn't do something because you are a woman. But now to be the boss of the pizzeria, this is huge for me because I don't see myself having that opportunity elsewhere in this city."
Megan Frye is a writer, photographer and translator living in Mexico City. She has a history of newsroom journalism as well as non-profit administration and has been published by several international publications.