Three major railroad companies announced on Monday that they will create a new joint service, to compete with the Canadian Pacific-Kansas City Southern (CPKC) merger in North America. 
The Canadian National, Union Pacific and Grupo Mexico railroads will create the Falcon Premium intermodal service, which will move shipping containers from northern Mexico across the U.S. and into Canada. The service is designed to counter CPKC's single-line network, currently the only railroad connecting all three North American countries.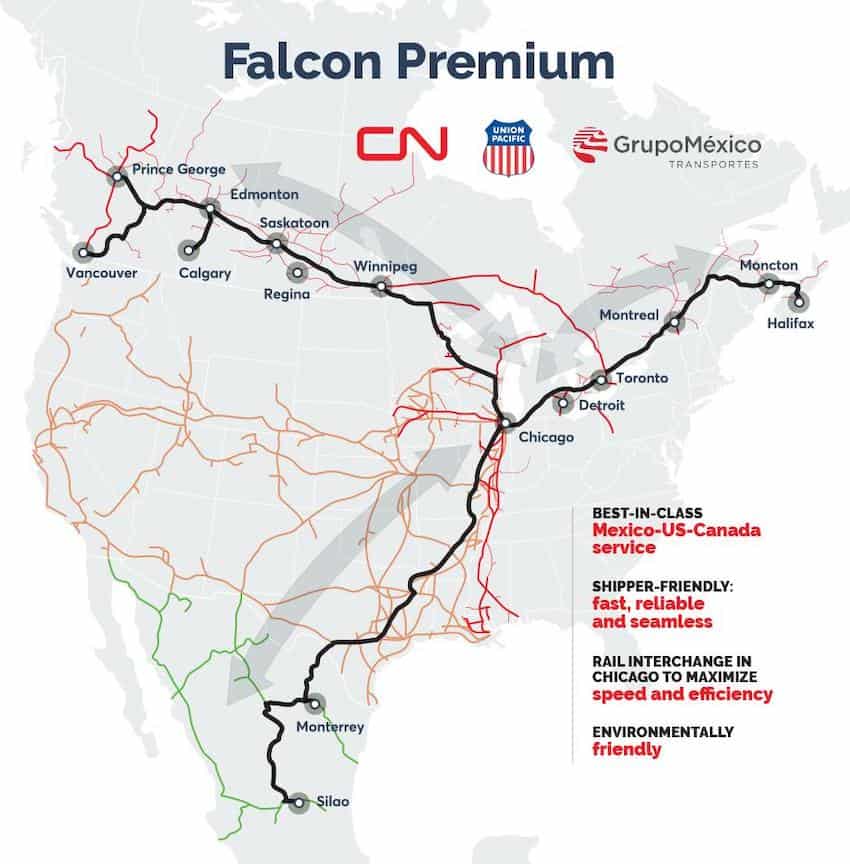 The Grupo Mexico railway will extend from the Mexican hubs of Monterrey, Nuevo León and Silao, Guanajuato, to Eagle Pass, Texas. From there, the Union Pacific railroad extends to Chicago, Illinois and Detroit, Michigan, where it will then connect to all Canadian National railway points — the most direct route between Canada and Mexico. The service is expected to benefit companies shipping automotive parts, food, appliances and other freight. 
"Grupo Mexico has a longstanding commitment to being part of the logistics solutions that North America requires to boost the economic growth in the region, through its rail service. The Falcon Premium service is tailor-made with the objective of providing new solutions to customers catering to the requirements of nearshoring demands," said Grupo Mexico Chief Executive Officer Fernando López — a sentiment echoed by Union Pacific CEO Lance Fritz. 
"This bold, creative venture harnesses the strengths of three companies to provide best-in-class service to our customers in three countries while supporting our climate goals," Fritz said. "We are excited to be a part of this new intermodal service connection, which leverages our unmatched route into and out of Mexico and strengthens our intermodal service portfolio." 
The decision to collaborate follows Canadian Pacific's US $31 billion acquisition of Kansas City Southern in March, which includes its subsidiary Kansas City Southern México. CPKC will transport grain from the Midwest and the Gulf Coast of the U.S. to Mexico.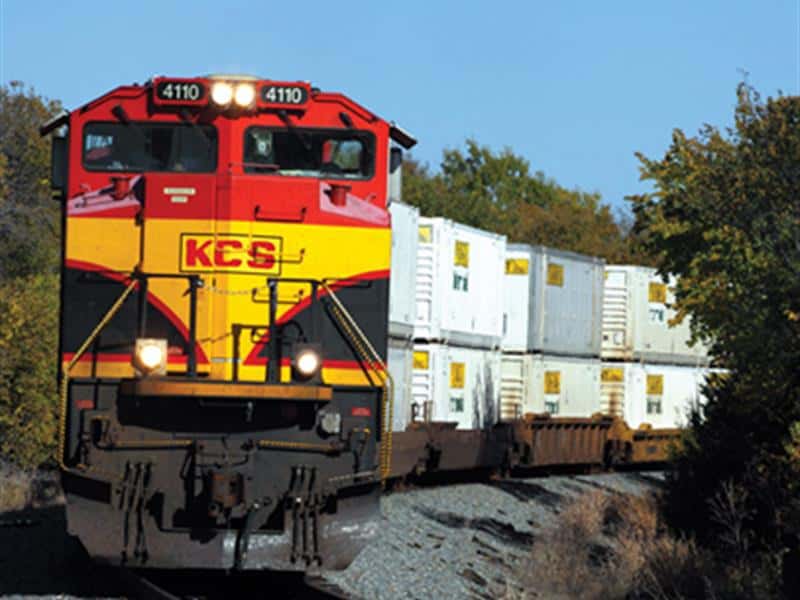 Canadian National, Union Pacific and Grupo Mexico told investors via conference call on Monday that they believe their service will be better than CPKC's because of Grupo Mexico's more extensive rail network in Mexico and Union Pacific's more direct route to the major rail hub of Chicago. 
"This is a steel-wheel interchange service that leverages the best of our three networks and creates the most direct route and fastest transit time between Canada and Mexico," Canadian National CEO Tracy Robinson said during the call. 
It is hoped that both ventures will encourage more companies to ship their products by rail instead of by truck, which, according to World Bank railway specialist Martha Lawrence, emits only a quarter to one-third of the greenhouse gases that truck transport does. Train transport is also more economically efficient for long distances than trucks. 
With reports from AP News, Union Pacific and Canadian National