Ninety-seven percent of Covid-19 patients who are currently hospitalized haven't been vaccinated, Deputy Health Minister Hugo López-Gatell said Tuesday.
Speaking at President López Obrador's regular news conference, the coronavirus point man noted that just over 48 million Mexicans have received at least one vaccine shot, a figure that represents about 53% of the adult population.
"The vaccine has a very, very significant protective effect, especially in reducing serious Covid situations. Ninety-seven percent of people that are in the hospital today due to Covid didn't get vaccinated," López-Gatell said.
"… Getting vaccinated is very important," he said, urging people who have not yet had a shot to do so.
"… There is a positive effect of vaccination [shown] in real data," the deputy minister said while presenting information that showed declining Covid-19 death rates. "Vaccination reduces the impact of Covid-19."
Mexico has the fourth highest official Covid-19 death toll in the world – 241,279 as of Monday – but fatalities during the third and current wave of the pandemic have been significantly lower than those recorded in the first and second waves.
There were more than 17,000 reported Covid-19 fatalities in each of June, July and August last year as a result of the first wave, while the second, and worst, wave caused death tolls of almost 20,000 last December, nearly 33,000 in January – the worst month of the pandemic in terms of both cases and deaths – and over 27,000 in February.
July of this year was the second worst of the pandemic in terms of reported cases – almost 329,000 – but Covid-19 deaths last month, at 7,859, were 76% lower than the January peak.
Hospitalizations have trended upwards recently as the coronavirus – especially the highly contagious delta strain – finds vulnerable people to infect, but occupancy rates haven't reached the levels seen at the peak of the second wave.
Nevertheless, the Covid-19 wards in many hospitals have reached maximum capacity. Federal data shows that 124 hospitals across Mexico have 100% occupancy rates for general care hospital beds. The rate is 90% or higher in 34 other hospitals.
In Guerrero, hospitals in Acapulco, Chilpancingo, Ometepec and Zihuatanejo are all under extreme pressure, according to Governor Héctor Astudillo, while hospitals in Puerto Vallarta, Jalisco, are in the same situation, said Governor Enrique Alfaro.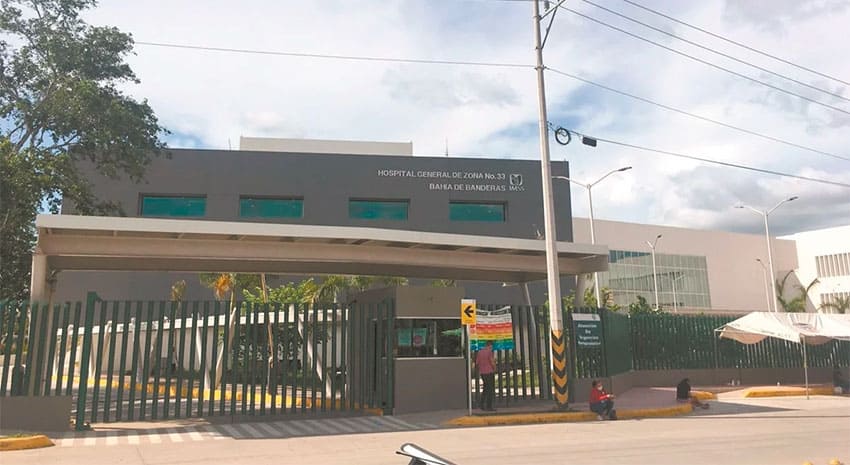 Hospitals in Vallarta have come under increased pressure because the IMSS #33 hospital in nearby Bahía de Banderas, Nayarit, is overwhelmed with Covid-19 patients.
Federal data shows that saturated hospitals are located in many states, including Guanajuato, Mexico City, Guerrero, Nuevo León, Chihuahua, Veracruz, San Luis Potosí, Durango, Jalisco, Nayarit, Baja California Sur, Yucatán and Puebla.
"… As is the case in the metropolitan area of Guadalajara, the vast majority of hospitalized people in Puerto Vallarta are young people and those older than 40 who haven't been vaccinated," the Jalisco Health Ministry said in a statement.
The percentage of Covid-19 patients infected with the delta strain is unknown but given that the highly infectious variant is spreading widely in Mexico it is likely to be high.
An internal Centers for Disease Control and Prevention document that was made public last Friday said that delta spreads as easily as chickenpox and disease caused by the variant is "likely more severe" than that caused by other strains.
The United States public health agency cited research in Canada, Singapore and Scotland that showed that people infected with the delta strain were more likely to be hospitalized than Covid-19 patients infected with other variants earlier in the pandemic.
But disease experts who spoke with the Reuters news agency said the research in all three countries was based on limited study populations and has not yet been reviewed by outside experts.
"… The experts said more work is needed to compare outcomes among larger numbers of individuals in epidemiological studies to sort out whether one variant causes more severe disease than another," Reuters said.
In Mexico, ensuring that hospitals have enough capacity to accommodate another influx of Covid-19 patients is of more immediate concern than determining conclusively whether delta causes more severe illness or not.
To that end, López-Gatell said Tuesday that the country is once again in the process of reconverting hospitals to increase their capacity to treat Covid patients.
The Health Ministry reported Monday that 48% of general care hospital beds set aside for coronavirus patients are occupied while 39% of those with ventilators are in use. However, those rates could increase quickly as tens of millions of Mexicans remain unvaccinated even as the delta strain fuels a growing third wave.
According to Health Ministry estimates, there are currently just over 120,000 active cases across Mexico, down from a record high of almost 138,000 on Saturday, but that number will likely spike on Tuesday afternoon after new confirmed cases are reported. Throughout the pandemic, reported case numbers have dipped on Sundays and Mondays due to a drop-off in testing and/or the recording and reporting of test results on weekends.
Mexico's accumulated case tally currently stands at 2.86 million, while the Covid-19 fatality rate here based on official numbers for infections and deaths is 8.4 fatalities per 100 cases. Among the 20 countries currently most affected by the pandemic, Mexico has the second highest case fatality rate after Peru, according to data compiled by Johns Hopkins University.
Mexico's mortality rate is the 21st highest in the world at 189.1 Covid-19 deaths per 100,000 people. Peru ranks first on that list followed by Hungary and Bosnia and Herzegovina.
With reports from Reforma, El Universal, Milenio and Reuters