Asylum applications in Mexico take several months to conclude, during which time asylum seekers must navigate a complex administrative system, geographic restrictions and xenophobia and are likely be denied access to basic needs such as employment, shelter, safety, education and health. 
These represent the unofficial barriers preventing people from seeking asylum in Mexico. 
Those who do survive and receive formal refugee recognition must wait months before they are given paperwork by the National Immigration Institute (INM) that formally allows them to work and leave the state in which they applied for asylum.
In 2019, Mexico came under pressure from the United States to reduce the flow of migrants passing through Mexico from the south to the north.  While many reports focus on the United States as a destination, what is life like for those who seek asylum in Chiapas, where many asylum seekers applied for protection.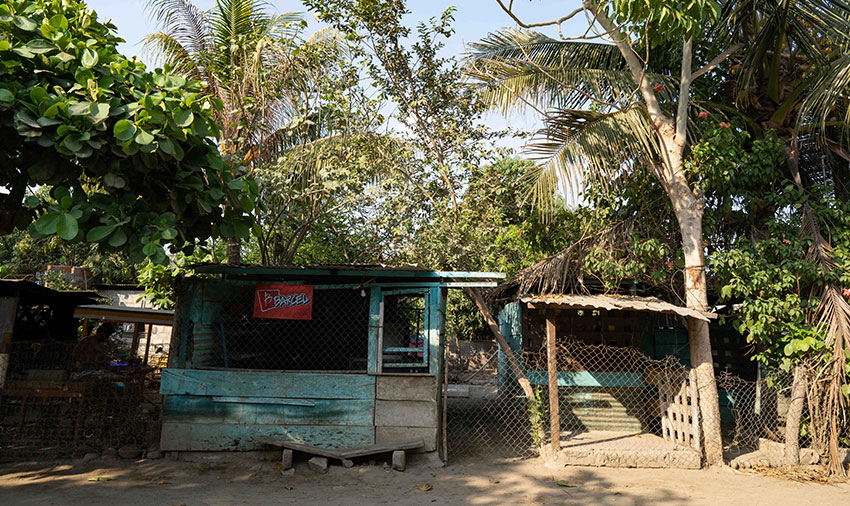 Last year, 65% of asylum requests (45,726 out of over 70,000) were made in the state. The refugee agency responsible for processing asylum applications, COMAR, is grossly underfunded and is therefore accumulating a significant backlog of claims. This keeps applicants trapped in a state with poverty levels of 70% and extreme poverty at 20%, but ultimately placates the United States government and avoids the imposition of trade tariffs.
"On average, the asylum application process takes around seven months," confirmed Florian Heopfner of the U.N. High Commissioner for Refugees (UNHCR), during which time applicants must prove that they have not left the state in which they applied. 
Not only does this restrict employment options for the asylum seekers, it also places considerable stress on the local population, which can lead to xenophobia, explained Heopfner. In order to alleviate the stress, the UNHCR has been working on a relocation and employment program for both asylum seekers and recognized refugees. Five-thousand people were successfully relocated to other parts of Mexico last year with a goal to relocate 20,000 people this year. 
To date, the program is seen as a success.  'Those relocated last year contributed 40 million pesos [US $2.1 million] in taxes," said Heopfner, "which is almost double the COMAR budget for the same period," making the program financially viable for the government.   
Asylum seekers are entitled to a unique registration key (known as a temporary CURP) which they can use to access employment, healthcare and education. However, a recent UNHCR study found that only 2% of asylum seekers in the neigbouring state of Quintana Roo had a CURP, said Heopfner. 
Following the successful completion of the asylum application process, a refugee must apply for a permanent CURP in a process that can take months, leaving them without employment opportunities or access to health insurance.
Any one of these reasons can force asylum seekers and recognized refugees to work for employers who don't demand papers. Yurgen, 28, explained that a construction site in Ciudad Hidalgo doesn't demand papers, but only pays 150 pesos for an 11-hour day, with the opportunity to earn another 100 pesos if they work until midnight. 
In order to address unemployment for asylum seekers, the government launched a social emergency program that provides employment opportunities such as cleaning, gardening or carpentry projects. Workers earn 198 pesos a day. 
Work details are randomly allocated, regardless of skill. Trecoria, a 55-year-old Honduran woman works as a cleaner from about 8:00 a.m. to 1:00 p.m. six days per week, which equates to around 40 pesos per hour. 
She rents accommodation in Ciudad Hidalgo with her daughter, niece and her niece's three children for 1,400 pesos per month. The six of them share two mattresses, considered a luxury by her colleagues who sleep on Acapulco-style wire chairs. Despite this obvious hardship, she said she was happy to be in Ciudad Hidalgo and has no intention of leaving Chiapas for the U.S. 
Also in the cleaning program was a 42-year-old Guatemalan, who asked not to be named. She and her family fled to Mexico in November after the Mara 18 gang killed her brother-in-law and threatened her family; they received asylum in February. She lives in a basic two-room structure with no doors or windows, tucked at the back of a quiet neighbourhood outside Ciudad Hidalgo. She and her husband rent the space for 1,500 pesos per month. 
In the cool shade of the auditorium in Ciudad Hidalgo one morning in March, dozens of workers from the program waited for their paychecks. As attractive as employment in the social emergency program sounds, the checks come sporadically. 
"Payments are due every 15 days but it isn't uncommon to wait for days before we are paid. In December, the whole month passed without payment," confirmed Isaac from El Salvador.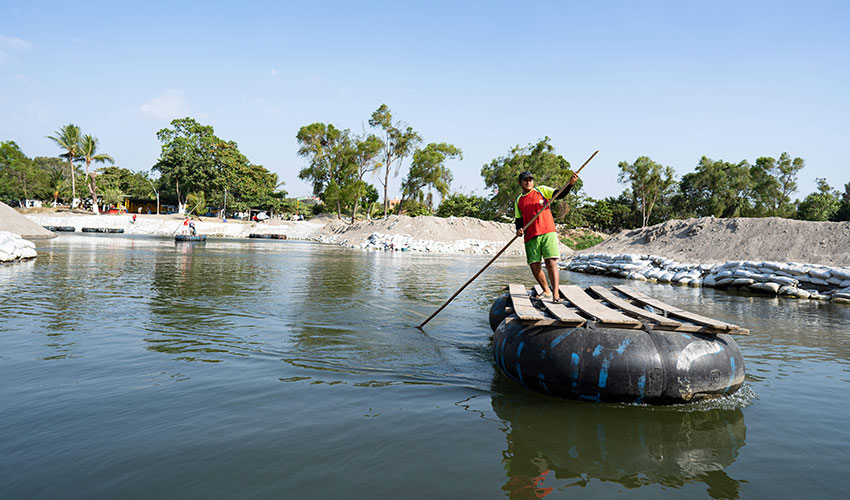 Most people are living hand-to-mouth and so even a few days without payment is problematic. "We have to borrow money [when they don't pay us]," he explained. "It can be a problem when we need money to get to the COMAR office."
One man in his late 40s explained that he had not been paid for weeks. He had been told that his name "was not in the system" and he would have to continue working while they resolved the matter. His colleagues nodded as he spoke, while they listened out for news of whether or not they would be paid that day. 
As time passed, groups were called over and given the news about whether or not they would be paid. By 1:00 p.m. those left in the auditorium were told to return tomorrow; there would be no further payments that day.
A coordinator of one of the work details who asked not to be named explained that she buys water or food for the workers who frequently faint from dehydration and hunger in temperatures up to 35 C. At times "workers are not given tools," the coordinator said, and "have to use their hands to clean or collect leaves from the street."
While in the asylum process, applicants must sign on to prove that they remain in the state. The law requires a weekly signature but COMAR chief Andrés Ramírez has relaxed the requirements to require a signature once a fortnight. 
Not everyone in the family has to sign. One person can act as the family representative but time spent in the line is time away from work.
The process consumes hours of civil servant time and poses a security risk for asylum applicants, who are often hiding from crime gangs. Anyone searching for a person "need only wait outside the COMAR office knowing that their target must show up at least once in any 14-day period," confirmed Heopfner.  The presence of gangs, such as the Maras, is widely recognized in Tapachula and is evident by graffiti tags throughout the city. 
COMAR received over 70,000 applications in 2019 of which 14,234 were concluded and 81% were offered protection. Of those, 73% were recognized as refugees and 7% were given complementary protection (a watered down form of asylum offered when an individual does not meet international criteria). 
Looking at this from an international perspective, Ramirez' department has reason to boast. The European Union, according to statistics agency Eurostat, had a 41% recognition rate in 2019. The United States imposes an annual cap on refugee recognition, which was 30,000 for 2019 and is 18,000 in 2020. 
COMAR is underfunded and understaffed and "was only able to survive last year with the financial support of the UNHCR," said COMAR chief Ramirez.  Although the 2020 budget was increased by 7 million pesos to 27 million, "this is only 40% of what the agency needs in order to function efficiently and clear the backlog of claims," said Heopfner of the UNHCR.
This is the second of a two-part series that examines the unofficial barriers that serve to discourage people from filing claims for asylum.