The Biden administration has announced a set of measures to enhance security and reduce unauthorized migration at the Mexico-US border, ahead of a planned visit by President Biden to the border next week.
The comprehensive new plan includes increased border and immigration personnel, media campaigns to counter smuggler misinformation and increased support to Mexico and Central American countries to address the humanitarian needs of refugees. 
It also includes a commitment by Mexico to accept as many as 30,000 expelled asylum seekers per month.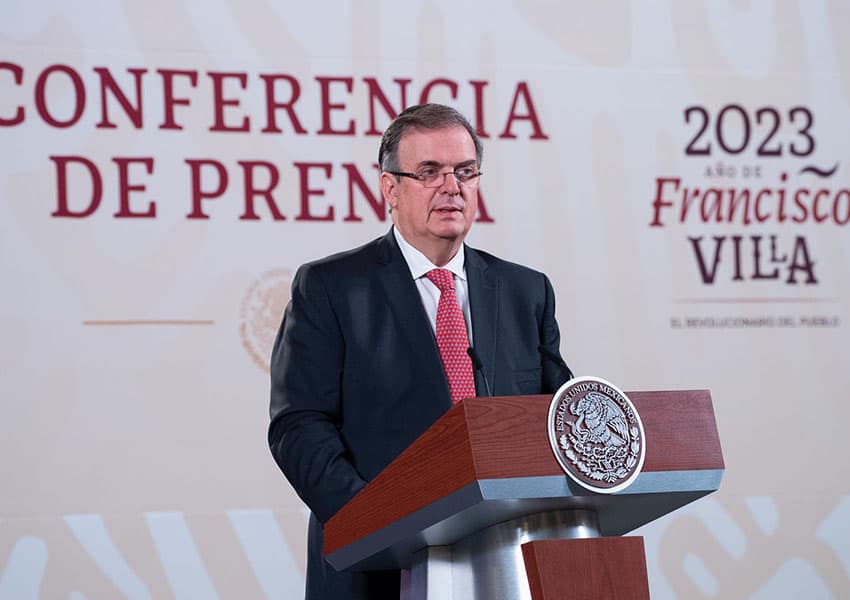 A new program announced today will as many as 30,000 Venezuelans, Nicaraguans, Cubans and Haitians per month to enter the U.S. and work for two years, providing they pass all relevant checks.
However, those ineligible for the scheme — including those who attempt to cross the Panama, Mexico or U.S. borders illegally after the date of the announcement — will be immediately expelled to Mexico. These migrants will be banned from reentry into the U.S. for five years.
"My message is this," Biden said in remarks at the White House. "If you're trying to leave Cuba, Nicaragua or Haiti, or have agreed to begin a journey to America, do not, do not just show up at the border."
The new policy would appear to make migrants from these nations who cross illegally into Mexico via its southern border automatically ineligible to enter the United States. It was not clear if migrants given regularized migration status in Mexico after having illegally crossed into the country would be included in the ban.  
Mexico's Foreign Affairs Ministry confirmed Thursday that it had agreed to accept the 30,000 expelled migrants per month as a partner in the new U.S. policy.
"Mexico receives with gratitude the announcement of these new actions by the U.S. to achieve orderly, safe, regularized and humane migration," it said in a statement. "The process put in place by the U.S. to issue humanitarian permits to Venezuelans has opened the door to a new method of orderly, safe and regular entry into the U.S., while significantly reducing irregular migration in the region by up to 94%."
Cientos de migrantes continúan atravesando la selva del Darién con el objetivo de llegar a Estados Unidos, pese a que la Corte Suprema decidió mantener la vigencia del Título 42. 🎥 @coweddle pic.twitter.com/JOYlBx74l9

— Americano Media (@AmericanoMedia) December 29, 2022
Migrants making the treacherous crossing through the Darien Gap. The route, taken mainly by Venezuelan and Haitian migrants, crosses the Panama border, which would automatically disqualify them from taking advantage of a new U.S. program granting legal work status to Venezuelans, Nicaraguans, Cubans and Haitians for two years.
Other measures in Biden's border plan include:
tripling the quotas for resettlement of refugees from Latin American and Caribbean countries, to a total of 20,000 per year in 2023–2024

allocating nearly $23 million to support Mexico and Central America in responding to the humanitarian needs of refugees.

launching an online appointment portal to reduce overcrowding at U.S. ports of entry
President Biden told reporters that he intends to visit the border region in connection with next week's North American Leaders Summit, at which the leaders of Mexico, Canada and the U.S. will meet in Mexico to discuss shared priorities such as trade and migration. It will be his first visit of his presidency to the border.
"I'm pleased President Biden will finally visit our southern border – which has been completely surrendered to the cartels, smugglers and human traffickers," tweeted Republican Senator Lindsey Graham, who has long been a critic of Biden's border policies.
The White House's statement takes aim at Republican lawmakers, accusing them of exacerbating the border crisis by blocking President Biden's immigration reforms and associated funding.
"Until and unless Congress delivers the funding as well as comprehensive immigration reform measures President Biden requested, the United States' broken immigration system will indeed remain broken," the statement concludes.
Over the last year, Venezuelans, Nicaraguans, Haitians, and Cubans came to make up a growing proportion of U.S. asylum claims due to the fact that – unlike Central Americans – they could not be expelled to Mexico under immigration restrictions installed during the COVID-19 pandemic, known as Title 42 restrictions. 
So far, Title 42 remains in place, after a legal challenge was blocked by the Supreme Court last month. There has been growing concern about how U.S. border states will cope with the eventual lifting of the restrictions – which allow unauthorized asylum-seekers to be immediately expelled to Mexico – due to the huge backlog of refugees that has built up on the border. 
In 2022, the U.S. detained a record 2.1 million persons for illegally crossing into the U.S. from Mexico, a fact that U.S. Customs and Border Protection (CBP) blamed on Title 42 regulations allowing the U.S. to dump some Central America and Caribbean migrants over the border in Mexican border cities rather than returning them to their home countries, which CBP officials said encourages multiple reentry attempts.
With reports from Reuters