The Mexican consumer advocacy non-profit Consumer Power (El Poder del Consumidor) has issued a statement expressing concern about the recent "wave" of lawsuits from businesses fighting the anti-smoking regulation that went into effect in January, which banned smoking in public and open places. The BBC described it as "one of the most stringent anti-smoking laws in the world." 
"From civil society, we call upon the judiciary to not give way before the … interests of businesses and corporations," said the organization's legal coordinator, Javier Zúñiga in a press conference.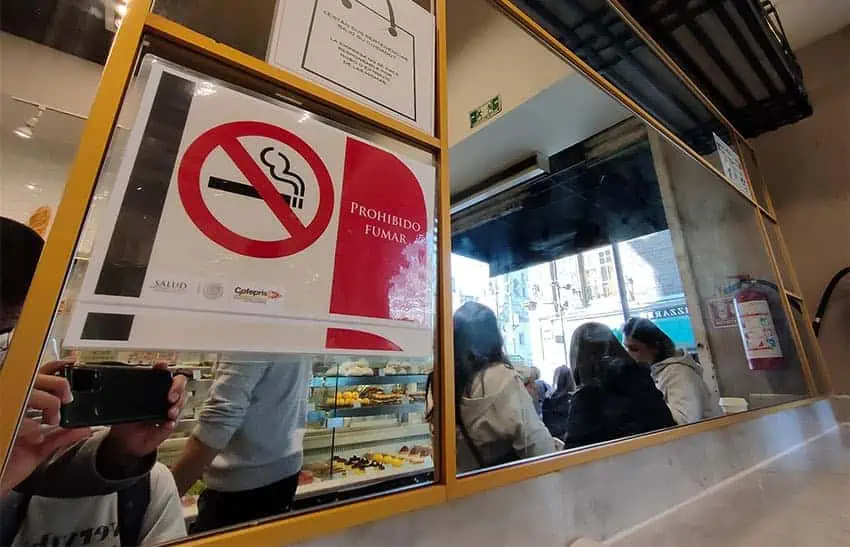 Zúñiga emphasized that tobacco use is the leading preventable cause of death globally, and said that each year, 63,200 people die in Mexico from smoking-related illnesses.
According to the new regulation, smoking is no longer allowed in outdoor spaces, though if considered a 100% smoke-free space, there should be visible signs placed in the area and in all access to public spaces. 
People found smoking in forbidden areas may be subject to fines or even arrest for 36 hours. The economic sanctions for smoking or lighting up any nicotine product in smoke-free spaces can be as high as $10,374 pesos (US $551.89).
Restaurants, bars and hotels are allowed to designate certain areas for the exclusive use of smokers, however, no drinks or food can be served in those areas. In addition, these areas must be at least 10 meters away from where nonsmokers are congregated. Commercial establishments in violation can be subject to partial or complete closure — temporarily or permanently, depending on the seriousness of the offense.
The law also prohibits display of cigarette advertising in stores, though on Feb. 21, FEMSA, which owns the ubiquitous Oxxo convenience store chain, won a definitive suspension order against the law, allowing stores to once again display cigarettes for sale.
"The [new regulation] exceeded what the law says. Regulations cannot exceed what the law says. Surely there will be amparos (a lawsuit to seek protection from government rights violations) and they will for sure win," Vicente Yáñez, president of the National Association of Supermarket and Department Stores, told Aristegui Noticias after the ban came into effect. 
"From our point of view, this regulation goes against free trade: it restricts a restaurant from providing its services with a measure that contravenes the development of the economy," said Víctor Arellano, who represents El Gran León de Oro cantina in Mexico City, in El País newspaper.
The cantina was the first to file an amparo after the new rules were published, and was granted a definitive suspension order by a judge on Feb. 8, allowing the restaurant to operate as it did before the smoking ban (with a designated smoking section).
Many other restaurants, bars and other businesses across the country have also taken legal action. According to the National Alliance of Small Businesses (ANPEC), which represents more than 225,000 micro-businesses in Mexico, over 700 suits have been filed against the new law in 25 states.
An ANPEC press release published on Feb. 21 characterized the regulation as "prohibitionist" and said it "threatens the 2 million self-employed in small businesses." 
Some businesses have already failed in their lawsuits, including the national VIPS restaurant chain, whose provisional suspension order was denied by a judge last month.
Habano 2000 smoke shop in Mexico City filed an amparo asking to continue advertisement of products made with tobacco, but according to a report in Sin Embargo, the judge denied the suspension as it would "contravene provisions of public order and social interest due to the damage that consumption of products made with tobacco can cause to the public."
With reports from  El País, El Universal, La Jornada, EFE