An additional 21,897 confirmed coronavirus cases were added to Mexico's accumulated tally on Friday as the the delta variant-driven third wave of the COVID-19 pandemic continues to surge.
Mexico's case total now stands at just under 3.2 million, while the official COVID-19 death toll rose to 252,080 on Friday with 761 additional fatalities.
The Health Ministry reported 348,856 new infections in the first 20 days of August for a daily average of 17,443 cases. That figure is 64% higher than the daily average in July and 23% above the average in January, which was the worst completed month of the pandemic in terms of both cases and deaths.
There are currently 152,130 estimated active cases across Mexico, according to Health Ministry data.
There have been 11,174 reported COVID-19 deaths so far this month for an average of 559 fatalities per day. That figure is 121% higher than the daily average in July but 47% lower than the average in January. The reduction in deaths compared to the peak of the second wave of the pandemic when very few people were vaccinated is evidence that vaccines are doing their job and preventing severe disease and death in most cases.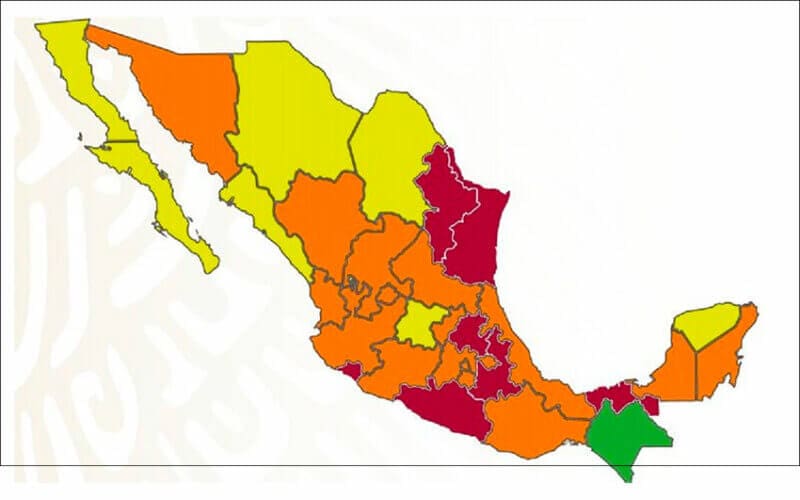 Federal government coronavirus point man Hugo López-Gatell said earlier this month that 97% of hospitalized COVID-19 patients were unvaccinated.
In other COVID-19 news:
• There are seven red light maximum risk states on the coronavirus stoplight map that will take effect Monday and remain valid through September 5. They are Nuevo León, Tamaulipas, Colima, Guerrero, Puebla, Hidalgo and Tabasco.
• Mexico City and México state will remain high risk orange on the map next week, authorities said on Friday. The adjoining entities easily have the highest coronavirus case tallies and COVID-19 death tolls in the country. The capital has recorded more than 860,000 confirmed cases and over 47,000 deaths since the start of the pandemic, while confirmed infections in México state number more than 320,000 and deaths are approaching 30,000.
There are 15 other orange states: Sonora, Durango, Zacatecas, Nayarit, Jalisco, Aguascalientes, San Luis Potosí, Michoacán, Querétaro, Tlaxcala, Veracruz, Oaxaca, Morelos, Campeche and Quintana Roo.
Baja California, Baja California Sur, Sinaloa, Chihuahua, Coahuila, Guanajuato and Yucatán are all medium risk yellow, while Chiapas remains the sole low risk green state.
• In Mexico City, 88% of adults have received at least one dose of a vaccine, city official Eduardo Clark said Friday. Just under half of all adults in the capital – the country's coronavirus epicenter since the start of the pandemic – are fully vaccinated.
Clark said there are currently 3,207 hospitalized COVID-19 patients in Mexico City, a reduction of 147 compared to a week ago.
• Tamaulipas recorded its worst day of the pandemic in terms of new case numbers on Wednesday with 717 confirmed infections. The daily case tally was almost 14% higher than the previous record of 630 cases set last Friday.
The northern border state added an additional 538 confirmed cases to its accumulated tally on Thursday. That total stands at just over 81,000 while Tamaulipas has recorded more than 5,800 COVID-19 deaths, according to federal data.
In light of the recent rise in infections in the northern border state, Health Minister Gloria Medina Gamboa urged Tamaulipas residents to get vaccinated, stay at home as much as possible and follow all virus mitigation measures.
She said Wednesday that 56% of beds set aside for coronavirus patients were occupied, up from 52% a day earlier. A total of 786 COVID patients have been hospitalized in Tamaulipas during the third wave of the pandemic, 712 of whom were not vaccinated, the health minister said.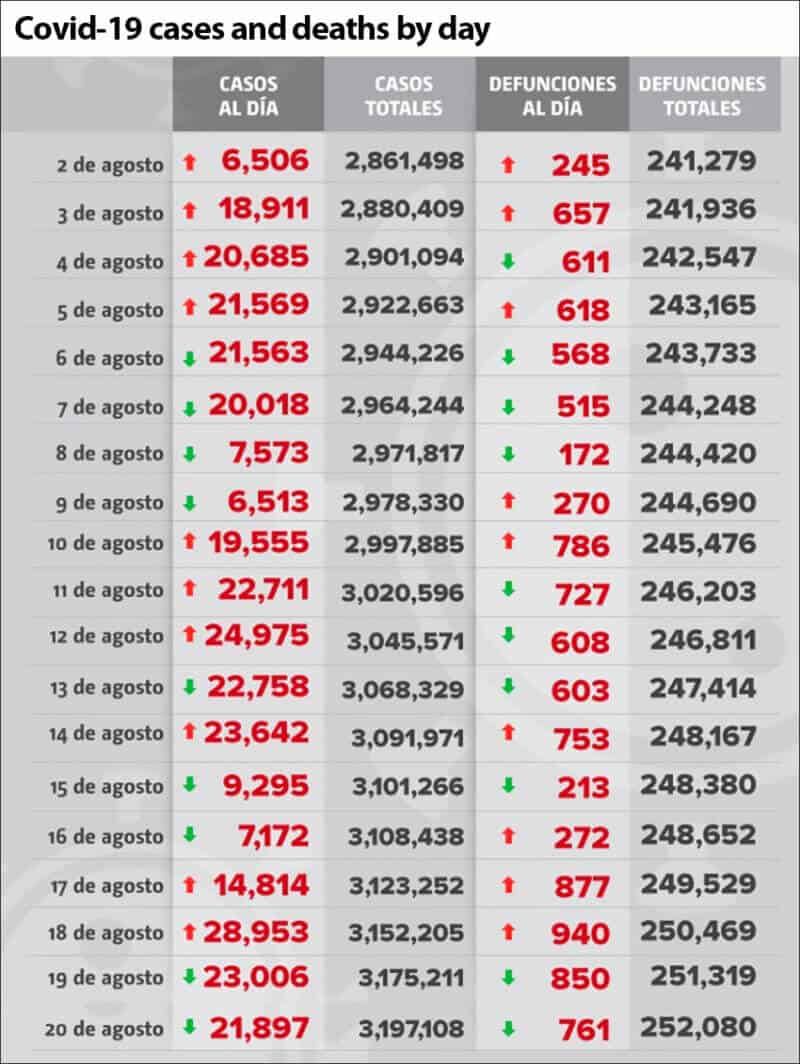 • More than 80% of general care hospital beds are occupied in COVID-19 wards in Tlaxcala and Puebla. Federal data shows that the rate in the former state is 85.5% and just over 80% in the latter. Five other states have rates above 70%. They are Hidalgo, Veracruz, Durango, San Luis Potosí and Colima.
At 85%, Colima has the highest occupancy rate for beds with ventilators. Tlaxcala and Mexico City rank second and third, respectively, with rates of just above 70%.
• The Mexican Association of Insurance Institutions reported that the average cost of hospital treatment for COVID-19 patients aged 10 to 19 has increased to almost 176,000 pesos (about US $8,600) from 174,638 pesos two weeks ago. Data from numerous countries shows that children are more likely to be infected with the highly contagious delta strain of the virus than other variants.
• Mexico has granted emergency use authorization to the COVID vaccine made by the United States pharmaceutical company Moderna. Health regulator Cofepris issued the approval on Wednesday.
Foreign Minister Marcelo Ebrard said on Twitter that the United States will send 1.75 million doses of the mRNA vaccine to Mexico this weekend and another consignment of the same number of shots in a month.
There are now eight COVID vaccines authorized for use in Mexico. They are the Pfizer, AstraZeneca, Sputnik V, Sinovac, CanSino, Covaxin, Johnson & Johnson and Moderna shots.
• Several young people dressed as fictional characters including Pikachu, Batman, Wonder Woman and Winnie-the-Pooh before venturing out to get vaccinated on Thursday in the Mexico City borough of Xochimilco. The chance to win prizes such as books and pajamas encouraged some vaccine candidates to don the colorful suits, but one man said he did so to help him overcome his fear of needles.
"I like Pikachu and [dressing up as the Pokemón character] gives me courage because I don't like needles," a 24-year-old chef told the EFE news agency.
With reports from Reforma, Milenio, Infobae, Marca Claro and EFE