The situation migrants face in Mexico is unsustainable and policies that criminalize them are unacceptable, according to the Mexican division of Doctors Without Borders (MSF).
The organization said in a statement that it has launched an emergency intervention in Tapachula, Chiapas, "where some 40,000 people are trapped due to the failure of the asylum system."
Frustrated by long processing times for asylum claims, migrants in four large caravans recently departed the city only to be confronted by National Guard troops and immigration agents intent on halting their advance, even through the use of force.
MSF also denounced the "exclusion and abandonment" of 2,000 migrants in a large camp in Reynosa, Tamaulipas, that the United States has urged Mexico to clear due to concerns that such camps pose a security risk and attract criminal gangs that prey on vulnerable migrants.
Doctors Without Borders said that tens of thousands of migrants in Mexico face a situation of "extreme vulnerability" due to continuous deportations from the United States and the failure of asylum policies.
The medical and humanitarian organization denounced crowded conditions and a lack of access to medical and social services in both southern and northern Mexico.
In Tapachula, an emergency MSF team has provided medical treatment to migrants who returned to that city after being stopped by authorities as they attempted to travel north.
Christoph Jankhöfer, head of MSF's migrants program in Mexico, said that some migrants were living on the streets of Tapachula because shelters are full. All migrants in the city are at risk of being infected with COVID-19, he said.
Jankhöfer also said that MSF is concerned about symptoms of anxiety, depression and despair among migrants stranded in the southern city.
"Coming from countries such as Honduras, Guatemala, El Salvador, Venezuela, Haiti and Cuba, the migrants in Tapachula, a significant number of whom are women and children, have been in limbo for months waiting for the resolution of their migratory status," MSF said.
"A lot of these people recently crossed the border with Guatemala, while others were deported by the United Sates to the northern border of Mexico and later transferred to the south of the country by Mexican authorities," it said.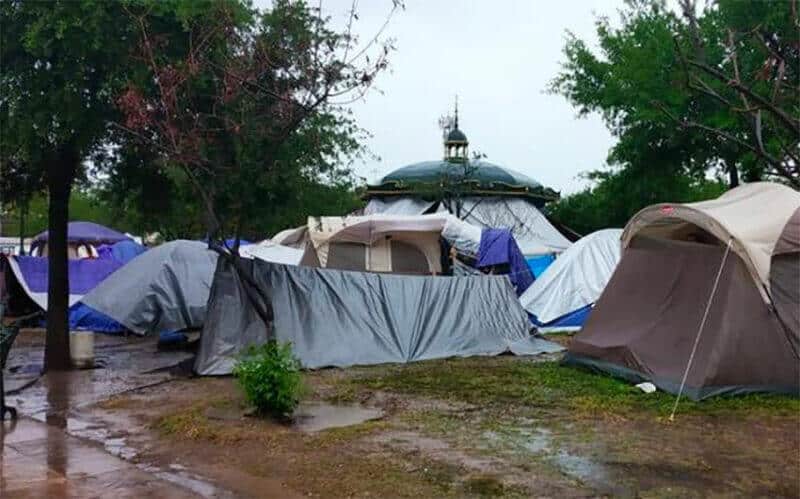 The organization also said that migrants in Reynosa are in an uncertain situation. More than 2,000 are living in tents in a makeshift camp near an international bridge that connects the city to Hidalgo, Texas, MSF said, adding that they are exposed to "harsh heat," lack access to basic services and face serious security risks.
"As they have fled from their countries of origin, the only option they've had is to try to seek asylum [in the United States] from here and wait indefinitely for it to be approved while they survive in deplorable conditions," said Anayeli Flores, MSF's humanitarian affairs chief in Reynosa.
"Neither the Mexican nor the United States government provides support despite the fact that their restrictive policies are what keep these people in conditions of vulnerability, violating the international right to request asylum," she said.
MSF said it is providing primary and mental healthcare services to migrants in Reynosa, and supporting the supply of drinking water. It said it offered 902 consultations between March and August and that the most common ailments were respiratory, digestive and skin problems, all of which were related to "serious overcrowding and lack of hygiene."
Many patients also showed signs of anxiety, stress and psychological disorders caused by traumatic experiences in their home countries and/or while traveling to the Mexico-U.S. border, the living conditions they currently face, uncertainty about the future and separation from family members, MSF said.
"The majority of migrants in Reynosa, among whom are women on their own, pregnant women, boys and girls, older adults, members of the LGBTQI population, indigenous people and non-Spanish speakers, have been expelled from the United States through Title 42, a policy that constitutes a flagrant violation of international law and which uses the COVID-19 pandemic as an excuse to quickly block people who seek protection in that country and return them directly to border cities in Mexico, with the consent of the Mexican government," it said.
"The situation of migrants in Mexico is unsustainable," said Gemma Domínguez, MSF's general coordinator in Mexico.
"The migratory policies that criminalize migration, the lack of an adequate humanitarian response and repeated violence and persecution against migrants are unacceptable and place the lives of thousands of men, women and children in danger," she said.
MSF called on the Mexican and United States governments to urgently "take actions that resolve the grave humanitarian situation that migrant populations live throughout the country, particularly in border regions."
Mexico News Daily