President López Obrador announced Thursday that the government had reached an agreement with Grupo México under which the mining and infrastructure conglomerate will cede control of a section of railroad in Veracruz that was occupied by the navy last month.
Speaking at his morning news conference, López Obrador said that Grupo México, parent company of the railroad firm Ferrosur, had agreed to "voluntarily hand over" a 120-kilometer section of the Southeastern Railway to the nation.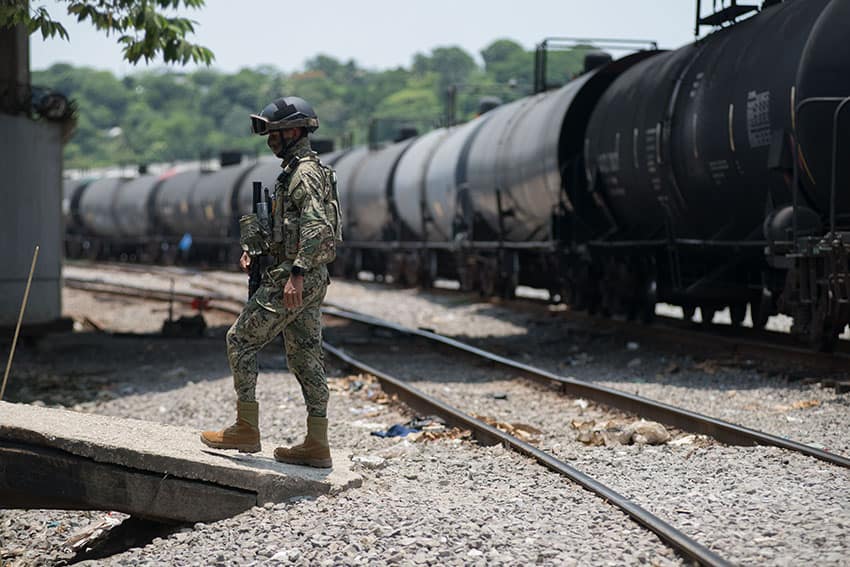 In exchange, Ferrosur's concession to operate another section of railroad in Mexico's southeast will be extended by eight years to 2044, the president said. No monetary compensation will be paid to Grupo México, López Obrador said.
He said that Grupo México — owned by billionaire businessman Germán Larrea — also agreed to drop legal action related to the government's cancelation of a 17.8-billion peso (about US $1 billion) contract for construction of part of the 1,554-kilometer long Maya Train railroad, which is scheduled to begin operations in December.
The 120 kilometers of railroad that Grupo México agreed to cede are located in the Veracruz section of the Isthmus of Tehuantepec, where the government is working on a trade corridor project to connect Salina Cruz on the Pacific coast of Oaxaca to Coatzacoalcos on the Gulf coast of Veracruz.
The project — envisioned as a rival to the Panama Canal — includes the modernization of the railroad between the two port cities.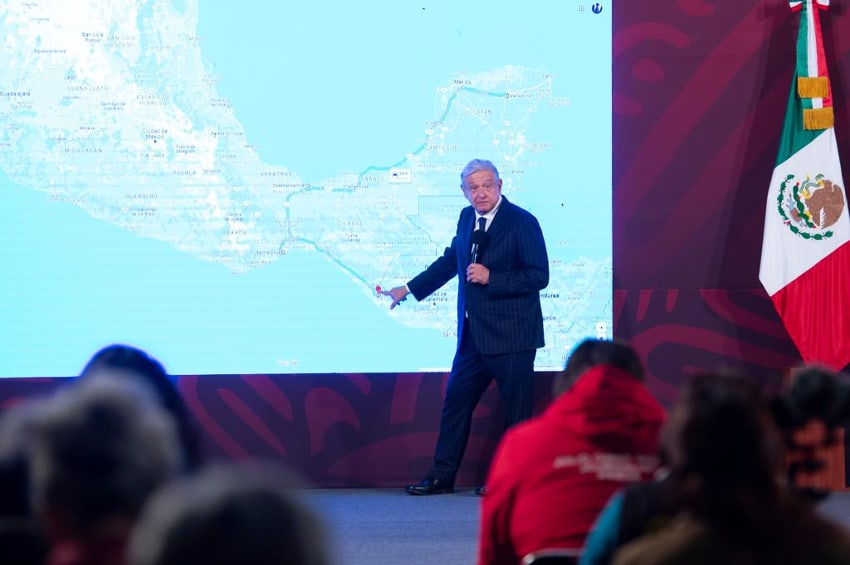 To facilitate that project, López Obrador published a decree on May 19 that ordered the "immediate temporary occupation" of three sections of railroad operated by Ferrosur between Medias Aguas and Coatzacoalcos, Hibueras and Minatitlán, and El Chapo and Coatzacoalcos.
The decree declared the combined stretch of railroad to be of "public utility" and relevant to national security, and ordered their temporary occupation by Ferrocarril del Istmo de Tehuantepec, a military-run state-owned company working on the trade corridor project.
Grupo México Transportes (GMXT), which runs Ferrosur, said that armed navy personnel occupied Ferrosur facilities along the 91-kilometer Medias Aguas-Coatzacolacos section starting at 6 a.m. on May 19.
"The surprising and unusual takeover … by the armed forces is being analyzed by Group México Transportes, its investors and advisors," the firm said at the time.
López Obrador rejected claims that the government expropriated the 120-kilometers of railroad, asserting that it simply "recovered" a concession granted to Ferrosur.
On Thursday, he described the deal with Grupo México as a "good agreement because the navy is now going to operate the entire isthmus railroad."
"… It's a matter, I repeat, of national security," López Obrador said.
"… [The trade corridor] is a very important project because it's about connecting the Pacific to the Gulf; we're talking about no more than 250, 300 kilometers, and we're investing. The new railroad will be finished in August, and will begin operating with freight trains and later passenger trains," he said.
López Obrador said that trains that use the military-run railroad will have to pay a fee to Ferrocarril del Istmo de Tehuantepec.
The president declared the Isthmus of Tehuantepec railroad issue "resolved" and said he was "very happy" because a section of railroad in a "strategic region" was returning to the nation.
"With this asset, we've recovered more than 2,000 kilometers of railroad tracks under concession," he said.
"I hope to end my term delivering 2,000 kilometers of tracks with passenger trains," López Obrador added.
"… [Such a situation] hasn't been seen for a long time, [not] since the bad decision to privatize railroads was taken," he said, explaining that former president Ernesto Zedillo —  who was in office between 1994 and 2000 — granted concessions for "the country's entire railroad" and that passenger trains consequently "disappeared."