The Dos Bocas oil refinery is being built on land on the coast of Tabasco that Pemex promised to preserve until the second half of this decade, Environment Ministry (Semarnat) documents indicate.
Analyzed by the news agency Bloomberg, the public documents show that in 2006 and 2007 the state oil company committed to protecting the site, which included a rare mangrove forest, in exchange for nearby drilling rights.
Semarnat allowed Pemex to develop oil and gas fields in the area for a period of 20 years on the condition that it abstain from building any new infrastructure on land that is home to rare flora and fauna during the same period, the documents show.
Bloomberg noted that in its 2006 environmental impact assessment of the area, Pemex said there were four types of mangrove and 23 species of protected fauna. The state oil company said in the assessment that conserving coastal vegetation "should be considered a priority."
It pledged that all the mangroves – which are more effective than most trees at capturing carbon and provide protection against flooding – would be in a restricted use zone where it wouldn't build any new projects or carry out activities beyond maintaining existing installations.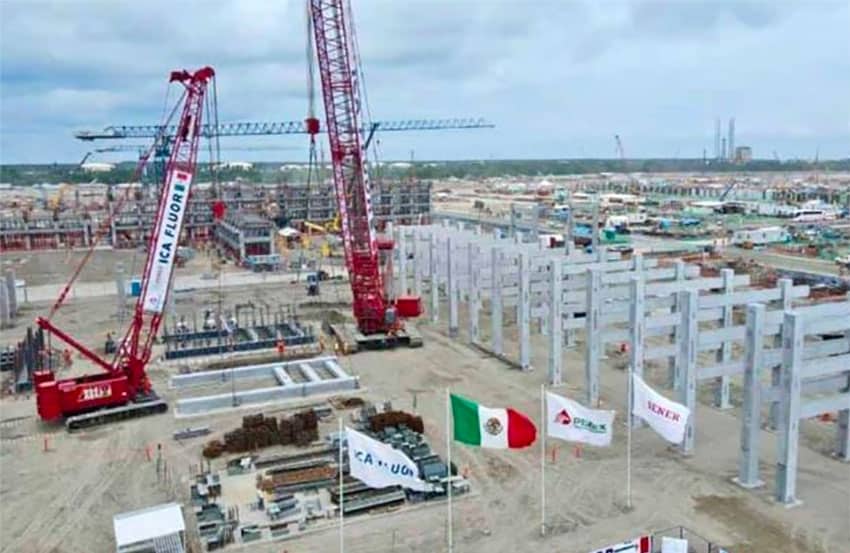 When it gave conditional approval to Pemex to develop the oil and gas reserves in 2007, Semarnat said the state company would not be allowed to develop projects or carry out activities in areas with mangroves and several other types of vegetation.
Pemex "must abide by each and every prevention and mitigation measure it proposed in the environmental impact assessment," the ministry said.
Bloomberg said "satellite mapping coordinates of the area listed in the documents and verified for Bloomberg by Planet Labs Inc., a … provider of satellite imaging services, along with maps, leave no room for ambiguity: the refinery sits inside the protected area."
The news agency consulted four environmental lawyers who concluded that Pemex's obligation to preserve the land on which the US $8 billion refinery is being built has probably not been rescinded.
"Pemex is obliged to comply with these conditions throughout the lifetime" of the 20-year project, said Fernanda Velasco, who has worked as a government regulator. 
Daniel Basurto, former coordinator of the Mexican Bar Association's environment committee, told Bloomberg that Pemex's obligation to preserve the area could theoretically have been superseded by a subsequent agreement or directive but he had no knowledge of any change. 
The news agency said that neither Pemex nor Semarnat responded to requests for comment, and the office of President López Obrador declined to comment.  
A private company was found to have illegally cleared mangroves from the Dos Bocas site in late 2018  and was fined by the Security, Energy and Environment Agency, Mexico's energy sector watchdog. 
Bloomberg said satellite images show that more mangroves were cleared after Pemex began building the refinery in mid-2019.
López Obrador, a Tabasco native, says that construction of the refinery and rehabilitation of Pemex's six existing refineries will allow Mexico to reach self-sufficiency for gasoline by 2023. He is determined to "rescue" the state oil company from what he describes as decades of neglect and has sought to enact policies that give it and the state-owned electricity utility a more prominent place in the Mexican energy market.
The Dos Bocas project has created many jobs but residents of Paraíso, the coastal municipality where it is located, nevertheless rejected the ruling Morena party at elections on June 6. The Democratic Revolution Party, López Obrador's previous political home, seized the mayoralty from Morena, which won office in Paraíso in 2018.
The new refinery, which is expected to process 340,000 barrels of crude per day, was originally scheduled to begin operations in 2022 but Pemex now forecasts a 2023 opening date. The price could blow out to more than US $10 billion, recent projections suggest.
With reports from Bloomberg