An additional 17,409 confirmed coronavirus cases were added to Mexico's accumulated tally on Friday while 725 additional COVID-19 deaths were reported.
Just over 3.4 million cases have now been detected and 262,221 people with confirmed cases of COVID-19 have died.
The federal Health Ministry reported 100,258 estimated active cases across Mexico, a 9.5% decline compared to Thursday.
The Mexico City government announced that the coronavirus risk level in the capital would be downgraded from high orange to medium yellow on Monday. Official Eduardo Clark said that new case numbers have been on the wane in Mexico City for four weeks.
However, there are still more than 20,000 active cases in the country's largest city, according to the federal government. In neighboring México state, Governor Alfredo del Mazo said the orange risk level will remain in place for an additional two weeks.
There are no red light maximum risk states on the federal stoplight map that will take effect Monday and remain in force until September 19, whereas there are seven on the current map. Deputy Health Minister Hugo López-Gatell said earlier this week that there are "clear signs" that the third, delta variant-driven wave of the pandemic is receding.
There are 17 orange states, 13 yellow ones and two green light entities with Chihuahua joining Chiapas as a low risk state.
The orange states are Sonora, Nuevo León, Tamaulipas, San Luis Potosí, Aguascalientes, Veracruz, Colima, Tabasco, Campeche, Yucatán, México state, Guerrero, Morelos, Puebla, Tlaxcala, Hidalgo and Querétaro.
The yellow states are Baja California, Baja California Sur, Sinaloa, Durango, Coahuila, Nayarit, Zacatecas, Jalisco, Michoacán, Guanajuato, Mexico City, Oaxaca and Quintana Roo.
In other COVID-19 news:
• More than 86.3 million vaccine doses have been administered, according to the latest data. The Health Ministry reported that just under 462,000 shots were given on Thursday. About 65% of the adult population has received at least one shot.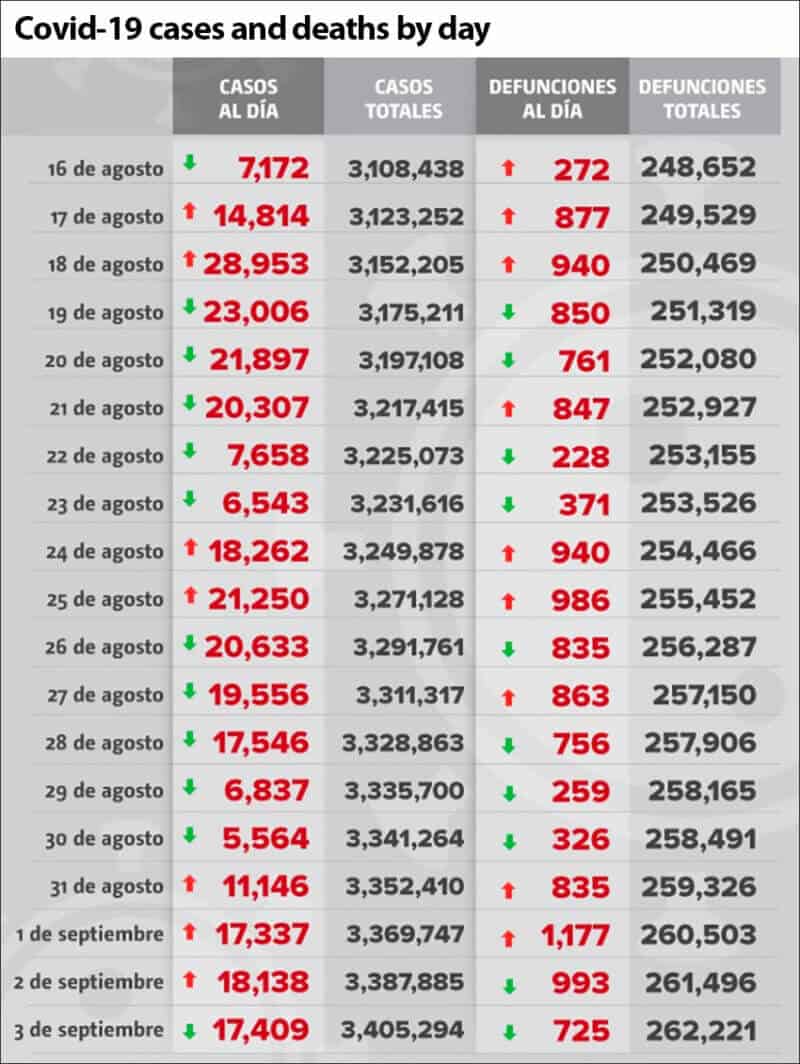 • Residents aged 40-49 of six Mexico City boroughs will receive their second shots of the AstraZeneca vaccine next week. Jabs will be administered Tuesday through Saturday in Azcapotzalco, Iztapalapa, Benito Juárez, Gustavo A. Madero, Venustiano Carranza and Iztacalco.
Government official Eduardo Clark said Friday that an average of almost 105,000 people per day are expected to be vaccinated.
• Durango now has the highest occupancy rate for general care COVID-19 hospital beds, according to federal data. Just under 71% of such beds are occupied in the northern state.
Hidalgo ranks second with a rate of 68% followed by Veracruz (also 68%), Puebla (66%), San Luis Potosí (62%) and Nuevo León (60%).
Colima has the highest occupancy rate for beds with ventilators with almost 69% in use. The only other state where more than 60% of such beds are taken is Tabasco, where the rate is 61%.
• The average cost of a stay in a private hospital for a COVID patient has risen to 494,000 pesos (US $24,800), the Mexican Association of Insurance Institutions reported. Treatment for severely ill patients who require intubation can be as high as 3.5 million pesos (US $175,500).
• The federal government estimates there will be just over 70,000 additional COVID-19 deaths in the final four months of 2021. The Health Ministry estimate was included in an extended, written version of President López Obrador's third annual report to the nation.
With reports from El Universal and El Economista