A large fire that started Saturday in a factory near the Mexico-United States border in Tijuana was still burning on Monday and was not expected to be fully extinguished until later this week.
A fire broke out at approximately 5:30 a.m. Saturday at the Cartonera de Otay cardboard recycling plant in an industrial area of the northern border city. The cause of the blaze was unclear but followed some kind of explosion at the plant, according to social media users.
Workers were evacuated, and surrounding streets were cordoned off. No injuries were reported. The fire is now under control, Tijuana Fire Department officials said on its Facebook page, but it will take days to put out.
More than 100 firefighters and other emergency personnel responded to the blaze, according to fire department officials, but they couldn't stop it from spreading to other factories and warehouses.
The newspaper El Heraldo de México reported Monday that the fire was still burning more than 50 hours after it began.
Tijuana fire chief Rafael Carillo said that firefighters have been working hard to control the blaze and reduce risks to citizens. He predicted that it will be fully extinguished in the coming days.
Aterrizando en tijuana 🛬y Qué pasó ? #tijuana #incendio #otay pic.twitter.com/SgOdBn4b2G

— Zyan (@Zyanya9) January 28, 2023
A Twitter user who said he was landing at Tijuana International Airport posted images of the plume of smoke over the city.
Carillo said in a television interview that assets of seven companies were damaged by the fire, which he described as the largest in the area in 15 years. He warned citizens to avoid breathing in the smoke emanating from the blaze due to its toxicity.
Cardboard and plastic are among the materials that have fueled the fire.
Thick plumes of smoke crossed the border into neighboring San Diego county on Saturday. The United States National Weather Service (NWS) shared a satellite image on social media that showed the areas affected by the smoke.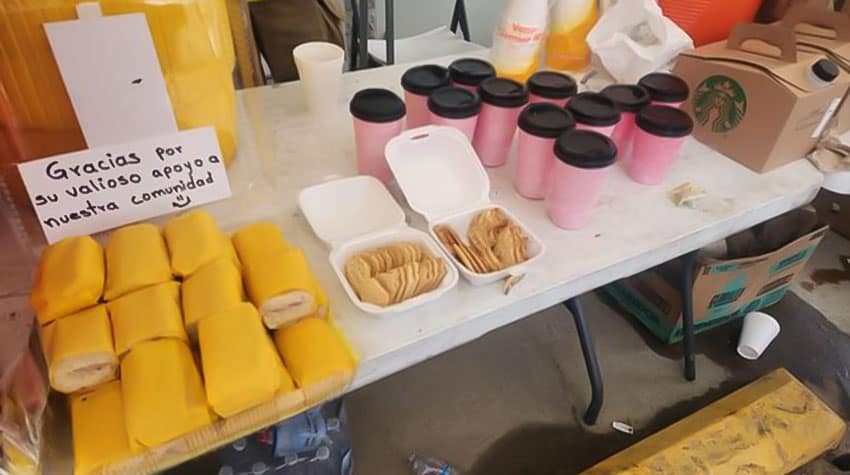 "A smoke plume near the international border is spreading smoke aloft over #SoCal," or southern California, NWS San Diego said on Twitter.
A video posted by an airline passenger flying into Tijuana airport showed a large cloud of thick black smoke rising from the blaze and spreading across the sky near the Mexico-U.S. border.
With reports from Publimetro, El Imparcial, CBS8 and El Heraldo de México