Experts from the National Institute of Anthropology and History (INAH) have discovered 26 ancient graves dating back 2,700 years at a site in Mexico City.
Located in the south of the capital and adjoining a modern-day cemetery, the site measures 360 square meters and archaeologists believe that it might have been used by women for activities related to the care of infants.
During excavations over the last four months, the INAH team has found the graves at depths between 1.2 and 3.3 meters below street level. About 20 of them are in a perfect state of conservation.
"Until now, we have detected four stages of settlement; four historical periods linked to the start of the 20th century, the Porfiriato [the period of more than three decades when former president Porfirio Díaz was in power], Mexico's independence and the pre-Hispanic period," said Antonio Balcorta Yépez, an INAH archaeologist working on the project.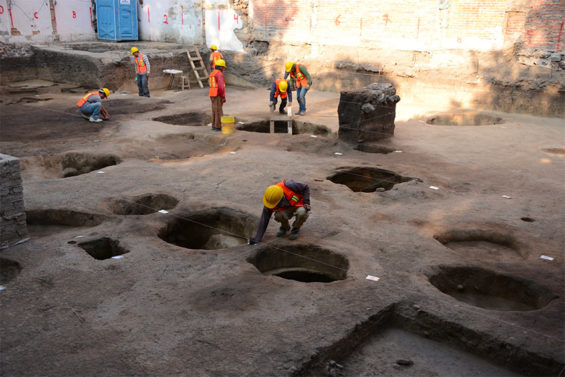 Of the 26 graves found, 11 are in the form of a truncated cone, while the archaeologists have also found vestiges of walls from pre-Hispanic structures.
"We've made a series of discoveries that have revolutionized the knowledge we had about graves in the pre-classic period. The context suggests to us that we are at a village where they carried out specialized activities. The height [of the site and] its geographical and strategic position indicates to us that the people [who lived on] this hill may have had greater control over certain resources compared to the village of Copilco," Balcorta said.
Truncated cone graves were not only used for funeral purposes but also to store grains, artifacts and waste materials, he explained.
However, there is also evidence that indicates that at least two of the graves may have been used by women for everyday activities related to caring for their children, such as giving an herbal steam bath to a newborn baby.
That theory is supported by the discovery of more than 130 figurines in the graves, most of which represent pregnant women, while a smaller number are of infants. The ceramic pieces feature red, yellow and black colorings on their different body parts.
The INAH team has extracted samples from different parts of the graves to carry out chemical and pollen analyses aimed at confirming or rejecting the perinatal care hypothesis.
The archaeologists have also made discoveries from more recent times including remnants of ammunition used in the Mexican revolution and parts of adobe bricks and other building materials that formed part of a house that stood on the site at the end of the 19th century.
Because it is 2,296 meters above sea level, it is believed that the site was not affected by lava flows following the eruption of the Xitle Volcano between 245 and 315 AD and for that reason it has remained in well-conserved condition.
Source: Milenio (sp)