Hurricane Norma has strengthened into a Category 4 storm as it continues on its path toward the Baja California peninsula.
Norma, which was first upgraded to hurricane status on Wednesday afternoon, had maximum sustained winds of 215 kilometers per hour at 9 a.m. Thursday, the United States National Hurricane Center (NHC) reported.
Este día, la amplia circulación de #Norma originará #Lluvias intensas en #Colima y #Jalisco.

Toda la información en ⬇️https://t.co/gw8hEwKvBU pic.twitter.com/oywBsjhfNQ

— CONAGUA Clima (@conagua_clima) October 19, 2023
The hurricane was about 390 kilometers west-southwest of Manzanillo, Colima, and 655 kilometers south-southeast of Cabo San Lucas, Baja California Sur, the Florida-based forecaster said.
The hurricane qualified as a Category 4 storm on the Saffir-Simpson Hurricane Wind Scale at 9 a.m. as its maximum sustained wind speeds were just above the 209 km/h threshold for that category.
The NHC said that "small intensity fluctuations" in winds speeds "are possible today, followed by gradual weakening beginning Friday and continuing into the weekend."
It said that "Norma is moving toward the north near 7 mph (11 km/h)" and that the hurricane is "forecast to approach the southern portion of Baja California on Friday night and Saturday."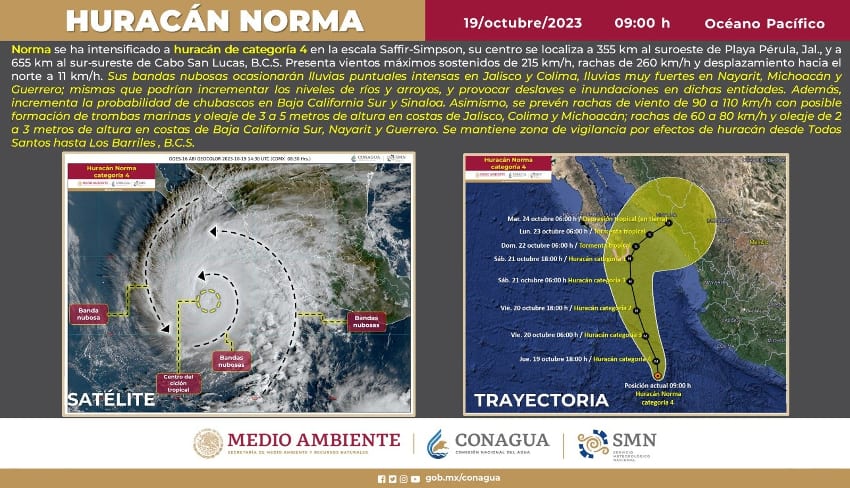 The twin resort cities of Cabo San Lucas and San José del Cabo are located on the southern tip of the Baja California peninsula, meaning that they could face a direct hit by Norma.
A Hurricane Watch is currently in effect for the Baja California peninsula from Todos Santos on the southwest coast to Los Barriles on the southeast coast.
The NHC noted that "a Hurricane Watch means that hurricane conditions are possible within the watch area."
"A watch is typically issued 48 hours before the anticipated first occurrence of tropical-storm-force winds, conditions that make outside preparations difficult or dangerous," it added.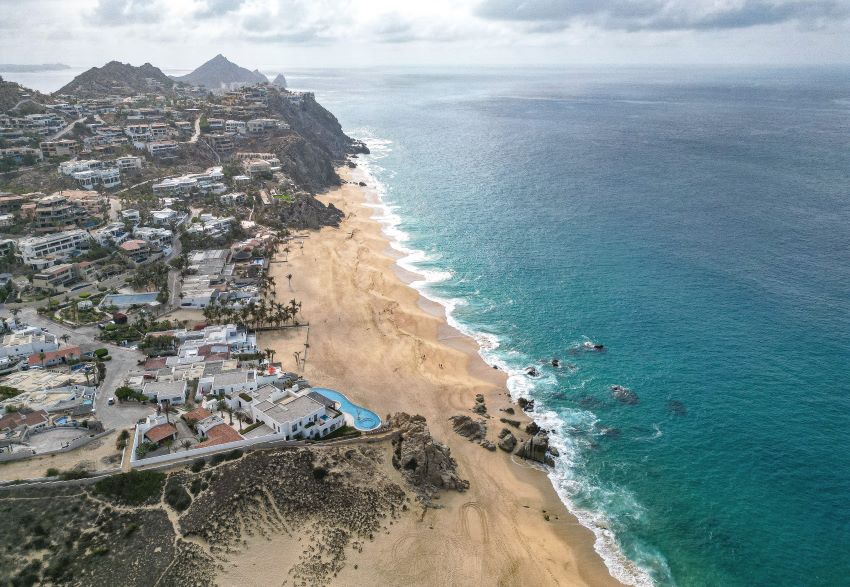 The NHC said that Norma is expected to produce rainfall totals of 5-10 inches (12-25 cm) with local maximums of 15 inches (38cm) "through Sunday across the far southern portion of the Mexican state of Baja California Sur."
"These rains will likely produce flash and urban flooding, along with possible mudslides in areas of higher terrain," it said.
Mexico's National Meteorological Service (SMN) said in a statement that Norma is forecast to produce "intense" rainfall of 75-150 millimeters in Jalisco and Colima on Thursday.
"Very heavy" rain of 50-75 mm is forecast for Chiapas, Guerrero, Michoacán, Nayarit and Oaxaca, while "heavy" falls of 25-50 mm are expected in Puebla and Veracruz. Intermittent "showers" totaling 5-25 mm are forecast in Baja California Sur on Thursday ahead of heavier rain in the coming days.
"It's expected that the precipitation … will be caused by the wide circulation and cloud bands of Norma, in interaction with a low pressure trough that will extend over the west and center of Mexico as well as a second low pressure trough in the southeast of national territory," the SMN said.
The service said that lightning and "strong gusts of wind" are expected in areas where heavy rain is forecast on Thursday, and warned of "possible" hailstorms. The SMN also warned of the possibility of flooding and landslides.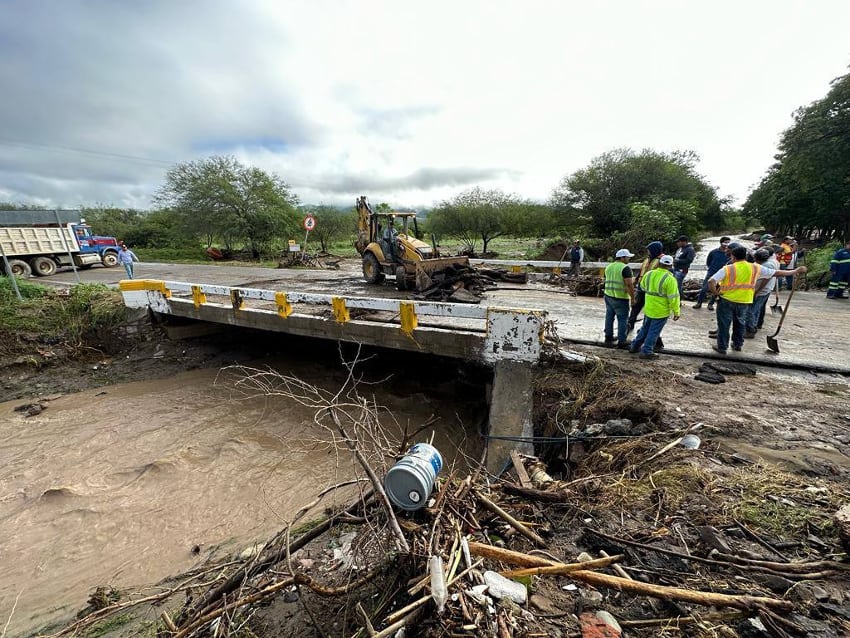 Norma is also causing rough conditions along Mexico's Pacific coast.
The NHC said that "swells generated by Norma are affecting portions of the coast of southwestern Mexico, and will spread northward along the coast of western Mexico and toward Baja California Sur during the next couple of days."
"These swells are likely to cause life-threatening surf and rip current conditions," the center said.
The formation of Norma, the 14th named storm of the 2023 Pacific hurricane season, came after Hurricane Lidia made landfall as a Category 4 storm in Jalisco on Oct. 10. Tropical Storm Max touched down in Guerrero the previous day. Those two storms claimed at least three lives, toppled trees and damaged scores of homes.
Mexico News Daily