The Interoceanic Corridor of the Isthmus of Tehuantepec (CIIT)  will connect with Section 1 of the Maya Train, according to the head of the project, General Óscar David Lozano Águila.
During President Andrés Manuel López Obrador's Monday morning press conference, Lozano explained that Section 1 of the Maya Train – from Palenque in Chiapas to Escárcega in Campeche – will be linked to the trans-isthmus freight rail corridor in a strategic commercial partnership.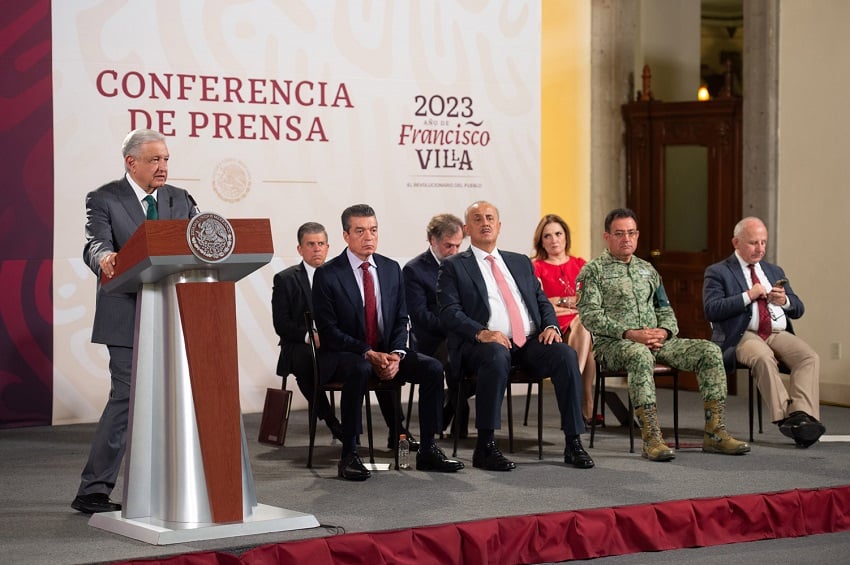 Both trains will connect at a merchandise exchange terminal in Palenque, expected to begin construction next year. 
Construction of an operations yard in Escárcega, Campeche will also begin next year to facilitate the transport of fuel, cement, steel, grains, perishables and vehicles through the railway system, the general reported. 
With 185 kilometers of track completed out of the 225 kilometers of Section 1 of the Maya Train, Gen. Lozano also reported an advance of 82% in track construction. 
As part of the Maya Train's complementary projects, he said that 11 of 12 bridges have been built, as well as 174 of 204 pedestrian, vehicular and wildlife crossings.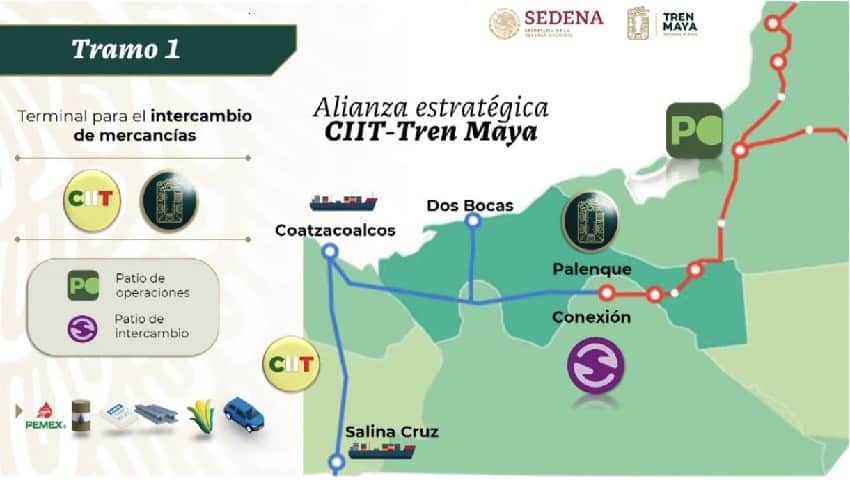 Finally, João Pedro Parreira, president of Mota-Engil Latin America, the construction company in charge of building Section 1, reported that construction had begun on the Boca del Cerro Bridge, which will cross the Usumacinta River. It is Section 1's "most important" structural work, according to the office of President López Obrador.
On Sept. 17, López Obrador carried out his first supervision tour aboard the interoceanic passenger train from Salina Cruz, Oaxaca to Coatzacoalcos, Veracruz.
"People in the villages are euphoric," the president wrote on X, formerly known as Twitter. 
Connecting the Pacific Ocean with the Atlantic over Mexico's "waist" — only 137 miles separate the two oceans at the isthmus's narrowest point — the interoceanic railway will have three lines: Line Z, running from Veracruz to Oaxaca; Line FA running through Veracruz, Chiapas and Tabasco; and Line K, connecting Oaxaca to Chiapas.
The Maya Train and the CIIT are two of López Obrador's flagship infrastructure projects, along with the Felipe Carrillo International Airport in Tulum, the Dos Bocas Refinery in Tabasco and the Felipe Ángeles International Airport in Mexico City. 
With reports from El Financiero