Mexico slipped three places to 89th on the most recent edition of a well-established index that assesses the health, or lack thereof, of democracy in almost 170 countries around the world.
For a second consecutive year, the U.K.-based Economist Intelligence Unit (EIU) classified Mexico as a "hybrid regime" on its Democracy Index, published this week.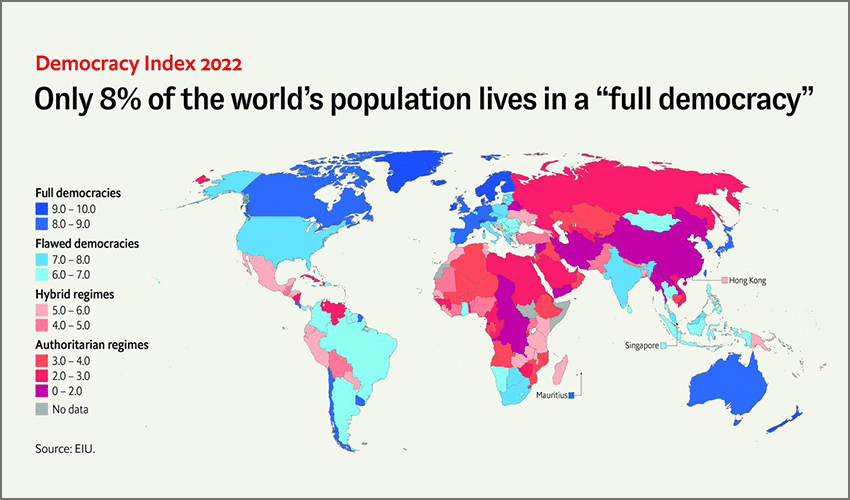 Mexico scored a 5.25 out of 10, which was higher than four — below that is a authoritarian regime on the index — but lower than six — the minimum score for the higher rating of "flawed democracy."
Mexico's score was 0.32 points lower than in 2021, the ninth largest decline among the countries assessed, while its ranking was one ahead of Georgia and one behind Hong Kong. Mexico ranked 14th out of 24 countries in Latin America and the Caribbean, where the state of democracy declined for a fourth consecutive year, according to the report.
The index uses expert assessments, public opinion surveys and voter turnout data to provide "a snapshot of the state of democracy worldwide in 165 independent states and two territories," according to its report.
"… The Democracy Index is based on five categories: electoral process and pluralism, functioning of government, political participation, political culture, and civil liberties. Based on its scores on a range of indicators within these categories, each country is then classified as one of four types of regime: 'full democracy,' 'flawed democracy,' 'hybrid regime' or 'authoritarian regime,'" the report said.
Election irregularities, government pressure on opposition parties and candidates, corruption, a weak rule of law, harassment of and pressure put on journalists and a judiciary that is not independent are among the features that may be found in a hybrid regime, according to the EIU.
"The region is a global hub for transnational drug cartels, which pose a significant threat to democracy. Drug trafficking erodes state capacity by making corruption extremely lucrative and expands the use of violence by nonstate actors, which, in turn, leads to an erosion of civil liberties as governments seek to address citizens' demands for more security," the report said.
Among the other countries that the index listed as hybrid regimes this year are Papua New Guinea, Peru, Ukraine, El Salvador and Nigeria.
Mexico scored above a seven for political participation and just below that number for electoral process and pluralism. Mexico's scores in the three other categories, however, were lower: 5.59 for civil liberties, 4.64 for functioning of government and just 1.88 for political culture, whose undisputed protagonist is President López Obrador.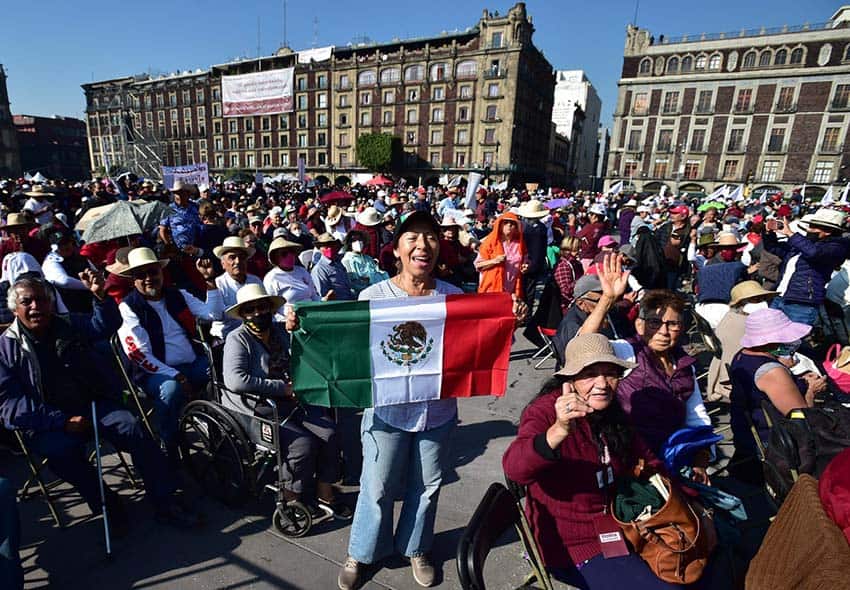 The EIU — a sister company of The Economist newspaper — said that Mexico is undergoing a process of "democratic backsliding" under López Obrador, who has been in office since December 2018 and is a divisive figure, even though polls show he retains the support of a majority of Mexicans.
"Mr. López Obrador has used his position to attack his opponents, including the electoral authorities. In 2022, the government passed a reform that reduces the financing of the electoral authority and restricts its oversight powers, putting election integrity at risk," the index report said.
The EIU also said that media freedoms in Mexico are "under grave threat."
It noted that at least 13 journalists were killed in 2022, adding that "Mexican intelligence services routinely spy on journalists and activists," a charge the president has denied.
"The role of the military in public affairs has expanded greatly under Mr. López Obrador. The government intends to expand the armed forces' role in the economy and over public security, including by giving them control over the National Guard until 2028," the EIU said.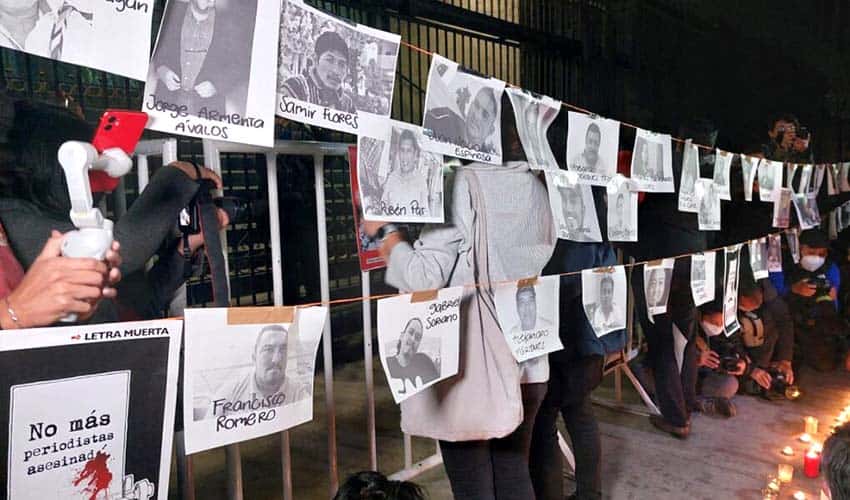 "Mr. López Obrador's attacks on democratic checks and balances, as well as the growing role played by the armed forces in the economy and security, led to a further downgrade in Mexico's overall score in 2022, following a decline in 2021."
A total of 24 countries were classified as full democracies, with Norway, New Zealand and Iceland occupying the top three positions on the Democracy Index.
Canada was among the other countries classed as a full democracy, while Mexico's other North American trade partner, the United States, was found to be a flawed democracy for a seventh consecutive year.
The index report noted that "the run-up to the change of administration in [the U.S. in] January 2021 was tumultuous, marked by a riot at the U.S. Capitol and attempts by the outgoing president, Donald Trump, and several Republican lawmakers to overturn the election results, citing baseless claims of voter fraud."
It also said that "election denial is unlikely to disappear from American politics, particularly as some politicians, including Mr. Trump, continue to keep the issue alive ahead of the next elections in 2024."
The worst performer on the index was Afghanistan, one of 59 countries deemed authoritarian regimes. Myanmar and North Korea ranked second-last and third-last respectively.
This EIU video explainer gives an overview of how the report rated democracies worldwide.
China, Iran, Russia, Venezuela, Cuba, Nicaragua, Vietnam, Haiti and Egypt are among the other countries classified as authoritarian regimes.
Mexico News Daily