Energy, immigration and trade will be the key issues under discussion at the North American Leaders Summit (NALS) held in Mexico City in January, according to an agenda presented by Mexican Foreign Minister Marcelo Ebrard.
Mexico will host the tenth edition of the summit between the leaders of Mexico, Canada and the United States — colloquially known as the "Tres Amigos" summit — at the National Palace from Jan. 9 to 11. U.S. President Joe Biden and Canadian Prime Minister Justin Trudeau will join President López Obrador to advance shared priorities among their three countries.
"The three nations will seek to continue the process of regional integration on the principles of respect, sovereignty and cooperation in good faith for mutual benefit, that is the objective," Ebrard said, while presenting the agenda at AMLO's morning press conference on Tuesday.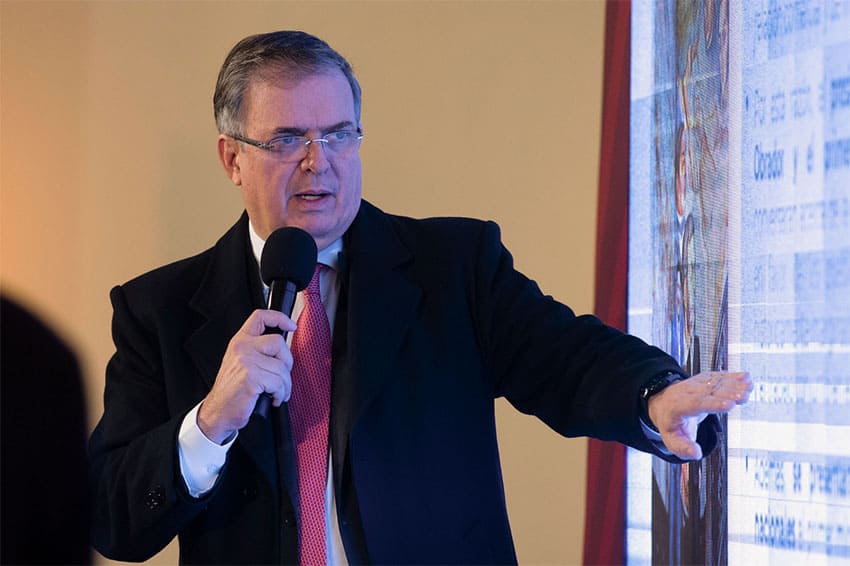 The summit will open with a bilateral meeting between AMLO and Biden on Jan. 9. This will focus on strengthening bilateral trade relations, accelerating border infrastructure projects, and enhancing cooperation on issues such as labor mobility, security, education and climate change.
The migration crisis on the U.S.-Mexico border will likely be a key shaper of the discussions, as U.S. courts battle over the future of Title 42, the pandemic-era legislation that allows undocumented migrants to be immediately expelled to Mexico.
Ebrard explained that another key topic would be the Sonora Plan — Mexico's proposal for the U.S. to help finance renewable energy infrastructure in the lithium hub of Sonora. Energy policy has been a recent point of tension between the three countries, with the U.S. and Canada accusing Mexico of unfairly favoring state-owned companies over foreign clean energy suppliers.
AMLO's meeting with Biden will be followed by a trilateral summit on Jan. 10, and a bilateral discussion between AMLO and Trudeau on Jan. 11 focused on government strategy towards Indigenous and historically marginalized communities.
The trilateral meeting will seek to tackle six issue areas: diversity and equality; environment; trade competitiveness; migration; health; and common security. Mexico also intends to use the summit to propose a plan for tackling worsening poverty and inequality in the Americas, called the Alliance for the Prosperity of American Peoples.
"The central objective [of the alliance] will be to achieve a more egalitarian distribution of resources in the Americas based on the strengthening of trade relations … to maintain North America as the main economic power at the global level, which would allow establishing new ties with the rest of the continent," Ebrard said.
The tenth NALS comes one year after the three nations relaunched the summit in November 2021, after a hiatus of five years. The ninth NALS, held in Washington D.C., focused on addressing the impacts of the coronavirus pandemic and improving supply chain resilience. The latter issue is likely to be still more relevant this year, in light of the supply shocks created by the war in Ukraine.
With reports from Infobae and El Financiero