The man who appears likely to win the presidential election in two weeks says it will take a miracle to stop him from winning.
Leading presidential candidate Andrés Manuel López Obrador declared yesterday that he is absolutely certain he will win the July 1 election and that not even electoral fraud can stop him.
Only a miracle would allow one of his main rivals, Ricardo Anaya or José Antonio Meade, to become the next president of Mexico, the third-time hopeful said.
"They [Meade and Anaya] already know [I'm going to win], but they're hoping there may be a miracle . . . only with a miracle [could they win], not even by fraud now," the Morena party leader told reporters in Colima.
Asked what kind of miracle would have to happen in order for Anaya or Meade to beat him, the political veteran widely known by his initials AMLO declined to explain.
"I don't want to say because the people [of Mexico] love me a lot and I love them a lot as well. They're protecting me from above and science is protecting me. That's all I can say," he said.
Earlier, López Obrador said that he and his campaign team were in a buoyant mood and charged that it was now "just a matter of waiting" until his inevitable victory.
". . . We're taking it step by step, poco a poquito [little by little], like the song," he said in reference to the hit song Despacito that AMLO said he, his team and supporters will dance to after they triumph on July 1.
Despite his optimism, the candidate for the three-party Together We Will Make History coalition said that he was concerned that state governors hadn't committed to not interfere in the elections and to respect the decision voters make on July 1.
"[The governors] are very quiet, they're not committing themselves to defend a [free and fair] vote, they're involved in campaigning and using money from the budget, not in all cases but in the majority [of cases], they're involved in the electoral process . . ." López Obrador said.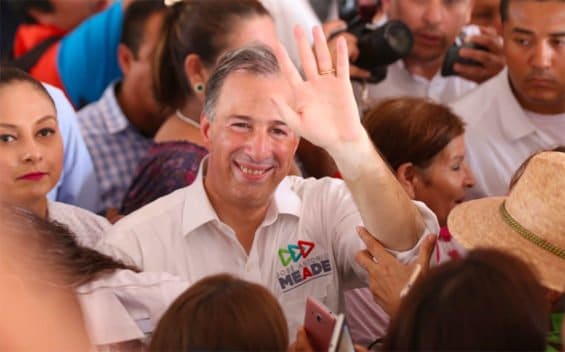 "I'm waiting for them to declare that they are committed to respect citizens' votes and committed to not carry out electoral fraud and to not use money from the budget . . . to buy votes," he added.
Apart from electing a new president and federal Congress on July 1, voters in nine states will choose a new governor and thousands more municipal and state-level positions are also up for grabs.
Meanwhile, ruling party candidate José Antonio Meade shared two opinion polls via his Twitter account yesterday that showed that he had moved past Ricardo Anaya into second place.
The first poll — supposedly conducted by the Mexican Business Council (CMN) and disseminated by the journalist David Páramo — showed that AMLO had 44% support on June 5, followed by Meade with 24% and Anaya with 20%.
In addition to publishing a graphic of the poll, which tracked voter intentions starting last November, Meade wrote:
"Here's the sign that many expected . . . We're in a clear and ascendant second place and we're heading firmly towards victory. I ask for your free, conscious, strategic and reasoned vote. I will not fail you!"
In the second "tracking poll" — conducted by a polling company called Innovación Encuestas y Investigación — Meade's overall support was slightly lower at 23.2% but the margin between him and López Obrador was reduced to just 11 points.
Anaya, of the right-left For Mexico in Front coalition, was again in third place with 20.2% while independent candidate Jaime "El Bronco" Rodríguez dropped one point to 2% backing compared to the first poll Meade shared.
Perhaps significantly, the second poll showed that 20.4% of respondents said that they didn't yet know who they would vote for, potentially giving Meade ample space to catch the frontrunner.
The polling company said the survey was conducted between May 20 and June 14 with 800 eligible voters and that its margin of error was ± four points.
The polls contrast with other surveys that have consistently shown Anaya in second place with Meade languishing in third.
A poll published by the newspaper Reforma in the last week of May showed AMLO with 52% support, compared to Anaya with 26% and Meade with 19%.
Bloomberg's poll tracker, last updated on June 8, shows similar results with López Obrador at 50.8%, Anaya at 24.8% and Meade 21.6%.
The Institutional Revolutionary Party (PRI) candidate has failed to gain much traction with voters, perhaps partially because of his largely mild manner but mostly because of his association with a government that has been plagued by corruption scandals and is led by a deeply unpopular president.
However, Anaya too has been damaged by claims of corruption and scrutiny of his alleged involvement in a money laundering scheme has intensified over the past two weeks.
Two recently-released videos allegedly provide evidence of his complicity in the scheme related to real estate purchases and sales in his home state of Querétaro. The federal Attorney General's office (PGR) continues to investigate the case.
Anaya has repeatedly denied the allegations. He has also accused López Obrador of making a pact of impunity with President Enrique Peña Nieto, which AMLO has rejected.
In contrast, Anaya says that if he wins he will launch a corruption investigation focusing on Peña Nieto's time in office and if the president is found guilty, he will go to jail.
However, given that election day is just two weeks away and the size of López Obrador's advantage over his rivals, the likelihood of Anaya or Meade causing an upset and beating López Obrador would seem, barring miracles, unlikely.
Source: El Economista (sp), Milenio (sp)