A women's robotics team and journalists were among more than 100 Afghan refugees who arrived in Mexico on Tuesday and Wednesday as the Taliban consolidates control in their homeland.
Four members of a robotics team, one other Afghan woman and one Afghan man arrived in Mexico City on Tuesday after initially fleeing Afghanistan on a flight to Qatar. On Wednesday morning, 124 Afghan journalists, other staff members of media organizations and their family members also arrived in the Mexican capital.
The members of the robotics team, who won acclaim for designing and manufacturing ventilators to treat COVID-19 patients, arrived in Mexico City on a commercial flight. The refugees' flights were paid for by a range of different organizations, said Deputy Foreign Affairs Minister Martha Delgado, adding that one organization in Mexico, which was not named for security reasons, will provide them with accommodation, food and basic services free of charge.
"Following the tradition of solidarity and with the feminist foreign policy of the Mexican government, we have carried out many diplomatic efforts to create a safe passage that would allow us to bring them to Mexico," Delgado said. "We give you the warmest welcome to Mexico."
The official said the Afghans will have 180-day humanitarian visas that can be extended at the end of that period.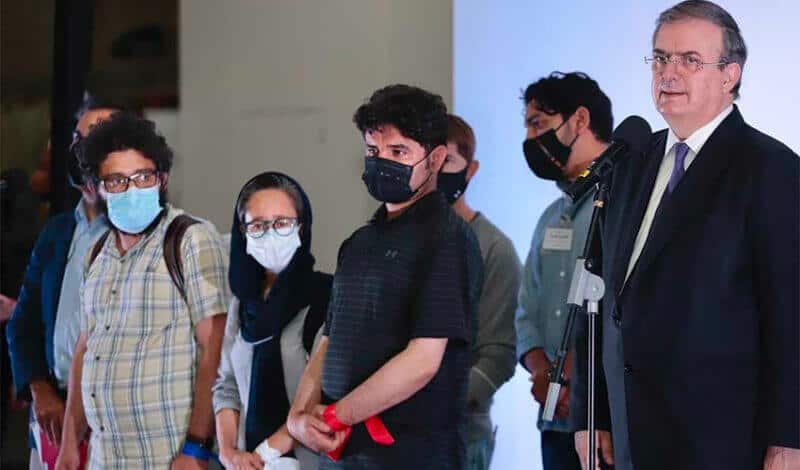 "We are very happy to be here and it is an honor that the government of Mexico has honored us with being here and having saved our lives," Fatemah Qaderyan, a member of the robotics team, told a press conference.
"The current situation in Afghanistan, we couldn't expect that. … In Afghanistan many people have the wrong belief that engineering, robotics and technology is only for boys but we proved them wrong, [we showed that] girls have the power to do everything they want to," said another team member.
Foreign Minister Marcelo Ebrard, who was also at the press conference, noted that Mexico has a rich history of providing refuge to foreigners fleeing difficult situations in their native countries.
"We took in thousands of refugees after the Spanish Civil War and then Argentines, Chileans and Uruguayans came," he said, adding that Mexico has given protection to citizens of some African and Asian countries in more recent years.
Ebrard said that Mexico "might be very distant from what is happening in Afghanistan" but providing refuge to the Afghan women was the right thing to do.
"They are carriers of a dream and a reality that they have built with many difficulties, which is to show that we can have an egalitarian, fraternal world – equality between the sexes, so we thought it was important to open up our home to them," he said.
Ebrard was at the Mexico City airport on Wednesday to welcome the Afghan journalists, who worked for media outlets including The New York Times. A Mexican Air Force plane brought them into the country on a flight from Doha, Qatar.
"I welcomed reporters and local staff members from several media outlets who have asked Mexico for humanitarian visas due to the recent events in Kabul, Afghanistan. They arrived with their families, 124 people in total including minors, after 20 hours of flights," the foreign minister wrote on Twitter.
The New York Times reported that its former Mexico bureau chief, Azam Ahmed, who has also worked in Afghanistan, contacted Ebrard on August 12 to ask if Mexico was willing to receive Afghan refugees.
"We have people there, good people, who are trying to get out," Ahmed told Ebrard in a WhatsApp message.
The foreign minister initially said that Mexico wouldn't be able to able to help in a timely manner but after speaking with President López Obrador, the Mexican government concluded that it could act quickly to accept refugees from the Central Asian country.
"We looked at this request not as foreign policy between Mexico and the U.S.," Ebrard told the Times. "Instead, it's a common position between someone who was a New York Times reporter in Kabul several years ago and myself, who was in the position to make some decisions."