Three engineering students from Monterrey, Nuevo León, will head to the United Kingdom next month to further develop their water purification system, a project for which they won a prestigious international social entrepreneurship prize.
Joel Garzafox, Rodrigo Chinchilla and Jaime García, who are in their final semester of a chemical engineering degree at the Tecnológico de Monterrey, made a prototype of a system that not only purifies wastewater but also generates electricity during the process.
Their invention, which they called "Harvest," was awarded the national edition of the Hult Prize, an annual competition established in 2010 by Swedish businessman Bertil Hult to reward innovative projects related to food security, water access, energy and education.
Along with a US $50,000 prize to dedicate towards the advancement of their project, the three young men were invited to participate in a business accelerator program at the Hult International Business School in the British capital.
On July 21 they will join the members of other 39 winning teams from around the world to continue working on their purification system and compete to become one of six teams that will enter the global Hult Prize final at United Nations headquarters in New York.
The winning team will receive US $1 million in seed capital to help launch its social enterprise project.
While the original idea for "Harvest" was born out of the research the students completed as part of their degree, the work of Indian biotechnology researcher Rashmi Chandra was vital for its development.
Chandra, who is conducting research at Tec. de Monterrey as a visiting professor, became the students' mentor and allowed the students to base their work on technology she developed as part of her postdoctoral thesis.
"We've had a lot of support from our mentor, from the people at Tec. de Monterrey and from family, friends and professors," García told the newspaper El Financiero.
"If you see that people believe in your project . . . and if little by little you see results, that's something valuable," he added.
The "Harvest" purification system works by passing water through three filtration tanks that are aided by sub-aquatic plants that release water-cleaning microorganisms when they come into contact with rays of sunlight.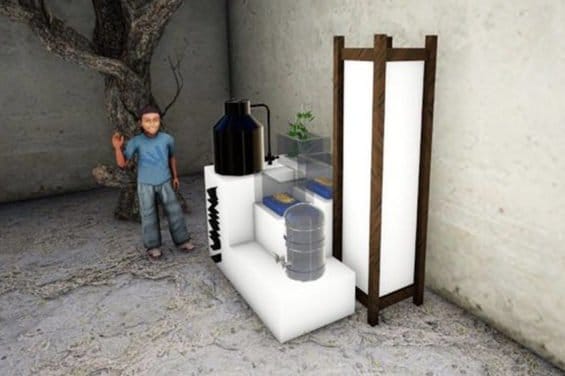 "Water that was used in the kitchen or the shower or contaminated water from rivers goes into the system and is treated by the first tank. During the process, the water is purified by the plants together with the filters and other materials that work as purifiers," Garzafox said.
He explained that the final part of the purification process is carried out using filters made out of charcoal, clay or gravel, adding that while "the process is happening, enough electricity is generated to light up a room."
García said that they have experimented with seaweed but "any sub-aquatic plant works," although the team has specifically studied aquatic monocots and determined that they have an energy-producing capacity that could have a positive "impact on people's lives in marginalized areas."
With the US $50,000 they received from winning the Mexican prize, the three students plan to build a more advanced version of their prototype that provides more compelling evidence that their system is functional.
The students estimate that their system will initially sell for between US $120 and US $150 but expect that as their business grows, they will be able to reduce the price. They also hope to collaborate with microfinance companies to make their product more accessible.
While in London, Garzafox, Chinchilla and García plan to fine-tune their business model and if everything goes to plan, their "Harvest" system is expected to hit the market at the end of 2019.
Source: El Financiero (sp)