More than 2 million sea turtle hatchlings got supervised crawls into the warm Caribbean waters of the Quintana Roo coast in 2022, according to a new report by a statewide committee for conservation of the marine animals.
The state's 2022 sea turtle birthing season finished in the late fall, with Quintana Roo having played host to the nests of approximately 37,000 green turtles, 3,000 loggerheads, 1,500 hawksbills and three leatherbacks, said Itzel Trujano, president of the State Committee for the Protection, Conservation and Management of Marine Turtles. 
Hatchlings of several different species were released on more than 45 beaches in the state this year, according to the committee's report, entitled "Protection of Sea Turtles 2022."
The report said that numbers of hatchlings in 2022 were up from 2021 — perhaps because word about fewer tourists on the beaches due to the pandemic (and fewer nests being disturbed) had gotten around in the turtle world.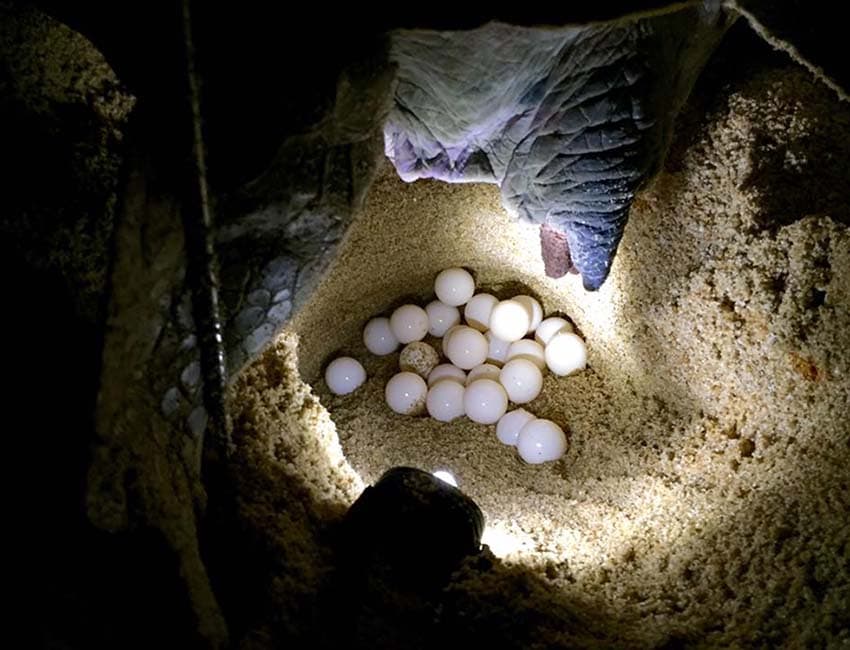 The conservation committee is made up of 21 institutions — hotels, civil associations, private companies, academic institutions, researchers, environmental consultants and municipal, state and federal entities that share information on the beaches they protect.
"It is important to remember that [only] one out of every 1,000 hatchlings reaches adulthood" in the wild, Trujano said. "That is why this season we worked with more than 10,000 people with different environmental awareness and education strategies." 
The strategies range from talks, workshops, guided visits to the turtle preservation refuges, talks in schools, putting on puppet shows, exhibitions and beach cleanup events. 
In the case of beach cleanups, more than four tonnes of waste were collected, Trujano said. The ministry said that 1,600 people benefited from environmental and awareness-raising workshops, and that there were 145 assorted courses held for a range of people from teachers to lifeguards.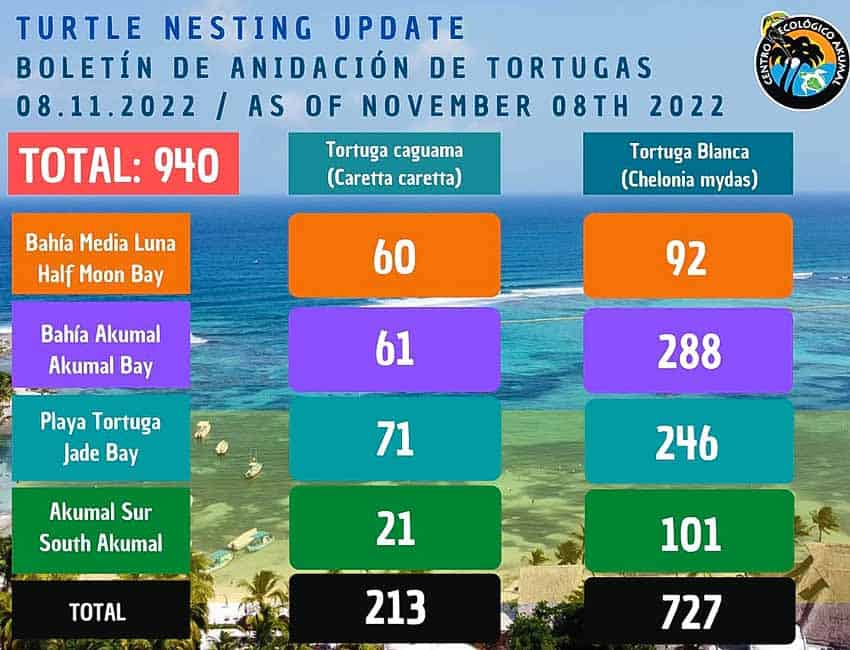 The committee's report broke down turtle releases by area: 
In Cancún, where about 12 kilometers of coastline in the hotel zone are permanently monitored by various organizations during nesting seasons, 978,000 hatchlings were released into the sea. They came from 1,033,000 eggs produced in 9,100 nests, though no leatherbacks were observed in Cancún this year.





The hotel and condominium sector protected 46 primary nesting areas, while the state's Ministry of Ecology and Environment attended to eight, according to the committee's data.
Tulum, meanwhile, recorded 17,096 green turtle nests and 2,216 loggerhead nests — approximately 46% and 73% of the state's totals, respectively.
Officials are predicting that the upward trend will continue next year because, despite problems in the area such as sargassum and erosion, the natural behavior of the turtles is being bolstered by organized care and protective actions. They are predicting a longer 2023 hatchling season, starting around May 1. 
The report was revealed in an event held at the recently opened, adults-only Riu Palace Kukulkan in Cancún.
With reports from La Jornada Maya, Diario Cambio 22 and Infobae