A trough of low pressure extending over the northeast of Mexico and tropical waves in the west and south of the country will bring severe storms to six states today, according to the National Meteorological Service (SNM).
Nuevo León, Tamaulipas, San Luis Potosí, Veracruz, Guanajuato and Chiapas are forecast to be affected by the severe storm activity while a further 12 states are predicted to be in the path of strong storms.
They are Zacatecas, Aguascalientes, Jalisco, Michoacán, Guerrero, Oaxaca, Querétaro, Hidalgo, Tlaxcala, México state, Mexico City and Morelos.
Heavy rainfall is also forecast in parts of Chihuahua, Coahuila, Durango, Sinaloa, Nayarit, Colima, Campeche and Quintana Roo while isolated showers are predicted for Tabasco and Yucatán.
Tropical wave No. 4 already delivered heavy rain to Quintana Roo yesterday with more than 225 millimeters falling in the municipality of Felipe Carrillo Puerto.
The municipalities of Bacalar in the south of the state and Lázaro Cárdenas in the north also received heavy rainfall, leading state authorities and the navy to intensify their relief efforts in all three municipalities.
The Mayan community of Chumpón, located in Felipe Carrillo Puerto about 50 kilometers southwest of Tulum, was left without electricity and the residents of 300 homes were forced to evacuate due to flood waters that rose as high as three meters.
In Bacalar, where floodwaters reached depths of 1.2 meters, 400 homes were inundated and residents were also forced to evacuate and take refuge in shelters. Flooding also affected homes and roads in Lázaro Cárdenas.
In Michoacán, heavy rain and strong winds brought by Tropical Storm Carlotta caused flooding and toppled trees in the port city of Lázaro Cárdenas and the surrounding municipality.
Carlotta also generated heavy rainfall in Guerrero and Oaxaca over the weekend but the storm weakened into a remnant low off the southwest Pacific coast last night although forecasters said it could still deliver rain that causes more flooding on shore.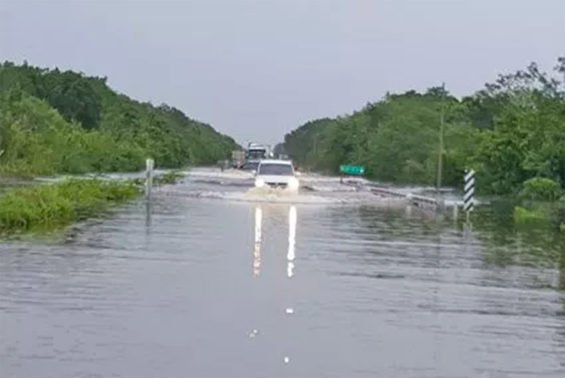 In Zacatecas, the state's Civil Protection director said a variety of weather systems had delivered rain that caused flooding due to rivers and reservoirs overflowing their banks in the municipalities of Villa González Ortega, Río Grande and Pánfilo Natera.
In the municipalities of Tepoztlán and Tlayacapan in Morelos, authorities are alert to the possibility of rocks falling from mountain ridges that were destabilized by last September's earthquake. Recent rains have softened the earth and made rocks more susceptible to detachment, a state Civil Protection official said.
Authorities in Hidalgo are also monitoring mountainous areas of the state due to the risk of landslides. The state's Civil Protection director said there are hazards in 22 of Hidalgo's 84 municipalities.
Although rain is expected in much of the country today, the SNM also predicts temperatures between 40 and 45 C in parts of Sonora, Sinaloa, Nayarit, Michoacán, Chihuahua and Coahuila.
Temperatures ranging between 35 and 40 C are predicted for parts of several other states including Baja California, Baja California Sur, Nayarit, Jalisco and Oaxaca.
Source: El Universal (sp)