President López Obrador, or AMLO as he is commonly known, is a man of faith. During his first presidential run, there were reports that he was a Protestant. In a later television interview, he self-identified as a Roman Catholic.
However, he has since refused to commit to any individual church, and instead promoted the religious moral ethic. "When I am asked what religion I adhere to, I say that I am a Christian, in the broadest sense of the word, because Christ is love and justice is love," he said.
Here's a rundown of what the premier from Tepetitán, Tabasco, said at the morning conferences this week.
Monday
It was sunshine and margaritas for the president on Monday: the conference was broadcast from Acapulco, Guerrero, where he confirmed that federal resources would continue to be funneled to three states with high poverty: Guerrero, Chiapas and Oaxaca.
Institutional Revolutionary Party (PRI) Governor Héctor Antonio Astudillo Flores expressed his gratitude for the four-day visit, and highlighted a drop in crime in the historically violent state.
A local journalist opened with an impassioned appeal. "Explain the murders and forced disappearances of journalists … among them is my brother … it is a daily torture … all of those who know disappeared people live an indeterminable torture … when they took him they took my heart, they took my will to live," she said.
"There are many journalists in Mexico, as is your case, who are constantly on the side of the people, making denouncements about injustices that are committed. Everyone deserves protection, but, I repeat, more so, those who are exposed for carrying out such journalism. That is our commitment," the president affirmed.
A national journalist returned matters to the political and suggested that the constitution was "neoliberal" in its makeup: 65% of the 763 amendments were made in the neoliberal period, she said, and only around 2% by the current administration.
The president replied that quality trumped quantity: corruption, unlike before, had been made a serious crime, he said. The Tabascan then reconfirmed the remaining three amendments on his list: strengthen the Federal Electricity Commission, expand the National Guard and reconfigure, although not necessarily replace, the National Electoral Institute (INE).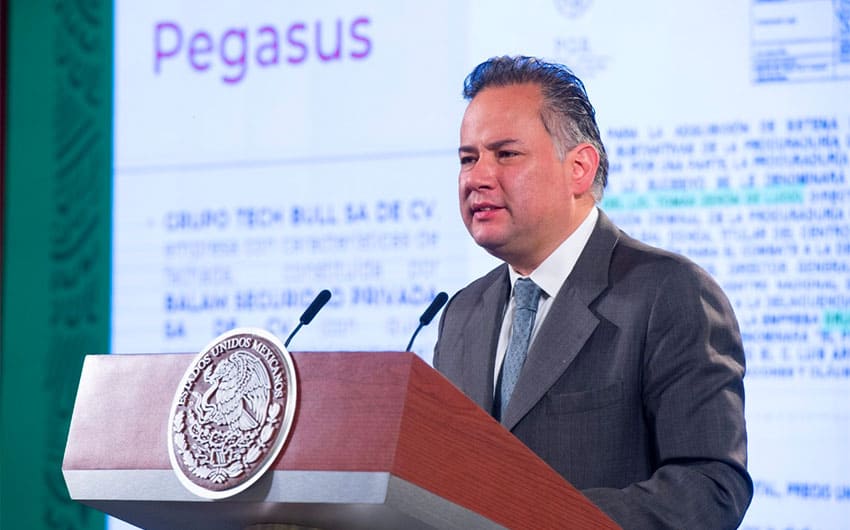 Tuesday
Felicitations kicked off proceedings on Tuesday. The president congratulated Pedro Castillo Terrones, a rural teacher turned political novice who had been confirmed president of Peru after a dramatic election.
The usual suspects patiently waited their turn for the health update. Jorge Alcocer Varela said the government had saved almost 19 billion pesos (about US $940 million) by seeking new suppliers for medications. Deputy Health Minister Hugo López-Gatell told the young to get vaccinated, Foreign Minister Marcelo Ebrard talked about the vaccines coming in; Defense Minister Luis Cresencio Sandoval detailed them going out.
A journalist forced López-Gatell back out of his chair. There would be no "total closures" of public spaces, he confirmed, despite the third wave of the coronavirus pandemic. "We have a tired society, fatigued from having these long months of the epidemic," he said, adding that the government's open borders policy wouldn't change either.
The president raised the topic of state spying later in the conference. An investigation exposing the use of Pegasus spyware had revealed that people in his circle were spied on by the previous administration. "They spied on me … but now it is known that they also spied on my wife, my children, well, even the doctor who treats me, the cardiologist."
"Fifty from your inner circle, president," an aid interjected.
Wednesday
Security took center stage on Wednesday. Security Minister Rosa Icela Rodríguez relayed figures for the the first six months of the year. Electoral crime rose 320% in annual terms, due to the June 6 election; six states covered over 50% of homicide; femicide was up 3.3% and, in news which has not been widely reported, rape was up 32%.
The fake news patrol followed and two articles were highlighted. A claim that the government was withholding vaccines was confirmed as untrue, and another that alleged that the San Luís Potosí government had rejected the creation of a Natural Protected Area was directed to the trash.
The head of the Financial Intelligence Unit, Santiago Nieto, joined the conference to address the spying scandal: US $300 million was spent 2012 and 2018 to purchase spyware from the Israeli company NSO group, he said.
In a plea for public transparency, a political foe of the United States gained AMLO's backing. "Assange should be freed, because he is in prison unjustly," he said, referring to Julian Assange, the founder of Wikileaks, who is fighting extradition to the U.S. from London.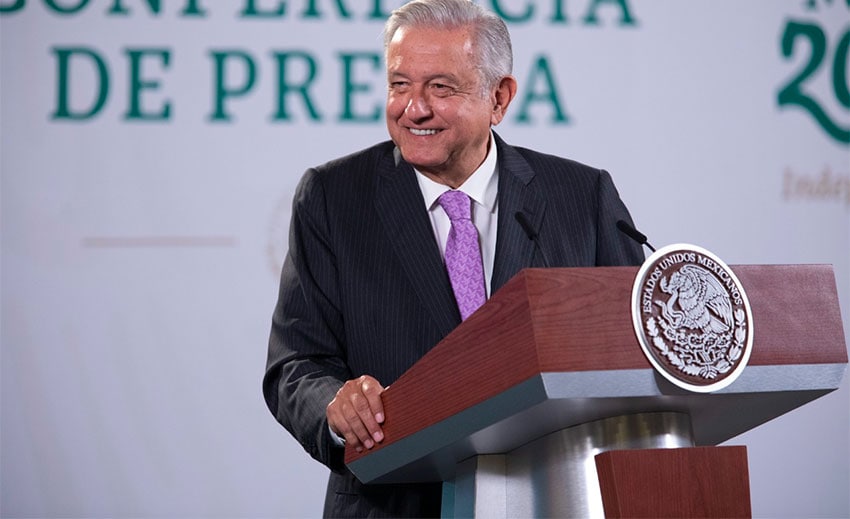 Thursday
"When I took power on the 1st of December 2018, I made 100 promises to the people. I've delivered 98, I'm still missing two," AMLO said early on Thursday, adding that number 99 would be the decentralization of federal government bodies.
"The Energy Ministry is done, it's in Villahermosa, Segalmex [the nutrition agency] is in Zacatecas … The Wellbeing Ministry needs to be in Oaxaca, and the Education Ministry needs to be in Puebla, Tourism in Chetumal, Quintana Roo … Health is going to be in Guerrero … Agriculture will move to Ciudad Obregón, Sonora … Pemex needs to go to Ciudad del Carmen, Campeche," he explained.
It took another journalist to point out the president had forgotten to mention the second unfulfilled promise. He replied with number 100: to find the 43 students who disappeared in 2014 in Ayotzinapa, Guerrero.
The August 1 vote on whether former presidents should be investigated was just 10 days away, and AMLO took the opportunity to ridicule a foe in the media: journalist León Krauze. He had written that the August 1 vote was a "dictatorship by referendum."
"Look at the absurdity," retorted AMLO, "it's a contradiction, dictatorship cannot be by referendum … the problem is Krauze doesn't know about politics and doesn't know about political science."
A journalist mentioned another leak. In Spain, alleged dodgy dealings involving Real Madrid president Florentino Pérez had implicated politicians from the Felipe Calderón administration.
Friday
The president lined up the questions at the week's final mañanera: "Let's open for questions and answers. The two there, you two, and then the two behind, and then we'll go with the fourth there."
Heavy rains were hitting communities hard, one journalist put forward.
Divinity, AMLO replied, was on the administration's side. "We are being advised where there is going to be heavy rain … Laura Velázquez [head of Civil Protection] … is our Tláloc," he said, referencing the Aztec God of Rain.
Nine days before the August 1 vote, AMLO chastised the INE for the treatment of Morena candidates compared to those of other parties. "[The INE] are not authentic democrats … I really don't trust those decisions, but they have to be respected," he said.
It was to be a busy weekend ahead for the Tabascan premier. After the conference it was off to Tlaxcala to visit an agricultural program and back to Chapultepec Castle on Saturday for an event to commemorate 19th century Venezuelan revolutionary Simon Bolívar, with attendees from other Latin American nations. Then, off to Veracruz until Monday.
Mexico News Daily