The president must have woken slightly jaded in his room at the National Palace. A turbulent seven days had seen him avoid hurricanes, negotiate a political spat and narrowly avoid a hostage situation. He'd arrived back to tranquility on Sunday.
However, based on previous form, that peace wasn't going to be long lasting.
Monday
Hurricanes were proving hard to shake: this time Hurricane Nora had hit the Pacific. Civil Protection chief Laura Velázquez Alzúa informed that the gales had affected six states and 355,000 electricity users. She reported the death of one minor in Puerto Vallarta on August 29 where a hotel partially collapsed.
The customary whistlestop tour of infrastructure projects, by video presentation, featured a far-flung entry. A short clip detailed the military's folkloric ballet appearance at the International Festival of Military Music from Red Square, Moscow.
Later in the conference, the topic turned to homicide hotspot Guanajuato. "What I'm worried about in Guanajuato is the insecurity, because there's a lot and the government isn't acting well, especially the Attorney General's Office … [probably] because they made political alliances with criminal groups," AMLO said.
He added there had been 32 homicides in the state over the weekend.
To inaugurate the return to classes, Mexico City Mayor Claudia Sheinbaum appeared on screen to announce 90% of the capital's schools had successfully reopened their doors. A chain of presentations came in from around the country to indicate the smooth success of the academic return. Unfortunately, the transmissions themselves belied that smooth impression, and a virtual tour around the nation's governors and educational authorities rather resembled a comedy of errors.
Tuesday
During the health rounds on Tuesday COVID point man Hugo López-Gatell said estimated cases had been declining for a month and that the trend was set to continue, while 65% of the adult population had received a first shot.
Gas Bienestar, the new state LP gas company, was launching in Iztapalapa, Mexico City. Mayor Sheinbaum, Iztapalapa Mayor Clara Brugada and Pemex CEO Octavio Romero Oropeza all lent their voices to the launch over video link.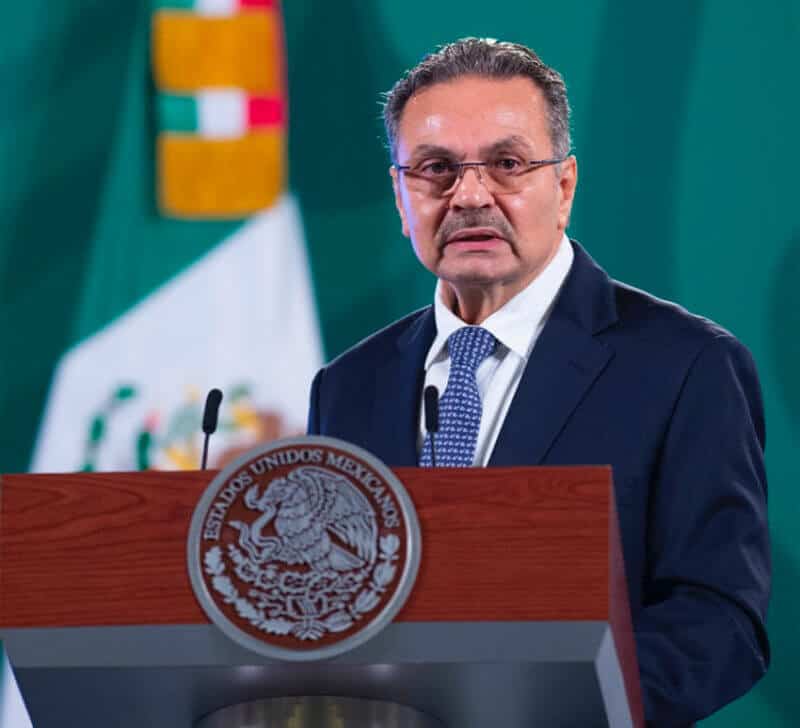 Later in the conference, the president offered a teaser from his new book A la mitad del camino, or Halfway There. In an old conversation with his predecessor Enrique Peña Nieto, his rival had expressed his dismay at the disloyalty of those in elite circles: "In an exchange with president Peña … he told me he felt betrayed because he'd given them so much, he'd attended so well to those at the top and they had acted to betray him," AMLO said.
But for now, the president had another guest to attend to. The former governor of Tabasco, Adán Augusto, recently promoted to interior minister, was meeting AMLO for breakfast. "Some chanchamitos and chocolate with cacao from Tabasco, because we are from the republic of cacao. That's what [Tabascan poet] Pellicer said: 'I'm from the republic of cacao, first day of Cortés, last night of Cuauhtémoc.' At some point, I'll explain what all that means," said the president, shortly before striding away to attend to the nation.
Wednesday
Some observers were left to a lonely morning coffee on Wednesday when no mañanera was broadcast. Instead, AMLO offered his third annual report to the nation later in the day from the National Palace.
He opened the address by attacking the "neoliberal farce" and privatization of state assets that had accompanied it. He touted success in infrastructure projects and energy, the vaccine program, the return to classes, and pointed to positive economic indicators.
On crime, where the administration has had mixed results, he highlighted a massive 95% drop in the theft of fuels, but could only boast a 0.5% fall in homicides.
Austerity, he said, was a flagship achievement of the administration: "We have saved 1.4 trillion pesos in purchases and contracts," he said, and repeated his claim that 98 of his 100 promises made when entering office had been fulfilled. Only decentralizing government institutions and definitively solving the Ayotzinapa massacre remained.
AMLO added that he could already leave office with his conscience in check, but still urged voters to support the continuation of his mandate at the polls in March.
In fact, he said he felt so comfortable with his work so far that when he eventually wraps up, he expects to say: "Mission accomplished! I'm going to Palenque, I leave you my heart."
Thursday
In an early announcement, legal counsel Julio Scherer Ibarra would step back from public service. "He's like my brother," the president said. In Scherer's place would come another ally, Estela Ríos.
Congratulations flowed for the Paralympians in Tokyo, who had achieved a 14th medal. And then, to the lies of the week with Ana Elizabeth García Vilchis: "Let's see the pinocchios," summoned the president.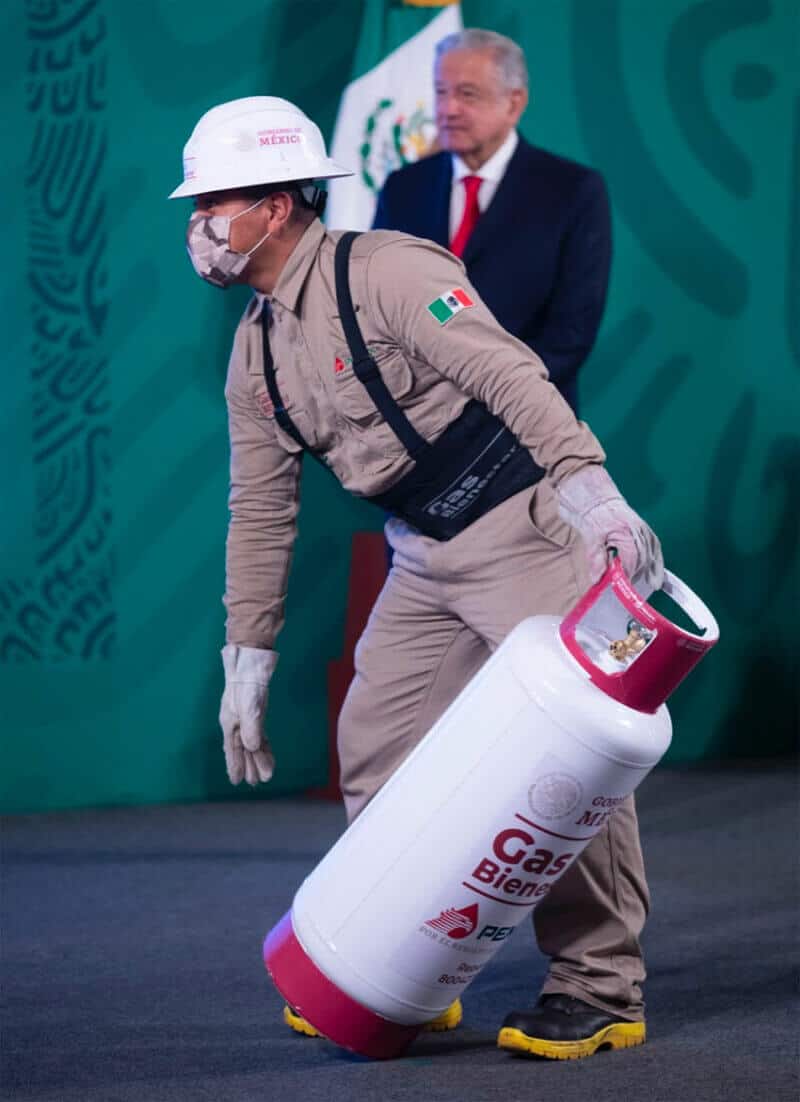 Contrary to reports, García said, a new hospital in Guerrero would be fully equipped; Ricardo Anaya was not being unfairly persecuted; Spaniards were not in fear of an invasion by AMLO despite a Vicente Fox tweet to that effect; Gas Bienestar cylinders were all ship shape.
Is dialogue with the CNTE teacher's union broken? a journalist asked: union members had refused AMLO passage to his morning news conference in Chiapas on Friday.
"We don't have disagreements with anyone," replied AMLO, "but we don't accept blackmail."
Before Scherer's departure from public view, a journalist had a plea. "I wanted to request to Mr. Scherer that from his private practice, wherever he goes, he helps us with the Mechanism for the Protection of Journalists, because they are killing three colleagues every month."
"I'm going to continue supporting in any way I can, always serving the president and always serving this government in which I wholly trust," the lawyer affirmed.
Friday
Representatives from Red Cross México were in attendance on Friday. They requested help in their "battle" on the fronts of natural disasters and COVID-19. Mexico City Mayor Sheinbaum offered her presence for the third time of the week — this time in person — to support the drive.
The president nearly moved on the conference a little too hastily: "What's missing … Oh, the collection," before taking out a well concealed bill and popping it in a Red Cross purse.
A journalist called foul on public projects. The Toluca-Mexico City train had cost 94 billion pesos and should have cost 30; the Guadalajara train had cost 34 billion pesos, double what was estimated, he said.
"We're going to investigate it," replied the president.
Later in the conference, AMLO revealed the presence of far-right Spanish politicians: "Yesterday some extremists came from [the Spanish political party] Vox. They met with the National Action Party … a hand kissing in the Senate, really shameful," he declared.
The president left in a hurry, this time to his homeland of Tabasco. He'd then move on to other states but left journalists guessing on the details.
Mexico News Daily