Thousands of parents and other relatives of children with cancer along with cancer survivors, HIV patients and others took to the streets in Mexico City on Saturday to protest once again against long-running medication shortages.
People from across Mexico participated in a march from the Angel of Independence monument on Reforma Avenue to the Alameda Central park in the capital's downtown.
Organized around the slogan quimios sí (chemo yes), the march was the latest protest among many held during the past two years against the federal government's failure to supply public hospitals with sufficient quantities of pediatric oncology medications as well as a range of other medicines including antiretroviral drugs used to treat HIV/AIDS.
"I don't believe there is a more just cause at the moment than defending the right for people with cancer and many other diseases to have their complete medications on time. This is the most humane fight that Mexicans can have," one protester told the EFE news agency.
"[The shortages are] real, there are no medications, not for cancer nor for other diseases. So we have to demand that the authorities [supply the medications], pressure them so they fix this problem they caused," said Marcela Martínez, a cancer survivor who lost her mother to the disease last year.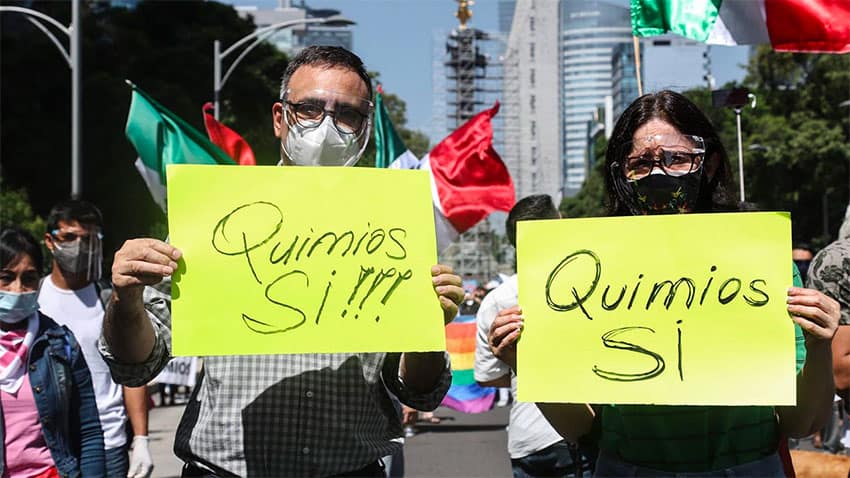 "They're populists, they promise and promise but lie and lie, and now we're tired of the lies and the promises," said Teresa Herrera, another protester who called on all citizens to empathize with those suffering from the drug shortages.
"I can't believe that we put up with them taking our medicines away because a country that allows medicines to be taken away allows everything. We can't allow it, we can't forget it," she said.
"We're here supporting the fathers and mothers of children with cancer because like them, people who live with HIV haven't had medications. Enough of them not hearing us!" Alaín Pinzón, leader of the HIV patients advocacy group VIHve Libre, told the newspaper Milenio.
The protesters blamed President López Obrador for the lack of drugs and were also highly critical of Health Minister Jorge Alcocer and Deputy Health Minister Hugo López-Gatell, who claimed last month that protests against shortages were linked to international right-wing groups with a mentality that borders on coup plotting.
The march took place just days after the government asserted that the problem – which experts say is caused by López Obrador's overhaul of a procurement process he claimed was plagued by corruption and price gouging – had been solved as the result of an almost 77-billion-peso (US $3.85 billion) outlay on the purchase of medications via its own tendering processes and through a collaborative purchasing agreement with the the United Nations Office for Project Services (UNOPS).
Speaking at his regular news conference last Tuesday, the president described his administration's purchases as a "triumph" after reiterating his claim that medication procurement under previous governments was "a business of a thieving minority."
But almost 87% of medications bought in collaboration with UNOPS have not been delivered to health facilities, according to data presented by the Health Ministry at the same press conference. Some 196.5 million units of medications have been purchased but only 25.8 million units – 13.1% of the total – have so far reached hospitals.
Saturday's protest came two days after a court filed a complaint with the federal Attorney General's Office (FGR) against Health Minister Alcocer and Finance Minister Arturo Herrera for failing to comply with an injunction that ordered them to guarantee the supply of cancer medications.
A group of parents of children with cancer also recently filed a complaint against Deputy Minister López-Gatell for genocide, discrimination and negligence in relation to the long-running shortage of cancer medications.
Journalist Carlos Loret de Mola asserted earlier this month that 1,600 children with cancer have died as a result of drug shortages, although he provided scant evidence for the claim.