In the age of environmental enlightenment, it seems that we are all more aware than ever of the impending climate emergency.
The galvanization of governments across the world at least to pay lip-service to the cause is to a certain extent encouraging, but in the milieu of promises, pledges, commitments, and inevitable complications, the impact of individuals working at a grassroots level can often be forgotten. It's also the case that small-scale operations affecting positive action at a community level are often the ones displaying the most effective model for widespread, global change.
In Seybaplaya, just a few miles outside of the city of Campeche, one such organization — alongside a burgeoning international partnership — is doing its part to protect the endangered hawksbill sea turtle. Moreover, perhaps, this initiative is presenting a paradigm of how progressive environmental custodianship might look.
Seyba is an intimate town of 10,000. The worldwide population of hawksbill turtles is double that at 20,000 but falling rapidly, partly due to the perilous nesting environment of the community's beach. Along this stretch of coast, the turtles come to lay their eggs for six months of the year, but their home isn't what it used to be. The expanding fishing industry snags them at sea, the plastic waste left by beach-goers chokes them on land, and the confusing mesh of lights and sounds from the local dock ensure that many returning turtles don't even make it to begin with.
Despite this, the hawksbills are creatures of habit, and they've chosen their home. The ensuing population damage is inevitably catastrophic, with an average of only one hawksbill turtle in every thousand hatched even making it to adulthood. Add in reckless industrial expansion and nonchalant littering left largely left to its own devices and the turtles have a lot going against them.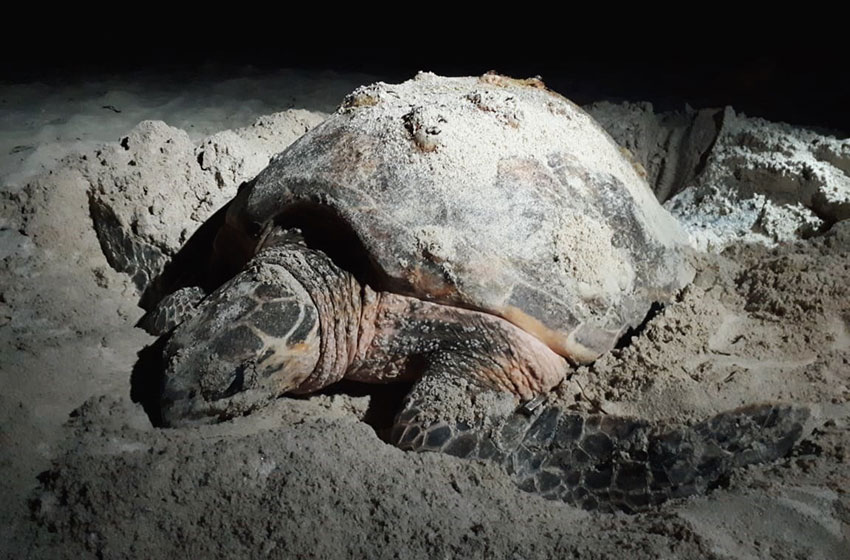 Governments — largely because putting a cost benefit on conservation is complex — have been apathetic, and for too long the looming specter of industry has been out of sight and out of mind. But Luis Antonio Góngora Domínguez, founder of the organization Yuumtsil Káak Náab, has been single-mindedly defending the nesting place of the hawksbills and resisting their extinction with a fiery resolve.
Luis is the animal guy in Seyba: "Snakes, scorpions, you name it." Turtle protection is a narrow slice of his ever-growing environmental portfolio, but it undoubtedly demands the most from him. On any given night during turtle season, you'll find Luis patrolling the beach, marking nesting areas, clearing plastic and other dangerous obstacles, and generally ensuring that human interference is limited in the turtle's laying process.
From his years of experience, Luis is efficient and knows where to be at any time, but the task is long, arduous, and understaffed. Even though support comes from local groups such as Ninth Wave and more recently international non-profit Plastic Oceans International (POI), the teams involved are small but fiercely committed.
Luis and his organization also find themselves in the role of educator, raising awareness in the community of the effect of environmental negligence. The town itself is a historical fishing community and to this day one in five families are involved in some way with the industry. It is Luis's job not only to boost support for solutions to plastic waste along the beach, but to keep the residents sensitive to the effects of the fishing industry as it develops.
This is a particularly difficult conversation to have, but one that Luis has learnt to handle with care and tact and it is clearly seeping into the consciousness of the community. Perhaps these reflections are the truest glimpse as to the ever-growing legacy of Yuumtsil Káak Náab, the proof that environmental work can humanize us and foster not only sustainable practices, but sustainable attitudes built for the long-term.
Things are about to change for Luis; the arrival of Plastic Oceans changes the landscape for the work, at least as far as the international profile of the project goes. The temptation to roll one's eyes is overwhelming; we're all too used to community initiatives being adopted externally, only to be left high, dry, and unsustainable, but this situation is proving to be demonstrably different. POI is insisting that Luis and his team take the lead, having been inspired by his method of instigating foundational community change.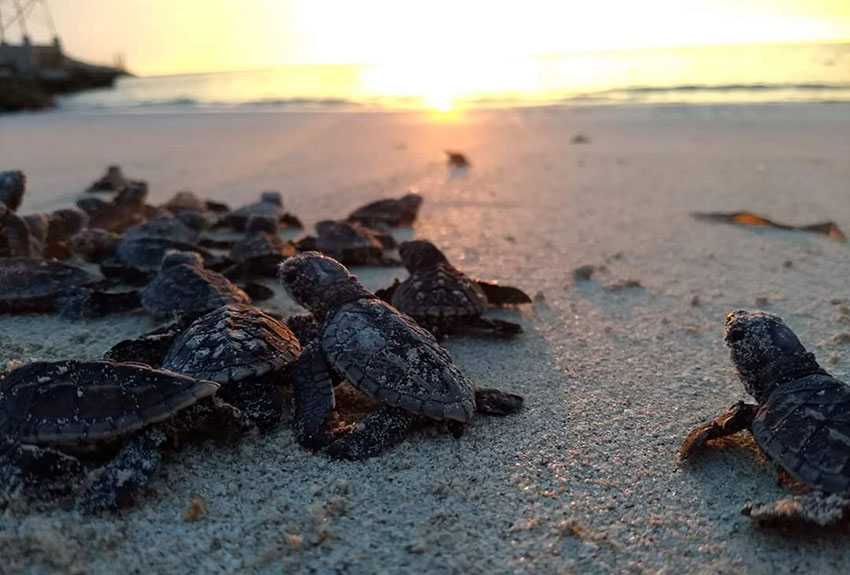 Tod Hardin, chief operating officer of POI, distilled his admiration of "their use of turtle conservation as an entry point to multi-level community engagement" in his commitment to supporting Luis's initiatives. This isn't a top-down funneling of mere resources, nor is it the characteristic "dead cat bounce" we've come to expect from the involvement of didactic yet ultimately ineffective financiers.
This could be a model of a new, progressive, and pragmatic form of environmental engagement that starts with community, and lives on through with them, generating that word which non-profit programs look to wherever they are to be found: legacy.
Luis's work is exciting, and the awareness and passion that is continuing to permeate all levels of Seyba's society tempts us to think bigger. With Luis and his team in mind, it's time we start thinking about how we can approach the climate emergency as a community, with shared accountability and understanding — because these initiatives are all too often left to others, when really we ourselves are the agents of change we so desperately need.
This is what large scale environmental activism often lacks, a consensus as to where we want our world to go, and whose responsibility it is to get us there. For the residents of Seyba, they are beginning to answer that question in unison: community.
Jack Gooderidge writes from Campeche.