The captivating "White City" is on its way to becoming a top tourist destination for a sunny seaside vacation in 2023. A two-time winner of the American Capital of Culture award, Mérida attracts millions of visitors with its rich history, unique architecture and delicious Yucatecan cuisine. The city is also a perfect base for exploring nearby cenotes and ancient Maya ruins.
While Mérida is not on the sea, it is the central travel hub for southeast Mexico, with gorgeous white sand beaches close by. The phrase "Mexican beach destination" may bring to mind images of Playa del Carmen, Cancun, or Tulum along the Caribbean coast, but the Yucatán seaside has plenty to offer too.
Much of the state's coastline is considered a designated nature reserve, with plenty of flora and fauna to keep nature lovers interested. A warm climate and calm waters make the beaches on this list safe and enjoyable for all ages. In this article, we aim to shed light on the underappreciated treasures of the beaches near Mérida and why they're definitely worth a visit.
Pig Beach
More than just a beach, this is a sanctuary where the smallest beachgoers reign supreme. Just 31 miles from Mérida, Pig Beach is a secluded paradise home to a unique and utterly charming community of pygmy pigs. These miniature swine have carved out their niche in this coastal haven, becoming the unexpected stars of this stretch of shoreline.
As you set foot on Pig Beach, you'll quickly discover that its residents are more than happy to become your beachside companions. The pygmy pigs have an innate charisma, and seem to revel in the attention of beachgoers. Their curiosity and playfulness make them the ideal subjects for those Instagram-worthy selfies that capture the magic of the moment.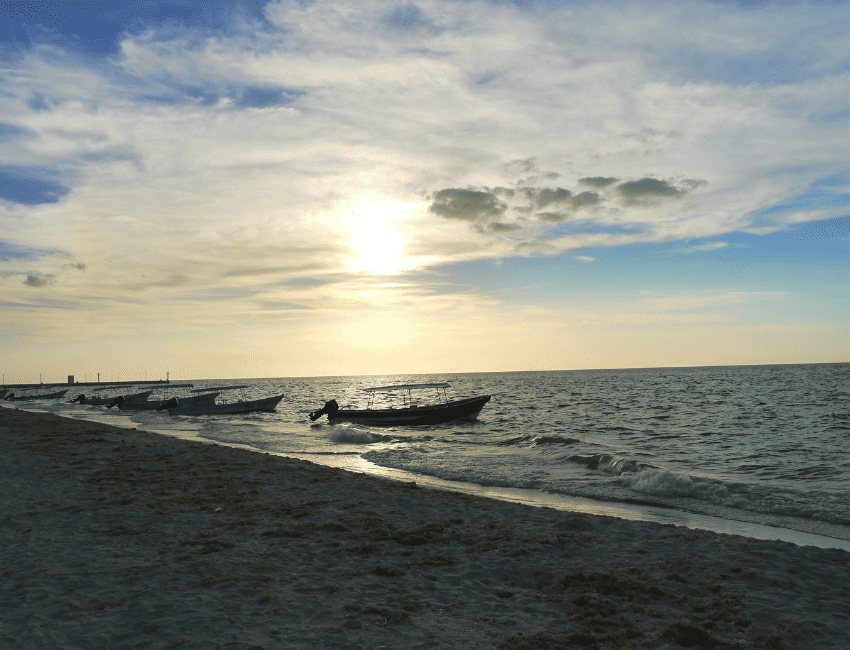 Progreso 
Less than a 30-minute drive from Mérida, this is one of the most popular beach destinations in the region. Progreso Beach offers visitors a delightful escape from the bustling city. Its long and welcoming boardwalk, known as the Malecón, is one of its defining features. Strolling along this picturesque promenade, you'll find a myriad of restaurants, cafes and shops where you can savor the local cuisine or pick up souvenirs. The beach boasts white sands that stretch as far as the eye can see, creating a tranquil environment perfect for sunbathing or leisurely beachcombing.
San Crisanto 
San Crisanto's tranquility is all the more enhanced by its lack of large-scale tourism infrastructure. Whereas some basic amenities exist, you won't find the crowds and commercial development that characterize more well-known beach destinations. This makes San Crisanto a haven for those who appreciate unspoiled natural beauty.
The charming fishing village is just a little over an hour's drive from Mérida and is the perfect place to get away from it all. If you're looking for an even more rustic experience, you can rent a cabin perched right on the seashore or dedicated camping area to immerse yourself in the beauty of the coast overnight.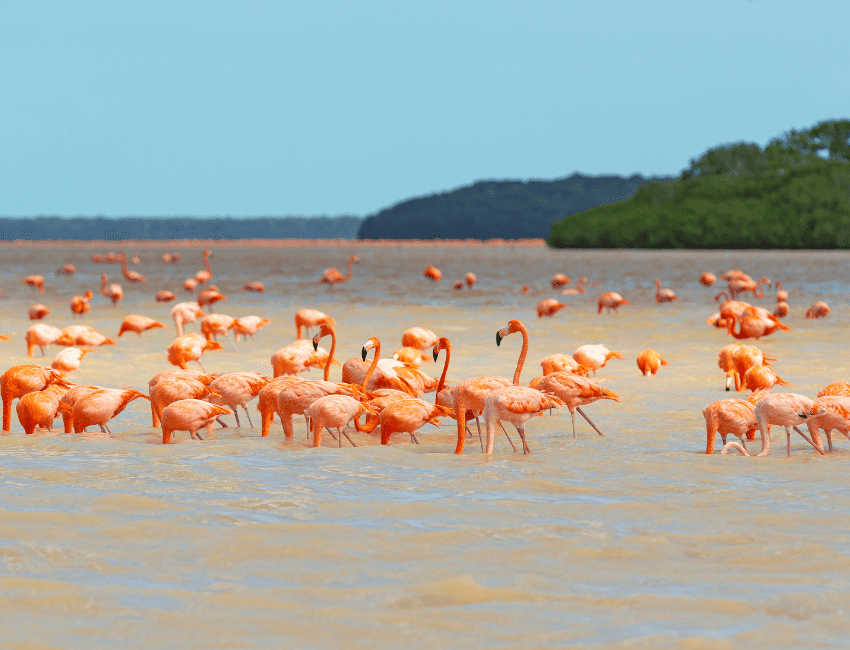 Celestún
The perfect dose of luxury and wildlife awaits in this eco-tourism wonderland an hour and a half away from Mérida. The town's extraordinary landscape is part of the Ría Celestún Biosphere Reserve World, a protected area of ​​59,139 hectares that was declared a UNESCO World Heritage Site in 2004. Celestún also has a wide selection of hotels and beachfront restaurants where you can sample fresh seafood and traditional Yucatecan cuisine.
The town's main attraction is its American flamingo population – the only one of its kind in mainland North America – which has chosen the Celestún estuary as a feeding and resting point. Celestún's flamingos are said to be the pinkest in the world: locals say that their waters have a remarkable concentration of carotene, the pigment that turns the birds pink.  You can catch a glimpse of  these charismatic birds in their natural ecosystem by booking a boat tour with a local guide.
Sisal
Steeped in history and pirate lore, this beach village 38 miles from Mérida is a captivating step back in time. The iconic Sisal Fort, located opposite the town park, was built by the Spanish to monitor and protect the peninsular coast from pirate attacks at the end of the 16th century. In 1845, a three-meter-high lighthouse was built on its roof, giving the fort a quaint touch.
While the pirate days are long gone, the beach's beauty remains, making Sisal a place where history and nature come together. The town lies within a unique biosphere, the El Palmar reserve, which covers almost 48,000 hectares and is home to hundreds of species of birds and aquatic life, including crocodiles, migrating ducks from Canada and flamingos.
Yucatán's beaches offer an enticing variety of options, each with its own unique charm. Whether you're looking for  relaxation, wildlife encounters, or a step back in time, Yucatán's coastal paradises have something for everyone. When planning your visit to the Yucatán, be sure to explore these nearby gems, just an hour and a half or less from Mérida. With its sunny climate and broad range of options, Yucatán promises an unforgettable beach vacation in 2023.
Mark Viales writes for Mexico News Daily.