I recently succumbed to a strong urge to shake things up for a night. I googled "day trips from Mexico City" and was, as expected, bombarded with an abundance of blogs written by luxury travelers or backpackers — all of  which suggested a quick jaunt to Taxco. 
So I booked myself a trip to this Guerrero city by bus, leaving early on a Wednesday morning, to return late on a Thursday afternoon. I figured it would be a fun little adventure to get my creative juices flowing and teach me a thing or two about Mexican culture.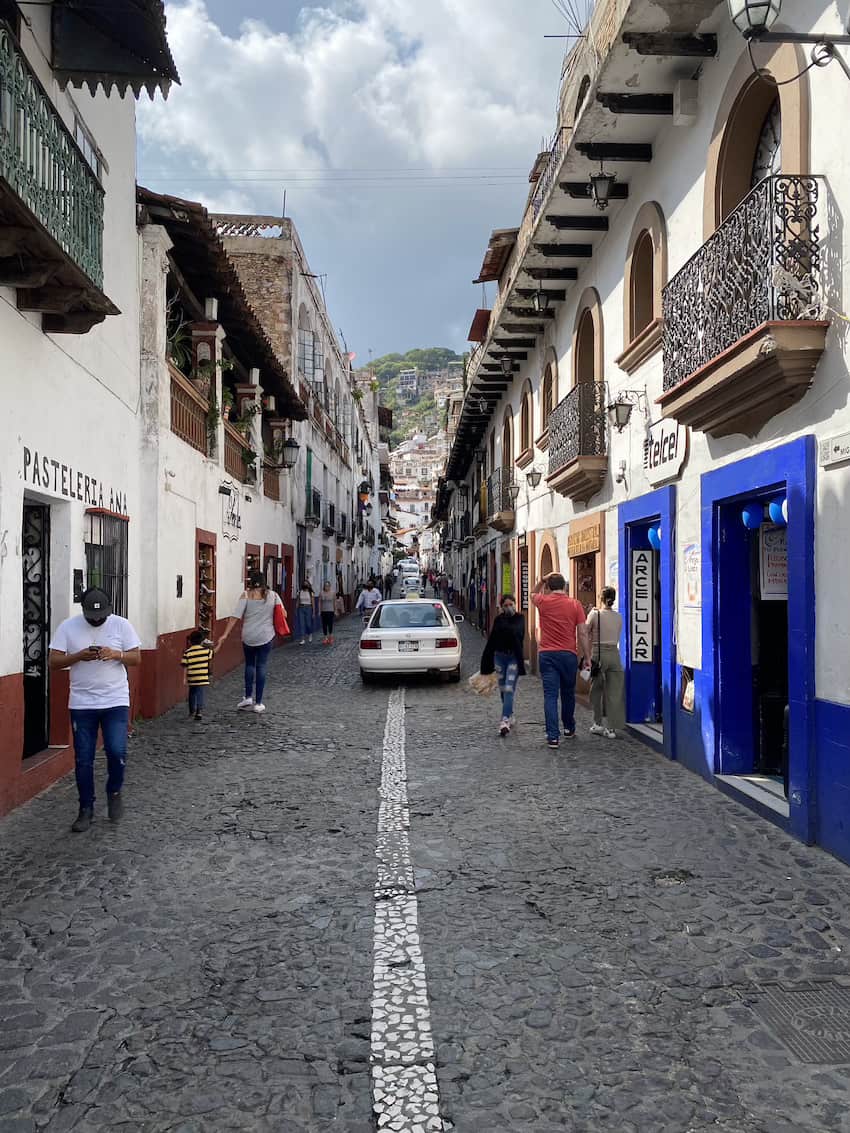 After about three hours of careening in and out of winding mountain roads, we drove underneath a set of bright white arches. From here, a sweeping scene of hundreds of thousands of rectangular, white-washed facades with burnt orange, terracotta roofs unveiled before me. 
The buildings were perched on the slopes of the mountains, with a serpentine road cutting through the center. Peppered throughout the structures were palm trees, magenta bougainvillea, and rooftop terraces with blue umbrellas. I had to shake my head a few times… No, brain, I am not in Italy, though it would appear to be so. 
Because the town's incline is reminiscent of San Francisco, not just any vehicle will survive the uphill battle. Taxis here are all old white Volkswagen Beetles that can, according to my taxi driver, withstand the steep climb in any kind of weather.  
This brings me to the first of many things you should definitely do in Taxco.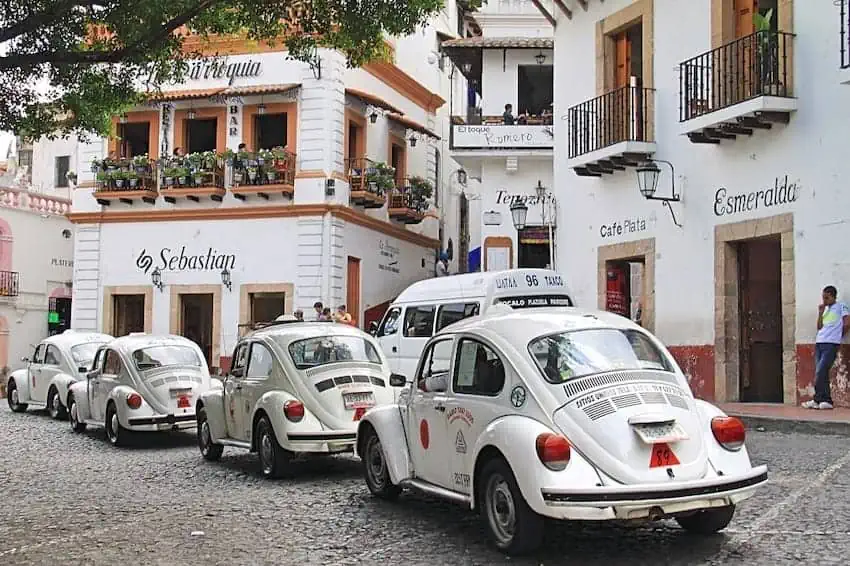 Suggestion #1: Take a ride in a punch-buggy taxi
The old town is centered around its zócalo, home to arguably the most beautiful church in all of Mexico — a dusty rose-colored stone with incredible carvings and two multicolored mosaic-tiled domes. 
Suggestion #2: Climb the 140 stairs leading you to the top of the tower in the Church of Santa Prisca.
For the views you'll get, 50 pesos is a fantastic investment.
The streets that spider off of the zócalo also lead you to a variety of jaw-dropping views. Every time you turn a corner, you're hit with another vista that seems better than the last. 
And if you have the quads for it, continue up to…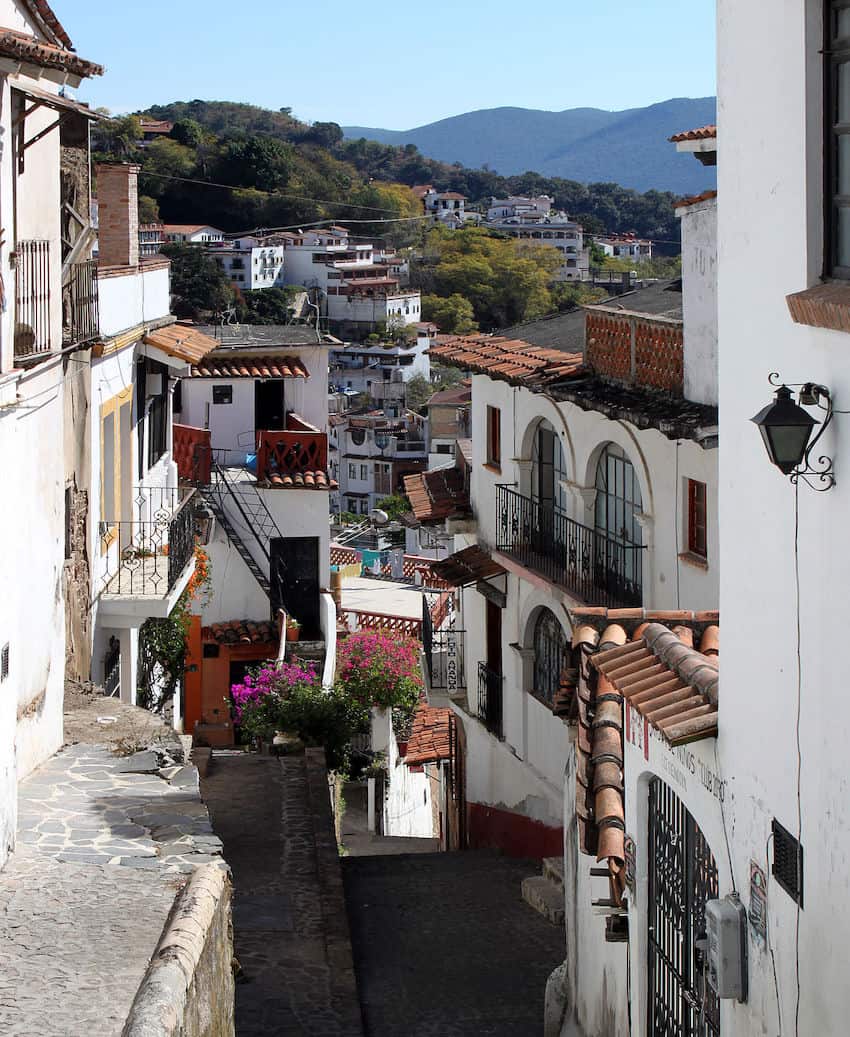 Suggestion #3: Capilla de Ojeda.
I happened to bump into this small church on an early morning walk and caught an unobstructed glimpse of the entire city before me, with a very slight mist above the mountains. It was a stunner, and my nalgas have been delightfully sore ever since.
Suggestion #4: Have breakfast at Casa Spratling.
At this point, I was hungry and wanted to try out a recommended establishment: Casa Spratling, named after William Spratling, who, shortly after the Mexican Revolution, brought Taxco silver back to the international stage.  
I arrived too late for meal service but not too late to meet the owner, a Mexican woman of Italian heritage who welcomed me with a local mezcalito. She showed me her gallery, which included Spratling-style jewelry and antiques. It was a charming restaurant that offers a unique array of Italian-Mexican fusion dishes that I'll have to try next time.
Suggestion #5: Don't get a margarita, but do get a drink upstairs at Bar Berta.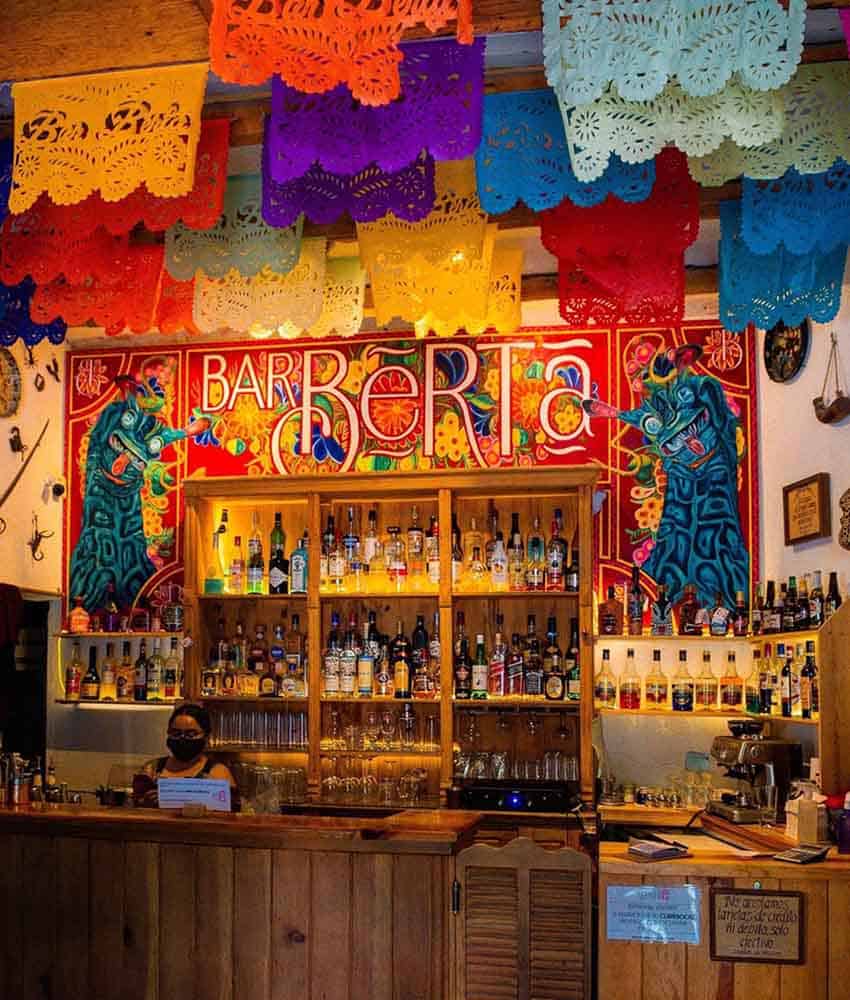 I later wandered back toward the zócalo to eat, and Bar Berta caught my eye. Established in 1930, its balcony seating is at eye level with the church. Prime real estate. The view, the people-watching, the sounds — it was all so perfect. The margarita was not so much, but I would not hesitate to return again and again for that view.
By the time I got to Bar Berta, I was borderline starving, and for that reason perhaps made a shortsighted restaurant decision. There are plenty of highly rated options in town, including:
I chose none of them. While my main dish at the restaurant I did choose left a bit to be desired, the view was great. My wine was crappy, but my guacamole was excellent, and with that vista, I was happy as a clam.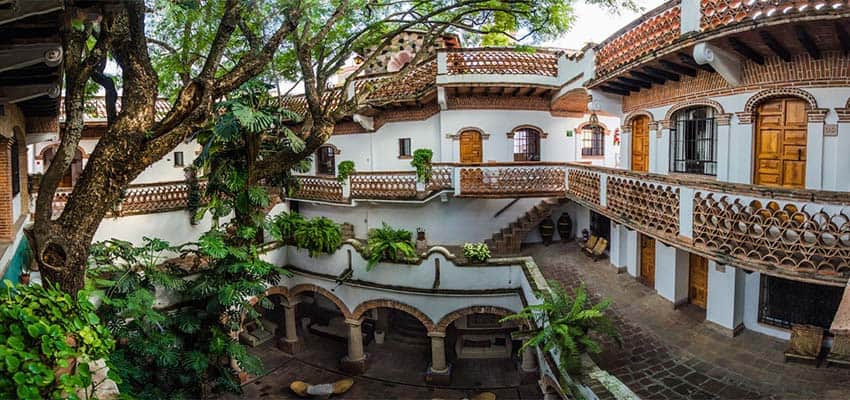 Suggestion #6: Consider a stay at Hotel Los Arcos
After I'd had my visual fill, I wandered downhill to my room at Hotel Los Arcos, a colonial house constructed in 1572 with a charming central courtyard and simple rooms. 
The location is ideal, right next door to the Humboldt Museum and within walking distance of everything I wanted to see. There's a lovely roof deck that guests don't seem to know or care about but where I enjoyed the sparkling skyline before bed.
Suggestion #7: Get coffee at Nueve 25.
Taxco is a sleepy place in the morning, and not many coffee shops were open when I started exploring around 7 a.m. To my delight, I did discover Nueve 25, a ventanilla-style cafe where you order your beverage from a window. My cappuccino was delicious. 

Suggestion #8: Get yourself lost in the Taxco Tianguis
Under no circumstances should you skip this market, which has enough going on for a whole article in itself. I don't know how to describe it, other than comparing it to an octopus. There is allegedly a central hub of some kind, although in practice it's difficult to find. 
But from the middle of the market extends an uncountable number of streets, tunnels, and stairs absolutely full of food vendors. Aside from fresh juices, flowers and pig heads, one can also purchase ceramics, herb capsules and cell phone covers. 
Suggestion #9: Visit the Mines inside Posada de la Misión.
After I'd had my juice and was well-fueled, I moved on to my next stop: located inside the impressive Posada de La Misión hotel are pre-Hispanic mines, discovered in 2013 underneath the hotel bar. Admission buys you a 45-minute underground tour, a drink and insight into Taxco's fascinating history.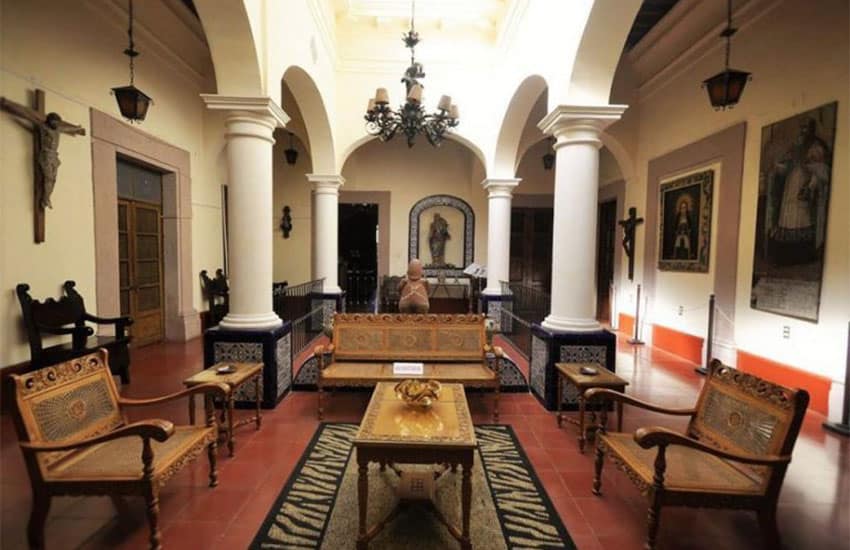 Suggestion #10: La Casa de las Lágrimas.
The house is preserved beautifully, as are the antiques that feel almost stuffed inside. There are giant windows, traditional talavera tiles and underground tunnels that once served as escape routes for its previous wealthy owners.
La Casa de las Lágrimas, or Casa Figueroa, manages to weave money, politics, love, scandal and murder into a 20-minute tour. 
It was a pleasant and unexpected little stumble that rounded out two perfect days spent in an absolutely spellbinding town.
Bethany Platanella is a travel and lifestyle writer based in Mexico City. With her company, Active Escapes International, she plans and leads private and small-group active retreats. She loves Mexico's local markets, Mexican slang, practicing yoga and fresh tortillas.  Sign up for her (almost) weekly love letters or follow her Instagram account, @a.e.i.wellness.