While food tours — or as some people call them, "foodie tours" — are nothing new to experienced travelers, they are relatively new to the popular Mexican resort destination Ixtapa- Zihuatanejo in Guerrero.
Zanca Travelers tour company owners Vidal Reyes and Sandy Thompson, married for over 24 years, wanted to bring something a little different to Zihuatanejo while promoting local family restaurants. Although the area is home to several annual food events — the Paella Festival, the Tiritas Festival, and the Food and Wine Festival, the couple felt a lack of  food-related activities that tourists visiting the area could access year-round.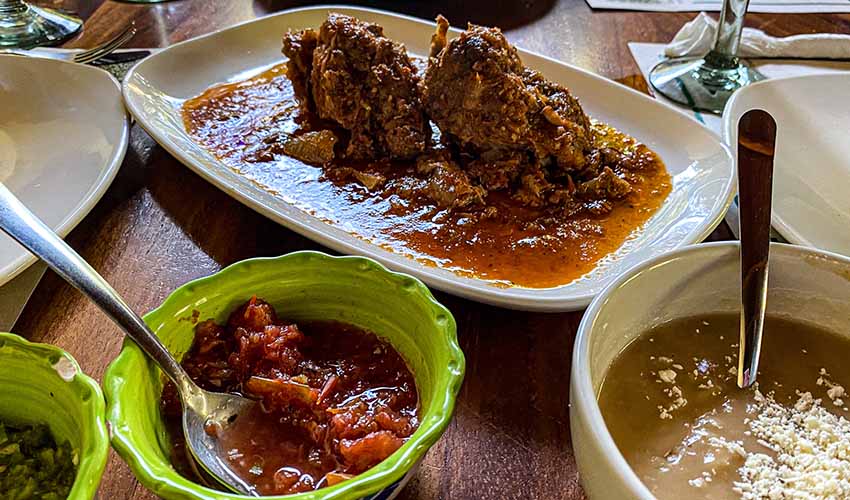 Reyes, who was born in Zihuatanejo, and Thompson, who has lived here for nearly 30 years, knew the cuisine in this part of Mexico was exceptional. The restaurants chosen for their Regional Dishes Of The Costa Grande Gastronomical Tour — some of the finest family-owned-and-operated restaurants in the area — had to meet specific criteria: originality, innovation, atmosphere, cleanliness and, of course, high-quality food. Some of the restaurant choices were owned by families Reyes had known all his life growing up here. 
Having experienced food tours in Spain and Canada, I was anxious to see how it would compare to the tours I am a fan of.
After picking up the group of 10 in an air-conditioned luxury van, we made our first of four stops.
Carmelita's Cafe
This is a local favorite (with me as well). It became internationally famous when U.S. celebrity chef Rick Bayless heaped tweets of praise on owner Carmelita González's amazing cooking skills, despite the fact that she was not a trained chef but a natural-born one whose humble beginnings were at a stand at the Ixtapa-Zihuatanejo airport many years ago and who specialized in cooking her mother and grandmother's recipes. 
Our hosts, González and her son, Paco, offered us a choice of interesting drinks, including a jalapeño margarita that everyone agreed was delicious.
First up were tacos dorados de pollo (chicken tacos), accompanied by a bed of guacamole and followed by perhaps the best ribs I have ever tasted. Meanwhile, Paco talked about the restaurant's history and some of the most important food in the region.
Although everything was delicious, our guides cautioned that there were still three more stops. So we reluctantly crawled into the van to our next location, this time a hole-in-the-wall taco stand on the main drag in downtown Zihuatanejo. 
La Flechita Roja 
Years ago, the Escobar family made the bold move of keeping their stand open 24 hours a day, which made it a huge hit with late-night partiers, bus drivers, taxi operators — basically anyone out late at night. 
I have driven past this taquería thousands of times in my nearly 26 years living here, and I never once noticed it as anything remarkable. However, one taste of the two kinds of tacos we were offered — tacos al pastor and barbacoa — and I knew that La Flechita Roja taquería would be my go-to taco stand forever. 
The method of preparing and cooking al pastor is based on the lamb shawarma brought to Mexico by Lebanese immigrants but La Flechita's owners make a pork version.
Depending on the time of day, seating here is hit-and-miss, and people crowded around the lunch-style counter on benches lined the wooden structure as best they could. 
However, it made for a very cozy and authentic atmosphere, and after we finished, the chef insisted we stand behind the grill for a photo-op with him. And then it was on to stop number three.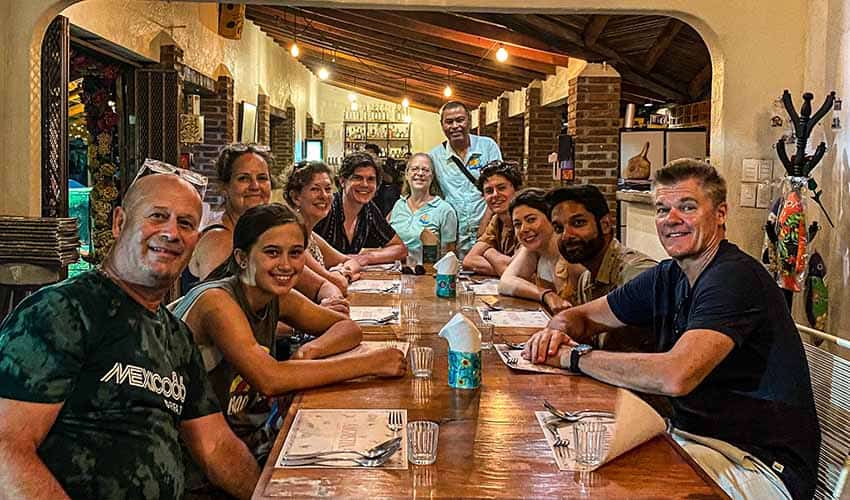 Club M
Our van wound its way through the streets to another hidden gem in the colonia of La Noria, high above the city, for a fantastic view of the Bay of Zihuatanejo. Club M, a little restaurant featuring only a few tables and a bar with high-top stools, gave the impression of being cut out into the rocks mere feet from the street. 
Owner Socorro Agueda was on hand to greet us while one of her family members gave a quick lesson on making tiritas (strips). The fresh strips of swordfish, cooked in lime juice, peppers and onions, slid down our throats — probably among the best preparations I had ever tasted — and were washed down with ice-cold beers. Definitely worth another trip in the future.
Angustina Mezcal and Cocina
The final leg of our tour was this well-known restaurant, located close to Zihua's Cancha — the municipal basketball court located right on the waterfront. 
As the name implies, mezcal is an important drink at this restaurant, and we were offered two different kinds to go with our food dishes. The first was a mezcal infused with hibiscus, served with corn soup. The second was a mezcalina that complimented the corn tortilla and special guacamole. 
Then, just when we thought we could not eat another bite, our waiter served a delicious pork shank followed by a specialty cornbread for dessert. 
Owner Felipe Meneses was on hand to explain the pairings and to give a little history of the restaurant itself. The Meneses family owns several restaurants and is well-known for their commitment to raising gastronomic awareness of the region through their involvement with events such as Clandestina, a series of pop-up fine-dining events held in secret locations around Ixtapa- Zihuatanejo.
After nearly five hours, our group of 10 had become quite friendly with each other — a bonus of going on food tours, I have found. But as all good things must end, we said our goodbyes, feeling completely satiated and perhaps a little tipsy from the drinks but all in agreement that tours like these are well worth the US $110-per-person price tag. 
For more information on this tour and others they offer, contact Zanca Travelers on WhatsApp: +52-755-131-8913 or

visit their website

. 
The writer divides her time between Canada and Zihuatanejo.