Dolphin Assisted Therapy (DAT) is based on the idea that spending time with dolphins can help treat a range of human health problems. Among the few places in the world that offer DAT (which, experts stress, is not a substitute for medical treatment) is Recinto Maya Kay, located in the little town of Jocotepec, at the northwest end of Jalisco's Lake Chapala. 
By and large, the medical profession pooh-poohs the very notion of dolphin therapy and frequent claims of its efficacy by the parents of children with autism or other disorders.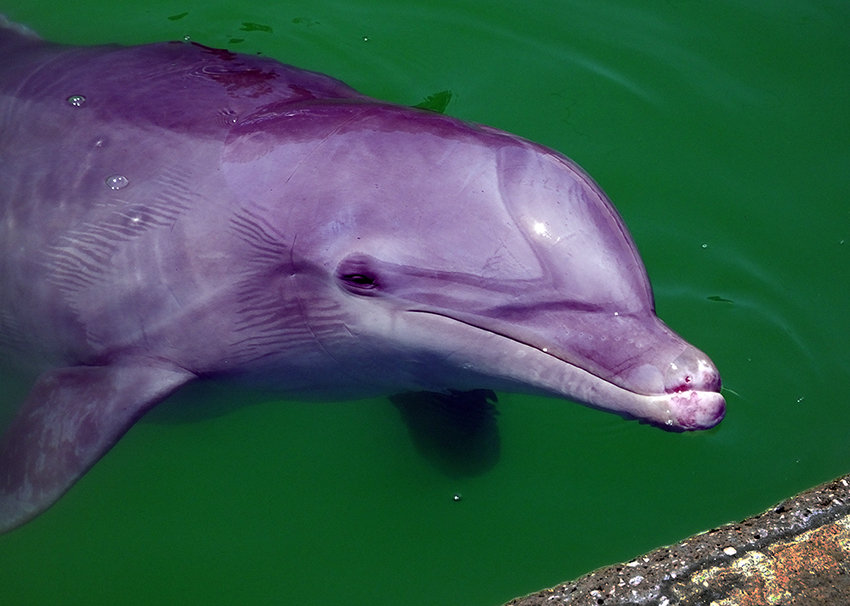 "There's no evidence that Dolphin Therapy produces any long-term effects on the symptoms of any major disorders," state psychologists Scott Lilienfeld and Lori Marino in a report on DAT by Dina Fine Maron, published by National Geographic in 2021.
By evidence, members of the medical profession mean peer-reviewed comparative studies involving large numbers of participants, such as those carried out by pharmaceutical companies.
While such rigorous scientific studies of DAT are perhaps impossible to find, personal testimonies are another story. I asked María José Herrera, veterinarian at Maya Kay, what sort of results she has seen from therapy sessions which take place every day at this compound in Jocotepec. 
"Bueno," said the vet. "When children come to us, we have them lie down in the pool, with their ears in the water so they can hear the sounds generated by the dolphin… The dolphins are sensitive and loving; they seem to sense that there is something special about these children. They serve as a focal point for problems of attention deficit. The children get excited and can't ignore the fact that the dolphin is there. Its presence makes a big impact.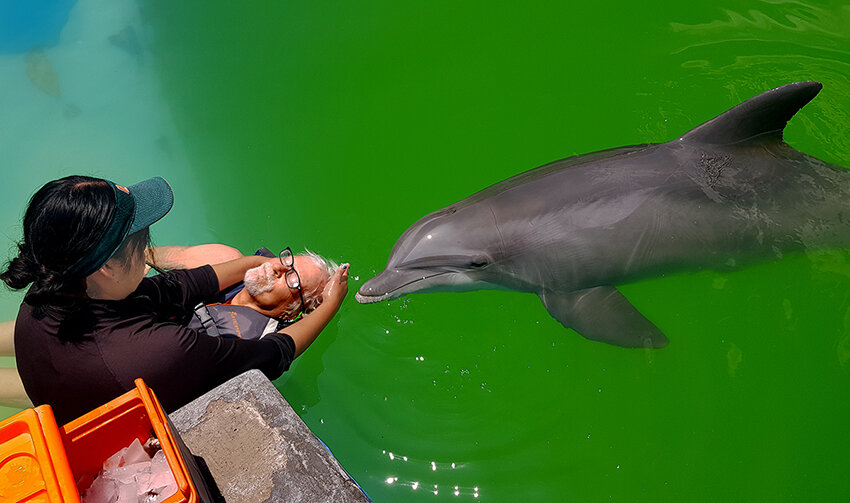 "I'll give you an example. There's a little boy who's been coming here for eight years. I'll call him Juanito. It seems that at the age of six he couldn't talk, not at all. So we put him in the water and as a reward for lying there quietly, we told him he could 'go for a walk' with the dolphin, which meant he would swim alongside it, holding on to its dorsal fin, which requires certain motor skills. So Juanito was able to do this and he was so happy about it! He was really in ecstasy, and so was his mother, because after each session, we ask the children to tell their parents what they did and what they felt and all this is a big stimulus to get them to talk. At that time, Juanito didn't speak at all, but after the session, he excitedly told his mother all about it. Well, Juanito's mother was amazed and kept coming back year after year and recommending this to all her friends."
Maya Kay has been operating in Jocotepec for six years, according to manager Mauricio Arias.
"Interacting with a dolphin often has a very powerful effect on people," says Arias. "What is most notable is the dolphins' sonar, used for echolocation. It has a positive effect on everybody, but especially on children with autism. It strongly affects the social skills of these people."
The care of wild animals outside their natural habitats, Arias told me, is carefully regulated by the government: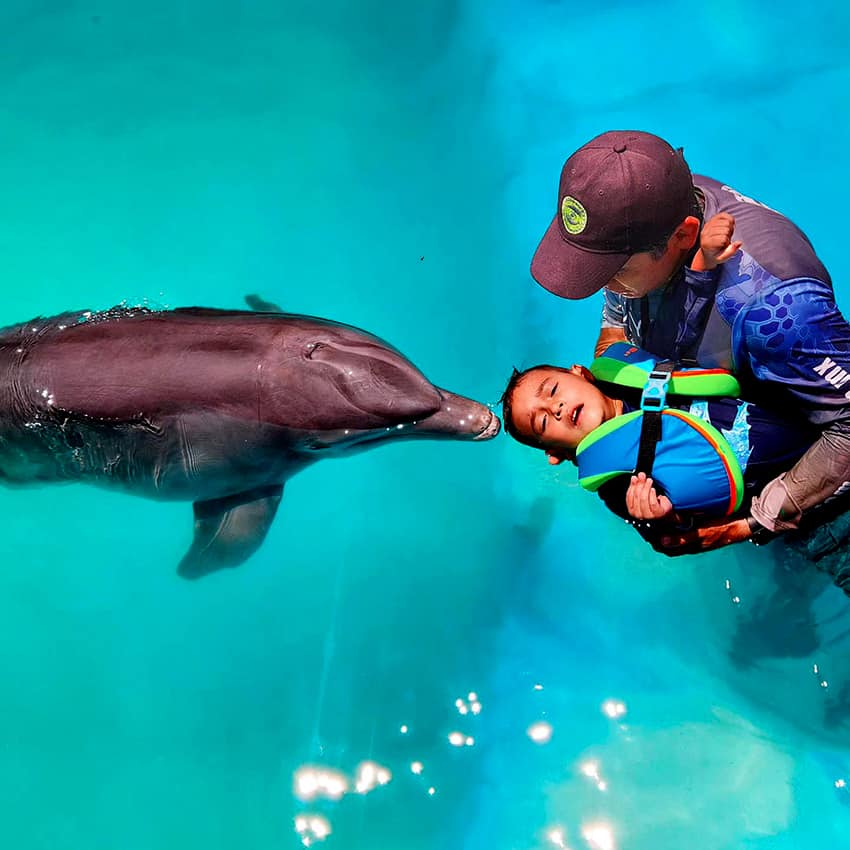 "We have special permission to have them — with very particular rules to follow.  What we offer is an opportunity to meet dolphins, to interact with them. This encounter with dolphins is not just for people with Down Syndrome, but for everybody."
Interestingly, the very Natgeo report mentioned above — which states that dolphin therapy doesn't work — presents dramatic examples of its efficacy:
Jennifer Lansink, says the article, saw results in her daughter Teal, during DAT sessions at the Integrated Intentions Upledger Institute in the Bahamas. Teal was unable to walk unassisted, "but she giggled and appeared happy when a dolphin first rubbed up against her feet." On the way back home after her second visit, Lansink was amazed and brought to tears to see her daughter stand up unassisted for the first time.
In the same Natgeo story, writer Dina Fine Maron mentions Deena Hoagland, owner of Island Dolphin Care in Key Largo, Florida. While agreeing that there are no scientific studies to back up DAT, Hoagland tells the story of her son Joe, who, as a small boy, suffered a massive stroke, leaving him completely paralyzed on his left side. However, after years of participating in DAT programs she devised, her son dramatically improved.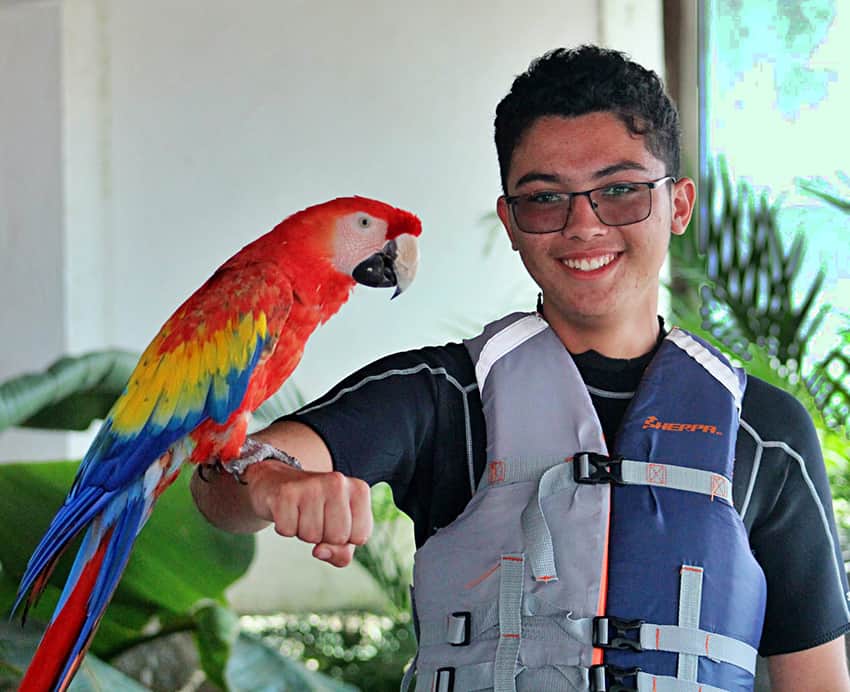 "My son's hand was a fist, and he couldn't isolate his fingers, so I told him if he could open his hand and rotate his wrist, I would put a fish in it, and he would get to feed the dolphin," she says.
Joe Hoagland is now 35, married, and working as an animal trainer at Island Dolphin Care, a not-for-profit organization that helps families, veterans, and other individuals facing challenges. 
Organizations like Empty the Tanks and World Animal Protection point out that captive dolphin tanks are 200,000 times smaller than a dolphin's natural range. They state that dolphins are not only capable of feeling emotions like love, joy, and amusement, but "they're also capable of feeling pain, fear, and suffering. Captive dolphins are living over 50 years in misery, and many captive dolphins respond to their stressful lives with behavior seldom seen in the wild, including grinding their teeth down, bobbing their heads, and swimming in circles."
Maya Kay staff told me that dolphins like theirs, raised in captivity, could not possibly survive in the wide ocean and that they put constant effort into creating a healthy, varied and stimulating environment for them.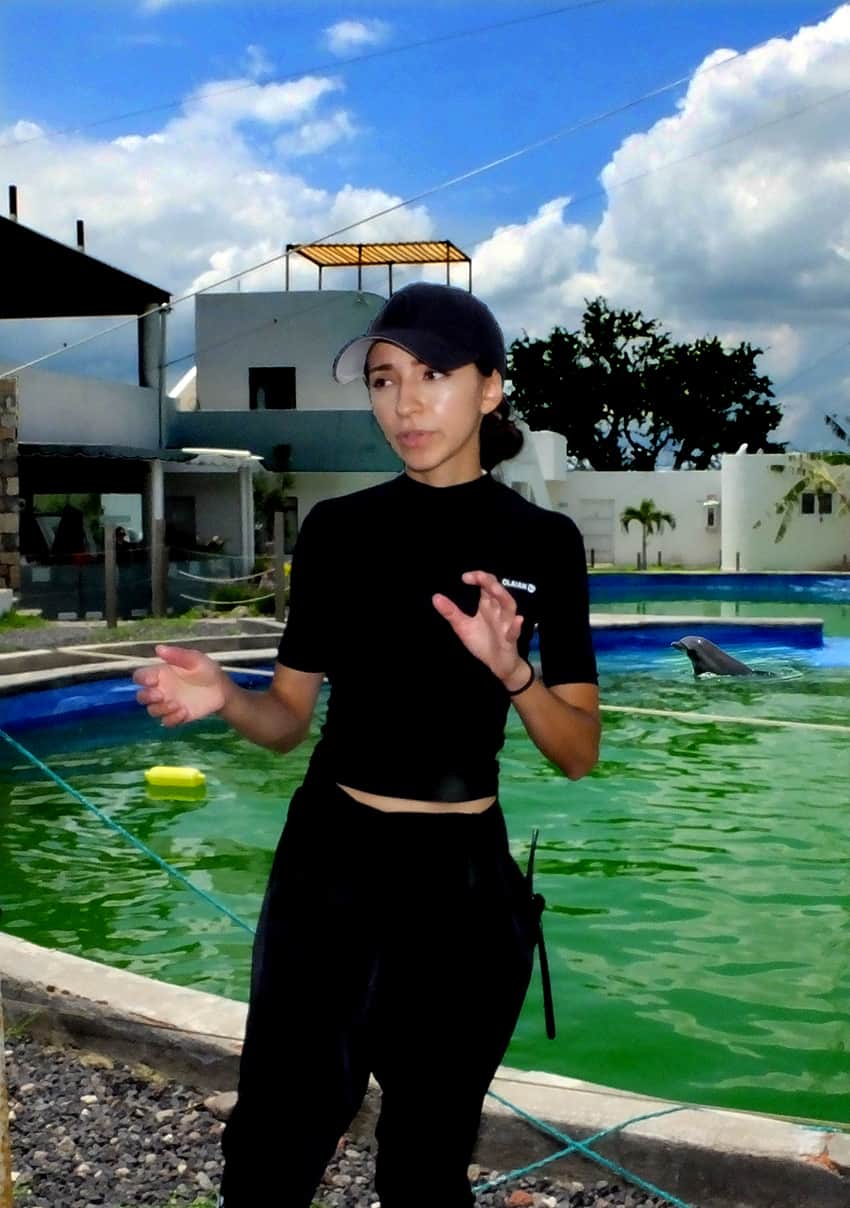 "Are our dolphins happy?" asks Mauricio Arias.
"Just look at them!" he says. "If an animal is unhappy it exhibits strange behavior, it goes to hide in a corner. Ours are both healthy and happy. I say, before criticizing, come see what we're doing here."
If you want to accept his challenge, you'll find information on Maya Kay on their webpage.
The writer has lived near Guadalajara, Jalisco, since 1985. His most recent book is Outdoors in Western Mexico, Volume Three. More of his writing can be found on his blog.