Wondering how to keep up your blonde hair in Mexico, in a hot climate where there's continual sunshine and swimming!?  We found some of the top stylists in Mexico who shared their tips and advice on what to look for in a stylist and how to optimize the radiance, shine, health and color of your blonde hair, in between trips to the salon. 
Can I really get good blonde highlights in Mexico? 
The struggle is real! Over the years I've spent living in Mexico, I've encountered many blondes – both foreign residents or visitors – who insist on getting their hair done 'back home'.  The good news is, apparently that's changed!  Struggle no more.
With all those gorgeous blondes from all over the world now flocking to Mexico, I knew there had to be stylists out there maintaining many-shades-of-blonde hair. Three hairstylists working in CDMX, San Miguel de Allende and Merida weighed in on the importance of a skilled colorist, investing in a few excellent products, optimum maintenance and the absolute necessity of owning a hat.  
So let's get down to blonding business!
Meet three stylists for blondes in Mexico: 
Ronit Sabban, aka 'the blonde whisperer', runs an independent studio in Polanco, CDMX.
This Washington DC transplant trained in Maryland, taught hairstyling in partnership with RUSK and continues to attend conferences to brush up on current techniques and trends. She's been in the business of blonding for 30 years, and has clients from the US, Canada, Australia, the UK and Europe.  "I love color and blondes are my niche", Ronit tells MND.  According to one of her clients, Dr Jesse Schwartz, a dermatologist in Mexico City, she's "the best hair colorist ever! She uses the highest quality products and is a total treat to spend time with." She even recommends Ronit to her patients.
Tal Fisher, a stylist from Montreal, runs a home salon in San Miguel de Allende. 
Tal has a delightful coming-to-hair story. "I watched my mother and brother cut hair in the living room and drink tea with their clients afterwards. It's the only thing I know how to do well". He studied with Vidal Sassoon in London, the Harvard of hair schools, 'to learn from the best'. After a career boasting invitations to New York fashion week by the mega brand, Moroccanoil (they sponsor the Oscars and Eurovision) and being the only Canadian to win the Wella 'TrendVision Award', he moved to San Miguel, feeling "tired of the rat race and want[ing] a good quality of life".   Every 3 months, he takes off to Merida for a few weeks, where he works at a salon collective, Naty Does Hair.  Elle Daily, a Bay Area creative living in Mexico says. "He's a real artist. My platinum changes tones. I might want punk or I might want pretty, so I trust Tal."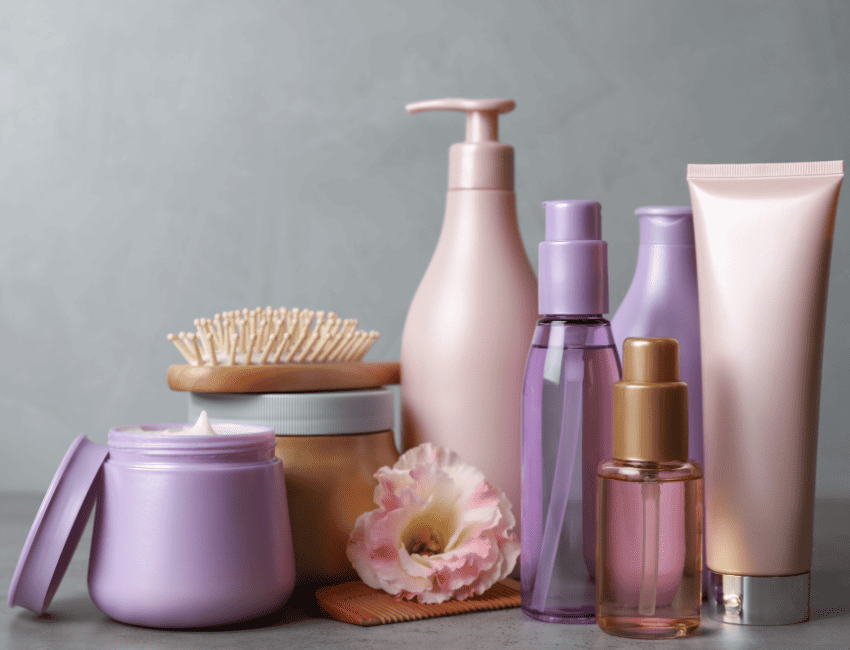 Lawrence Demirjian, moved from the Bay Area and has a home studio in San Miguel de Allende.  
With a Vidal Sassoon training in Chicago and 50 years in the business, he also apprenticed with master colorist Leslie Blancard in New York, and perfected his talents at the L'Oreal school in London.   He arrived in San Miguel de Allende 18 years ago from the Bay Area and has gained a loyal local following.  Susan Stopford, an English woman living in San Miguel  has found her favorite hair stylist in Lawrence. "Being new in town, looking for a hairdresser was a game of chance. Lawrence was highly recommended, and rightly so.  He gets my highlights just perfect. I need look nowhere else."
How do I find the right stylist and keep my blonde hair pitch-perfect?
"Check the credentials. Sassoon, L'Oreal etc. Coloring is a skill. Many Mexican hairdressers simply don't do blonde hair, what with all that fabulous dark hair around. I'll encourage any woman to bring along pictures, ideas, and make sure she feels free to talk as much as she likes. Women haven't been taken seriously for so long. I'm a people person and I love making people happy and beautiful."  Demirjian
"Check out their background. A blonde colorist should have years of experience, and preferably should have training from Europe and the US. What bleach and foils do they use? It's important the stylist doesn't bleach over already processed hair"  Sabban.
"Take the time to find the right stylist for you. I win some, I lose some! I learned the intimate art of hairstyling from my mother.  Women have to really trust you.  My salon in Montreal was called 'Espace Carte Blanche' because I don't like to 'tell,' but help formulate a client's vision for their hair out of a 'blank canvas'"  Fisher
What are some of the best products for my blonde hair? 
"Not all bleaches are created equally!  I use Goldwell, a German brand, that has conditioners built into the product. And don't let a colorist bleach over already colored hair, that's called overprocessing and will strip hair. After doing a beautiful highlight service, a clear glaze on top will seal in the color and give it an extra kick of shine. Check your stylist can provide this."   Sabban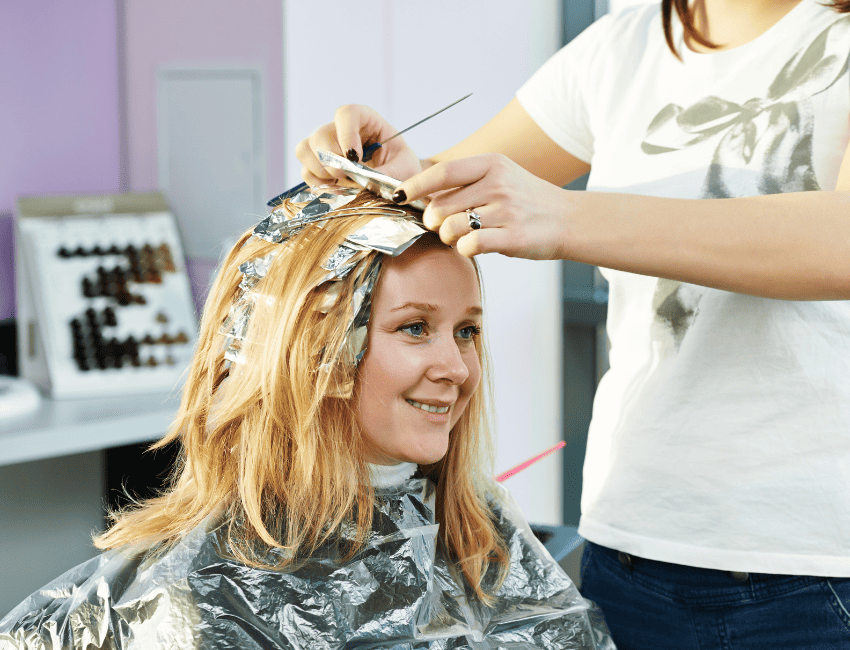 "Invest in just a few excellent products that condition and hydrate; no need to fill your cupboards.  Stay away from most supermarket products. I use Olaplex No. 6 which improves texture, reverses damage and reduces frizz.  Japanese brand Mucota is expensive but even more amazing in its ability to hydrate and protect."  Sabban
"Use a purifying shampoo. I always use one before I work with a client's color. Maintain this practice at home, at least once a week, to clean out the dust and the elements, and calcium and minerals in water.  I use Legiadria's Shampoo Ultra Purple."  Fisher
"Use a purple or blue shampoo to maintain color, and to neutralize any brassiness. Blondes usually like to be ashy or beigy, and this will maintain the original tone. Again, I recommend Legiadria's Shampoo Ultra Purple."   Fisher
"Skip the everyday shampoo. Blonde hair is delicate, so freshen up with a dry shampoo or just warm water and a little conditioner to get the sweat out of it.  I recommend Moroccanoil Mexico products."  Fisher
"You have to use the best products, and never skimp!  I import my favorite shampoo, conditioners and treatments, as I believe it's the best for blondes.  I use Framesi, an Italian brand." Demirjian
"Use a hair mask once or twice a week. The range I use and recommend is Davines, The Renaissance Circle, The Wake-Up Circle and The Restless Circle."   Fisher
"Use hair oils – I like Latinoil, Chia Oil hair treatment. And a spray protectant for when you're in the sun."   Demirjian
"Invest in a leave-on product. After wet, apply Olaplex No.3, which will keep working til dry, strengthen your hair and help with the longevity of your color."  Sabban 
Top tips for at-home highlights maintenance
"WEAR A HAT!  San Miguel de Allende, for instance, is 6,200 ft above sea level.   Protect the condition and color of your hair, by either staying out of the sun, or wearing a hat!  At the beach and pool, wear a good cap if you can, and update it every 4 or 5 months."   Demirjian
"Come back for a 'dusting'!  A regular tiny trim of the ends, and a root touch up, every 6 weeks, keeps it healthier, shinier and prevents breakage, even if you are growing the hair longer. You should feel like a star and you shouldn't have to fight with it!"  Sabban
"Use a little bit of conditioner. You don't need a whole load of conditioner in your hair.  Just use a little bit and then comb it through, leave, or rinse out after 5 minutes."  Demirjian
"Don't overuse hair dryers or curling irons.  Don't use hot water.  And don't change your hair color too often or too drastically. And yes, you can bring and use a hair dryer in Mexico, when traveling from the US,  you don't need an adaptor like other countries –  check before travel. Demirjian
"Do your at-home care!  Once a week, do treatments. I love Amika products, which are sulfate free, not tested on animals and smell good.  One of the single most important things that blondes can do is to invest in a microfiber towel and then air-dry as much as possible once initial moisture is removed." Sabban
"Use a water softener.  The water in Mexico is generally hard.  The cheaper electronic devices and shower heads don't really work.  You need a proper system, like reverse osmosis.  But if you need to cheat, a little bit of salt in the water will bleach out the minerals.  And if you're traveling, use a shower filter, to keep your blonde hair lively and not washed out." Fisher
 "If your hair has shades of green, crush two aspirins and add it to your shampoo. Regular aspirin contains salicylic acid, the chemical typically used in face washes. When used on the hair, it counteracts the alkalinity of the chlorine to neutralize the green quickly and easily."  MND handy tip, sourced from top Parisian stylist Christophe Robin,  
Good news!  Yes, you can maintain your blonde in Mexico! 
Whether you're a resident or visitor in Mexico, after a couple of pandemic years of low-maintenance touch ups, full-throttle healthy, vibrant, silky blonde hair is fast becoming a signature for all the eternal sunshine-y seasons here. Now there's more demand,  there are finally some excellent stylists out there specializing in coloring and maintaining your blonde beauty. 
Take away these top tips from the top blondists, get to one of their salons if you're nearby, and relax –  knowing you don't have to rush 'home' to the hairdresser but that Mexico now (almost) prefers blondes!
Henrietta Weekes is a writer, editor, actor and narrator. She divides her time between San Miguel de Allende, New York and Oxford, UK.