You may find yourself in search of cosmetic surgery – that "mommy makeover", tummy tuck, or breast lift – that is safe, affordable, and of the highest standard. We met Dr. Roberto Galaso Trujillo from the prestigious ABC Medical Center in Mexico City, who told us what you need to know to trust the process for a procedure from start to finish.
What academic training and experience should you look for as a patient seeking the best plastic surgery in Mexico?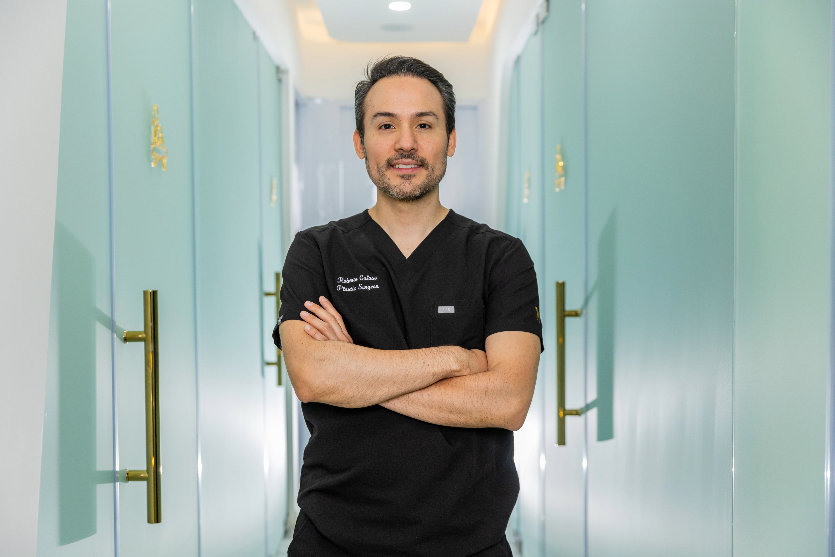 "In Mexico, you have to train in general surgery for 3 years in order to become a plastic surgeon", says Dr. Roberto Galaso, a smart, young, professional surgeon who runs his cosmetic and plastic surgery practice out of ABC Medical Center, CDMX, one of the most esteemed hospitals in the country.  He furthered his studies in reconstructive and plastic surgery for 4 years at the Hospital Dr. Manuel Gea González, considered one of best in Latin America, under the mentorship of Dr. Fernando Ortiz Monasterio, a renowned surgeon and the first to perform cleft palate surgery and other craniofacial malformations successfully.  "I also learned how to perform breast augmentation and aesthetic surgery with this doctor and witnessed the flood of international patients."  It is highly competitive to be accepted into this program.
After completing this 7-year training, Dr. Galaso traveled to the US, Turkey, Spain, and Colombia to improve his expertise in breast surgery and liposculpture surgery, which has become his specialty.  In Mexico, in addition to training, it's a requirement for a doctor's thesis to be validated by top surgeons. Alongside this critical training – necessary for safe and successful outcomes -Dr. Galaso went on to receive his board certification from the American Society of Plastic Surgeons (ASPS) and the International Society of Aesthetic Plastic Surgery (ISAPS).  
When exploring your options for medical tourism, researching a doctor's training thoroughly is imperative.  Double-check that a doctor is certified to practice in Mexico, like Dr. Galaso. 
How safe is plastic surgery in Mexico? 
Dr. Galaso tells us that attending the professional international conference circuit helps him keep abreast of the latest information and technology from other experts, as well as being able to contribute his own advancements. 
Last year, at the large gathering for The American Society of Plastic Surgeons, aka "The Meeting," he presented on rhinoplasty. This year's meeting will be held in Austin in late October. He already attended the International Society of Aesthetic Surgeons conference that took place in Athens, Greece. 
"And the year before that, I gave a presentation in Seoul about reconstructive jaw surgery. It's very common to have malformations in Mexico."  Next year in February, he will attend IMCAS, aka "the congress," the most important annual gathering of aesthetic and plastic surgeons and dermatologists, to be held in Paris. "The truth is, aestheticians in Mexico have been known to administer procedures that should be done by plastic surgeons, so it's really important to work with a board-certified doctor that absolutely knows what they're doing", he tells MND. 
Why choose a hospital for cosmetic or plastic surgery?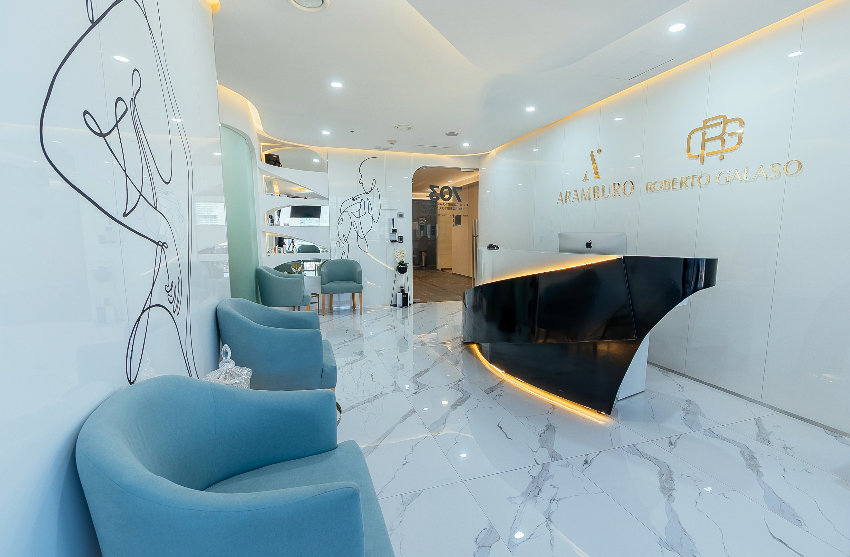 "You need rigorous health checks, and I am careful to say yes to a patient," Dr. Galaso states. Naturally, peace of mind around your procedure is of utmost importance, and the environment you choose will be key. For the last 4 years, Dr. Galaso has been proud to have been granted space for his surgery and office at ABC Medical Center, one of the most respected hospitals in Mexico. In order to practice there, a committee has to validate the doctor's 7-year training results, and it's a requirement to have 5 published peer-reviewed medical articles. Every 2 years, doctors will go through a further review process.  
What is "mommy makeover" surgery?
Trending right now is Dr. Galaso's specialty surgery, 'body contouring,' commonly known as the 'Mommy makeover.' "It's very popular," he tells MND. But not just for Moms; women who feel unhappy about having loose or lax skin are investing in this procedure for impressive and delightful results. "Tummy tuck, or abdominoplasty (aka 'the corset waist') and breast lifts are really popular right now, as well as breast reduction and shaping." The majority of his patients are Mexican, but he's now seeing a rise in international clients, especially from the US.
"I'm finding men are currently looking for liposuction and facial reconstruction, like rhinoplasty. They want to look well-formed and strong, often with a six-pack!"
What to expect before your plastic or cosmetic surgery in Mexico
Ver esta publicación en Instagram
Patients don't often have a lot of time to spare when they travel to Mexico for surgery. "We have expert protocols around pre-operative care and post-operative recovery. We usually need 2 weeks maximum to feel confident sending patients home," Dr. Galaso says. The International Plastic Surgery Program by Dr. Galaso offers a VIP package, where clients can stay at the St Regis nearby, which includes chauffeur service from the airport to the hotel, a 24/7 butler, meals according to dietary requirements, nurses, therapists and follow-up appointments with Dr. Galaso. The regular package offers standard rooms at the Hyatt House hotel, which connects via a bridge to the ABC Medical Center. Transport, meals, and after are included. The only additional patient expense is the plane fare. Dr. Galaso's team of therapists and nurses provide daily follow-up care and are mostly bilingual, Dr. Galaso is on call and close by for any questions or needs.
He reiterates the importance of the preoperative process and much communication with the patient's doctor, garnering a thorough preoperative analysis through examination of all medical reports. A patient typically arrives for surgery with Dr. Galaso 2 days prior.  
Cosmetic procedures in Mexico can be as safe and effective as in the US, under the right care – and easier on the wallet.
"So many people were traveling to Colombia from the US and Mexico for body contouring. It was an overlooked niche that I felt qualified to offer in Mexico."  Now, about 20% of his patients are coming from America, and of course, it's far less expensive than in the US.  The cost for a liposuction procedure, and other procedures, in Mexico is typically 20% less than the same treatment in the US, depending on the patient and personal requirements for the procedure, according to data search on Treatment Abroad.  
You can benefit from the exchange rate and cost of living, but Dr. Galaso recommends not searching for a deal when researching plastic surgery in Mexico. "We offer packages for international patients," he tells me. "You're paying a bit more, but still a lot less than in the US, for the hospital environment and the additional services." 
If you're serious about that plastic surgery you've been thinking about and researching, a 2-week trip to CDMX will get you the cutting-edge techniques available to plastic surgeons today, as well as Dr. Galaso's commitment to professional ethics. Far more cost-effective than the same procedure in the US, his work can change the way you see yourself.
This article is sponsored by Dr. Roberto Galaso Trujillo, an accomplished Board Certified Plastic, Aesthetic, and Reconstructive Surgeon practicing in Mexico. 
Disclaimer: This article is for informational purposes only and should not be considered legal or medical advice. Individuals should always consult with qualified professionals regarding medical procedures, including plastic and/or cosmetic surgery, and medical aesthetic treatments, as well as consider their jurisdiction's applicable laws and regulations.