The Mexican peso appreciated on Friday morning to its strongest level since late 2015, reaching 16.62 to the US dollar before weakening slightly.
That position was an improvement of 26 centavos, or about 1.5%, for the peso compared to the USD:MXN rate of 16.88 at the close of trading on Thursday. One greenback was trading at 16.68 pesos at 10:30 a.m. Mexico City time, according to Bloomberg.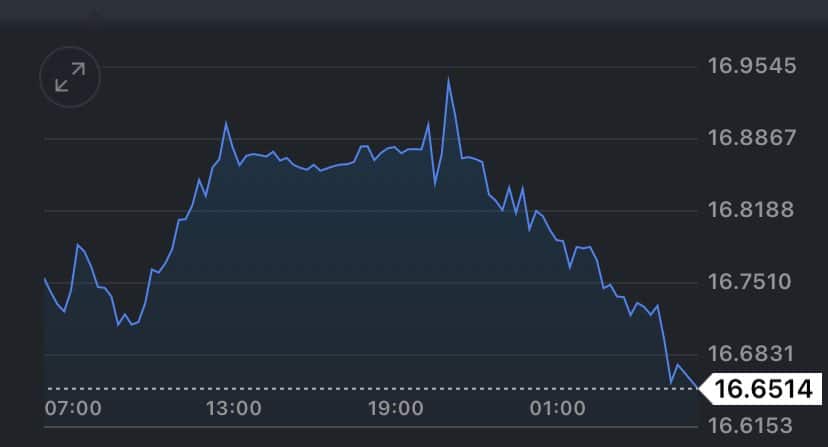 The strengthening of the peso came after fresh data showed that the annual headline inflation rate in the United States slowed to 3% in June, the smallest year-over-year increase in consumer prices since March 2021.
The decrease in annual inflation from 3.8% in May – as shown on the U.S. Department of Commerce's Personal Consumption Expenditures (PCE) price index – increases the probability that the interest rate hike announced by the U.S. Federal Reserve this week was the final one in a tightening cycle that began in early 2022.
The Fed, which increased its funds rate by 25 basis points to a range of 5.25% to 5.5% on Wednesday, closely watches the PCE index.
Analysts cite the Bank of Mexico's high benchmark interest rate – currently 11.25% – and the significant difference between that rate and that of the Fed as one factor in the current strength of the peso. Strong incoming flows of foreign capital and remittances are among the other factors cited.
Banco Base analyst Gabriela Siller said Friday that slower inflation in the United States and better-than-expected economic growth in the U.S., where GDP increased 2.4% in the April-June quarter, contributed to the weakening of the dollar and appreciation of the peso.
"What's happening with the peso right now is due to weakness in the dollar, but also because of optimism surrounding the Mexican peso … and with this international investors keep buying Mexican pesos and it may keep appreciating," she said.
Siller wrote on Twitter that the "inflow of foreign currencies to Mexico, the restrictive monetary policy of the Bank of Mexico and foreigners' preference for investing in pesos is what has caused the appreciation."
The latest strengthening of the peso comes three weeks after the US dollar dipped below 17 for the first time since 2015.
The peso has appreciated by around 15% this year after beginning 2023 at 19.5 to the dollar.
With reports from El Economista and Reuters