The purchasing power of people with US dollars in Mexico remains significantly less than it was at the start of the year, but considerably greater than it was when the peso hit its 2023 peak in late July.
If you exchange US $100 today, you should get close to 100 pesos more than you would have received just over a month ago.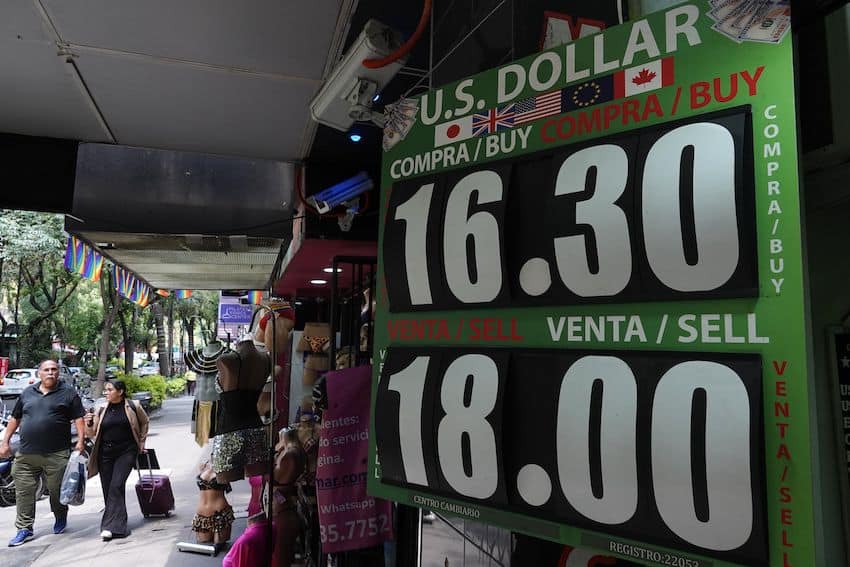 The Mexican peso depreciated for a fifth consecutive day on Wednesday, trading at 17.6 to the greenback in the early afternoon after closing at 17.42 on Tuesday, according to Bloomberg data.
Exchanging US $100 at the 17.6 rate nets the changer 1,760 pesos, whereas a transaction involving the same amount on July 28 would have yielded just 1,662 pesos based on the Mexican currency's strongest position on that date.
With a USD:MXN exchange rate of about 19.5 at the start of the year, anyone exchanging a bill bearing the likeness of Benjamin Franklin would have pocketed approximately 1,950 pesos, or almost 200 pesos more than they would get today.
The peso reached its strongest position against the US dollar since late 2015 on July 28, but weakened almost 2% in August and has continued to decline in early September.
The last time the dollar closed stronger than 17.6 was May 31, according to Bloomberg.
Analysts at Mexican bank CIBanco said that the slide of the peso that began late last week with a decision by Mexico's Exchange Commission to reduce a six-year-old hedge program aimed at reducing currency volatility "intensified" on Wednesday due to weak economic data out of Europe and China and decreased appetite for risk assets.
"The negative bias toward assets of greater risk" – such as the peso – "stems from the idea that central banks, including the [U.S.] Federal Reserve, will have no other choice than to maintain their restrictive monetary policies to avoid a rise in inflation," they said.
The peso's depreciation on Wednesday increases the probability of a "sustained depreciation in the short term toward 18 pesos per dollar," Gabriela Siller, director of economic analysis at Banco Base, said on the X social media site.
At 2 p.m. Mexico City time, the peso had appreciated slightly from today's low to trade at 17.57 to the dollar.
With reports from El Financiero