Several years ago, internationally renowned singer Susana Harp called out French designer Isabel Marant for selling a blouse that was essentially a copy of that worn in the village of Santa María Tlahuitoltepec in Oaxaca. The resulting controversy shone a spotlight on a practice that while legal, has significant cultural, political, and diplomatic repercussions.
The use of Mexican designs and motifs is a practice that long precedes the Marant incident, and there have been denouncements of both Mexican and foreign fashion houses such as Ralph Lauren, Shein, Zara, Mango and Louis Vuitton since. These denouncements are more political and social, rather than legal in nature because almost all Indigenous and traditional designs are in the public domain – at least for now.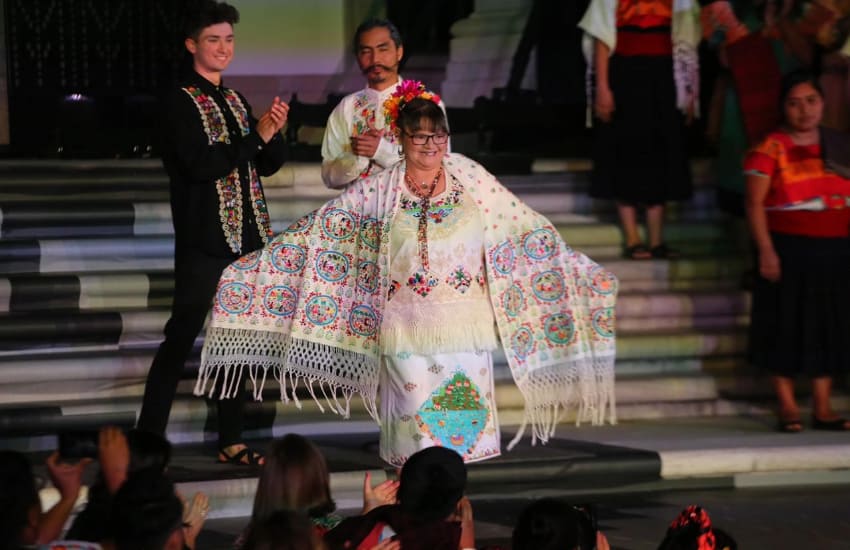 Mexico and its artisans consider their unregulated use as a threat to their culture, identity and yes, their economy. One federal response has been the founding of "Original" by the Ministry of Culture in 2021. Original calls itself a "…cultural movement that strives to protect and preserve traditional designs and symbols of artisan communities in the nation's territory." It is a collaboration among the federal government, experts and an advisory committee of artisans from all over the country. 
Its events in 2021 and 2022 caught the attention of the international press both because the controversy was still fresh and the program's novel use of fashion marketing strategies. 
These strategies include various presentations on catwalks at the former presidential residential complex of Los Pinos in Mexico City. Both artisans and professional models demonstrate traditional and innovative designs, with celebrities as hosts. Press conferences in places like the Palace of Fine Arts and photoshoots among various iconic locations in Mexico City augment these shows. The message is clear – the works of the artisans themselves are the source of value and prestige – not who puts a label on the garment. 
But Los Pinos hosts more than just catwalk struts. There are conferences and talks, which can be emotionally charged as speakers discuss the problems artisans and Indigenous communities face over the appropriation of their symbols and dress. Last year, they provided examples not only of blatant copying but very poor adaptations (like Carolina Herrera's hideous sarape ball gown) and even worse, traditionally meaningful symbols plastered over inappropriate parts of the body.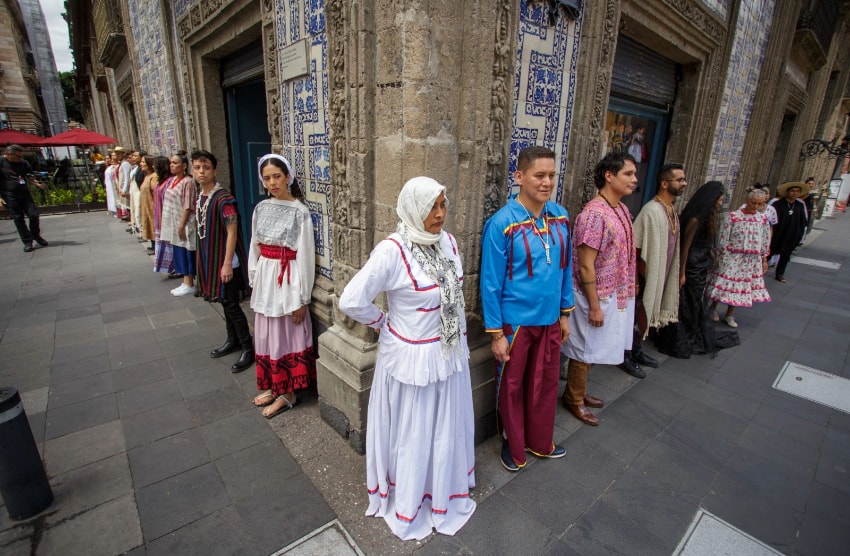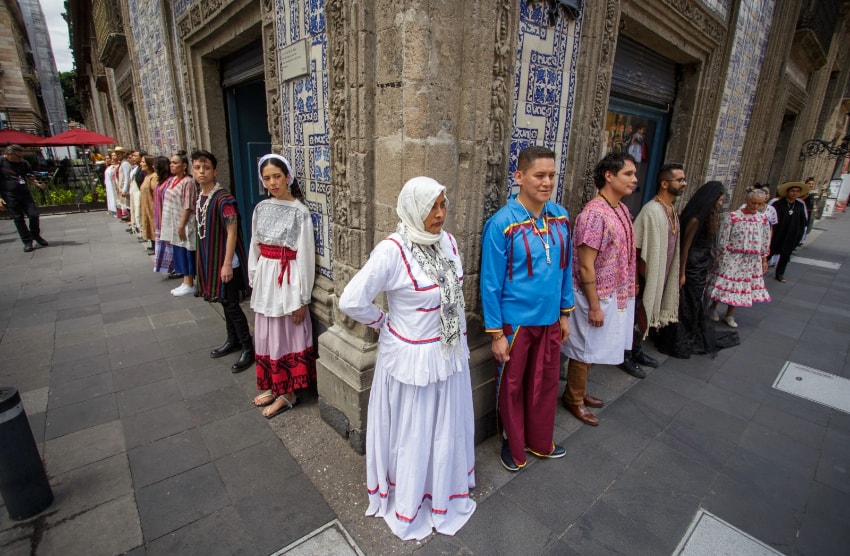 Although these issues are serious enough, there are economic concerns as well. Culture minister Alejandra Fraust states. "Taking [Indigenous designs] as if they were an object to be copied, that can be robbed and replicated simply by putting a label as if I created it corresponds to a totally individualistic vision superseding [that of the] community, respect and a recognition of those who have conserved this cultural wealth." 
Public domain laws do require attribution (which is almost never done) but also stipulate that they can be used without permission or payment of royalties. The government and artisan communities want to change this, especially considering the huge difference between what the fashion houses can charge and what artisans earn.
Last, but certainly not least, Original is one of the best sales venues for Mexican handcrafts – and textiles in particular. All of the major textile traditions are represented alongside more than a few of the less-known. Even if you manage to leave without buying something (nearly impossible), the myriad of garments for sale is an education on the richness of traditional Mexican traditional clothing. 
This year's event is scheduled for November 16-19, at Los Pinos. Now a cultural center open to the public, the site will host representatives from 349 communities from all 32 states, with new additions from Campeche, Chihuahua, Guanajuato and Hidalgo.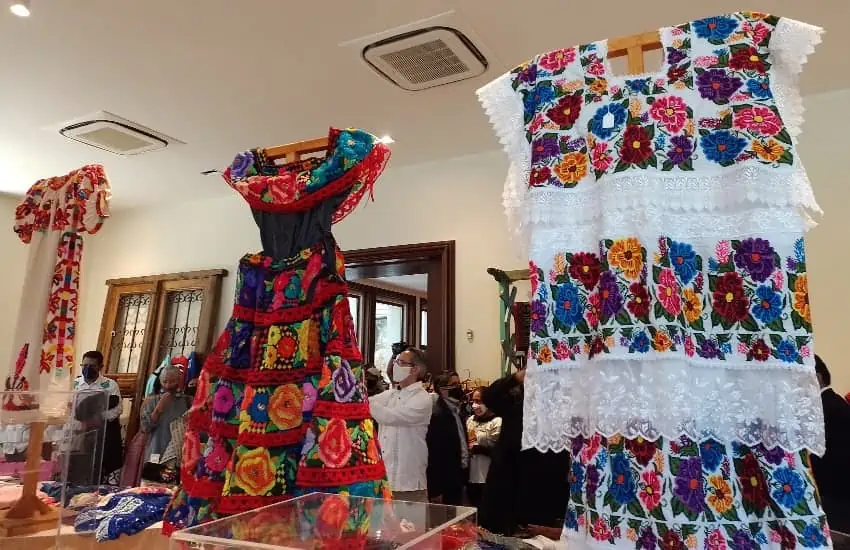 Original is more than an annual event in the capital. Over the past years, its advisory committees have visited over 1,000 craftspeople to hear their concerns, many of which relate to competing in the global market. It has sponsored marketing workshops reaching over 125,000 artisans so far. This year, it announced a partnership with Google to train artisans in using tools like Google, Google Maps and YouTube, as well as provide free formal websites.
Advisory committee member Amanda Beatriz Tah Arana of Felipe Carrillo Puerto states that "Original for me has been inspiring and beautiful, but most of all family because we continue to get to know each other, sharing experiences and knowledge with our associates and most importantly, we value the work that we do…" 
But the program faces challenges. Changing laws related to the public domain is not easy – and likely not possible in many countries. Changes in Mexico have had some unforeseen consequences. At one conference last year, a Tlaxcalan potter complained that efforts to restrict "Talavera" to only that made in Puebla threatened his family's business even though their work has been accepted as Talavara for more than 30 years. Lastly, an anonymous source told me some conservative communities are unhappy with male models in women's traditional huipiles.
It is clear that certain uses of Mexican designs and motifs are disrespectful at the very least. Even if laws cannot be changed dramatically, efforts like Original are still as important as consumer education. No one realized that Marant had copied the Oaxacan blouses because the world was not aware of the original. Such knowledge, paired with efforts to raise the prestige of owning something made by the "original" hands (rather than a machine copy) is likely to do whatever (international) law cannot. Many of these garments were (and are) luxury items historically. Raising them back to that status may be the best bet for artisans in the long run. 
Frausto acknowledges this when she says "You want to buy Mexican art? Buy [Original], which is alive."
Leigh Thelmadatter arrived in Mexico over 20 years ago and fell in love with the land and the culture in particular its handcrafts and art. She is the author of Mexican Cartonería: Paper, Paste and Fiesta (Schiffer 2019). Her culture column appears regularly on Mexico News Daily.