Oaxaca is one of the most important living repositories of Mexican traditional handcrafts. You can find families who weave, embroider, mold clay, carve wood, and more. But it is a challenge to keep this alive in the 21st century, now that younger generations have more lucrative options. Tourism, to be honest, is the only reason why handcrafts remain economically viable at all, but reaching the market effectively is a challenge for many craftspeople. Tourists from abroad are often some of the best customers as many come from countries that have lost their craft traditions to industrialization.
If Oaxaca is to maintain this vital aspect of its culture, it must support younger generations and convince them that they have a future in working with their hands.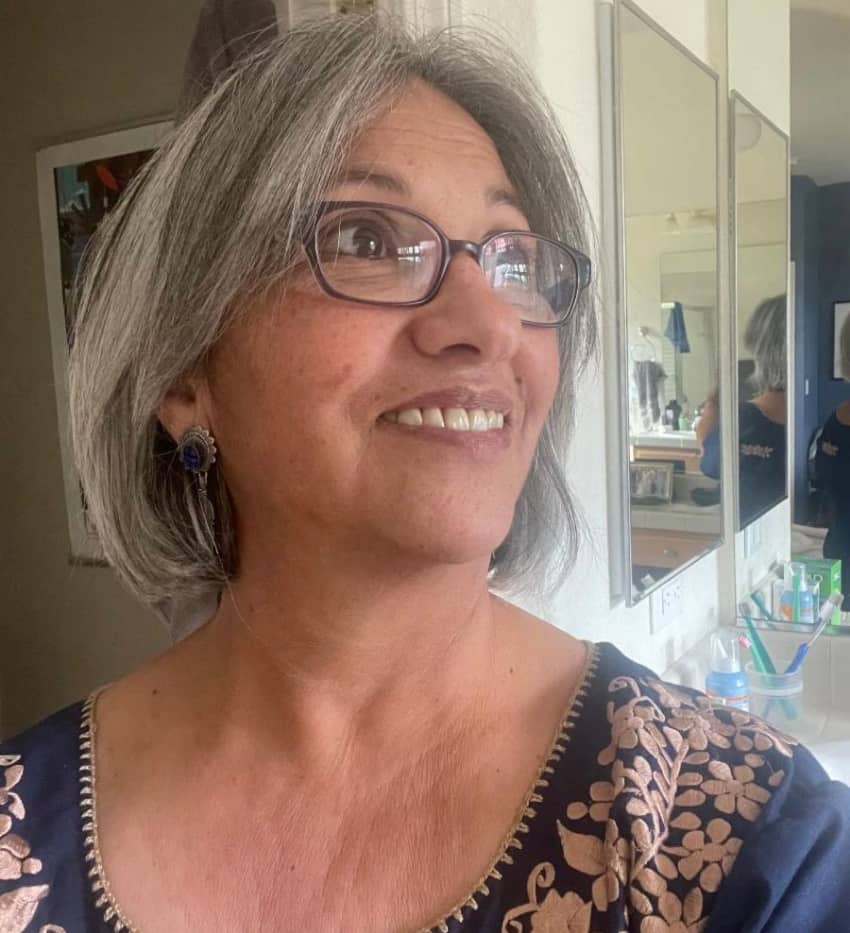 Friends of Oaxacan Folk Art is a U.S.-based non-profit that seeks to do just this. Working with local authorities such as the well-respected State Museum of Folk Art of Oaxaca (MEAPO), they sponsor programs based on the needs of the small family businesses that still produce the vast majority of traditional handmade goods. 
Perhaps one surprising offering is classes in English. This is not some hegemony but rather practical – the ability to dominate this language can be highly profitable and otherwise rewarding for the artisan. First, purchasing an authentic craft is not just buying a pretty souvenir. It is about taking home a piece of the culture and of the artisan. To fully appreciate this, the buyer needs to know something about the object, how it is made and who made it. 
Most foreign tourists will not have the Spanish to take in such stories, but most can speak English (as a native or not). Yes, this helps artisans get better prices, but program coordinator Alejandra Maudet says the ability to talk about the pieces is also personally satisfying to the artisans. "They love to talk about their crafts… how great-grandpa started this and the processes in the making. Without English, they cannot connect with a large percentage of those tourists who come out to their workshops in the villages."
A second benefit is that English opens up e-commerce opportunities. Many of the younger artisans are Internet-savvy but need to make their presence bilingual. It also gives them a distinct advantage in reaching possible foreign business partners, says writer, Latin American researcher, and tutor Randy B. Hecht.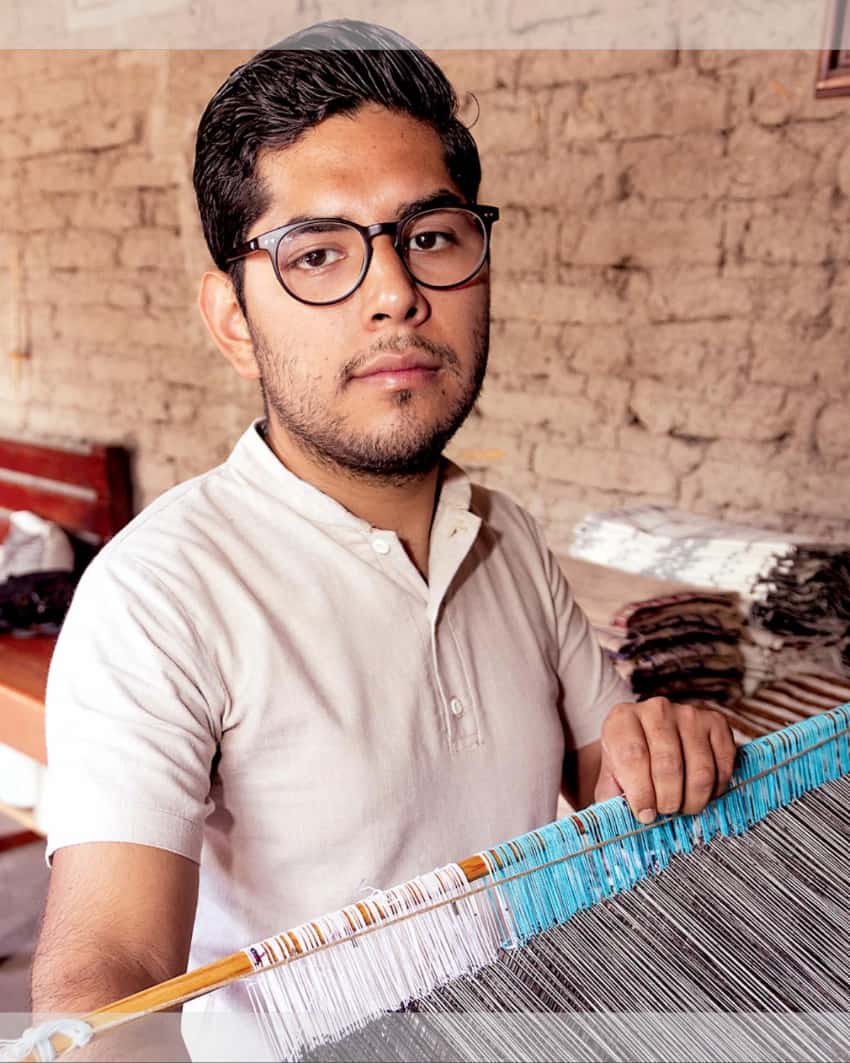 Started only recently, FOFA calls the program an "English tutoring program," focusing on pairing English-speaking volunteers with individual artisans. FOFA provides materials such as lessons and specialized vocabulary, but the goal is always that the artisans can share what is so special about what they produce. Everything is done online. 
Alejandra Maudt is the Mexican-Argentine coordinating the program from her home in Reno, Nevada. She first got involved because her husband is a folk art aficionado, and when in Oaxaca, they attended one of FOFA's artisan competitions. Impressed with what they saw, the two began interviewing artisans for the organization. With a background in education and curriculum development, she volunteered to help tutor, but FOFA offered her the coordination job. She provides tutors with support online in Zoom meetings and the creation of teaching materials. 
Feedback from participating artisans indicates that the program is reaching its stated goals. All appreciate their increased ability to communicate with the foreigners that come into their shops in ways that were just not possible before. The beneficiaries include wood carver Marco Antonio López Guzmán (tutored by Barbara Harman), ceramicist Iriana Berenice Pérez Velasco (tutored by Robert Crane), weaver Wilmer Levi Sosa Méndez (tutored by Randy B. Hecht), and ceramicist Jennifer Teresa García López (tutored by Liz Alspach).
But the artisans are not the only ones who benefit. The tutors do, too. Hecht says that she and Sosa Méndez clicked not only as students and teachers but as people. Although their four-month commitment was up last May, both continue with sessions mostly because they enjoy them. She says that tutoring him challenges her, making her "think on the fly," but "when he gets something, I could see it in his facial expression, which is so satisfying."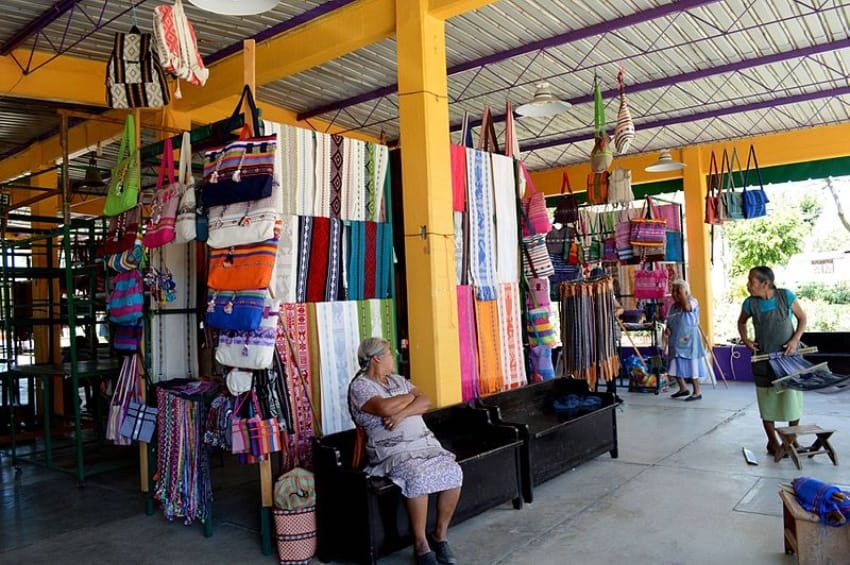 The most significant benefit to tutors is a chance to get to know someone from Oaxaca in a way that being a tourist never can… and not even needing to travel to do it. The one-on-one allows both tutor and student to form relationships that have blossomed into friendships. More than a few pairs have continued contact after classes end, including invitations to visit and meet the family. Tutors have also gone beyond classes, helping their students craft applications and more to apply for consideration with foreign entities that promote handcrafts worldwide.
So, do you want to be a tutor? The good news is that you don't need training as a teacher or know anything about Oaxaca. Alejandra and FOFA provide all materials as well as ongoing support. What is required is a desire to connect with someone from a culture different from your own and a bit of patience, both with the student's ability to communicate and, perhaps more importantly, Oaxaca's slowly improving Internet connectivity. Hecht says to anyone considering this that "…it is a wonderful way to connect with somebody you wouldn't have had the opportunity, especially if you do not leave [your home country). It is a kind of travel without leaving home."
Leigh Thelmadatter arrived in Mexico over 20 years ago and fell in love with the land and the culture in particular its handcrafts and art. She is the author of Mexican Cartonería: Paper, Paste and Fiesta (Schiffer 2019). Her culture column appears regularly on Mexico News Daily.