Alebrijes began as someone's dream.
In 1936, Pedro Linares López, a master cartonero in Mexico City's La Merced neighborhood who made piñatas, masks and other items out of papier-mache became seriously ill. At one point, he lost consciousness.
While passed out, he dreamed of strange animals including winged burros and horned chickens, all of whom he remembered to be shouting "Alebrijes! Alebrijes!" 
When he awoke, recovered, he remembered his dream and decided to bring those creatures to life, naming them for the nonsense word they had shouted. 
Linares made his new sculptures out of paper layered over a wire frame and painted them with bright colors. The technique continues to this day, and in 2019, the Mexico City government officially designated alebrijes as an example of cultural heritage of the capital.
However, alebrijes did not stay an art form exclusive to Mexico City. They also became an art form in some Oaxaca towns after residents there saw Linares' creations. But unlike his pieces, they made theirs from copal wood.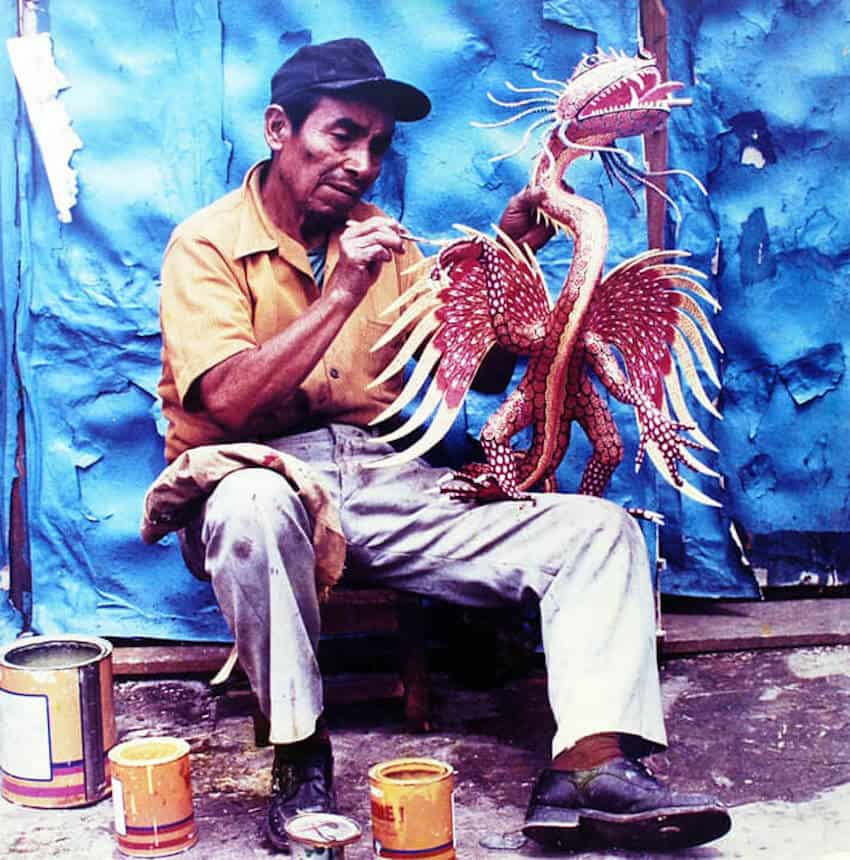 I decided to visit alejbrije artists in San Martín Tilcajete to learn how they make these unusual, beautiful figures that have captivated people around the world. Martín Melchor Ángeles and his wife Hermelinda Ortega Ramirez, alebrije artists and natives of San Martín, talked with me about their craft as they sat in front of their home. 
"Here in the town, we started making alebrijes at the beginning of the 1960s," Melchor said. "Parents were already making toys for their children using copal. In the beginning, the figures weren't painted; they were white."
Melchor worked in the fields and in construction before turning his attention to alebrijes, which he has made now for 36 years. 
"I learned from an uncle, who was one of the founders," he said. "From him, the desire to make alebrijes was born in me."
Copal is the wood of choice in the town because, as Melchor told me, it's easy to work with, and doesn't absorb paint. He selected a small piece of wood from a pile that sat under a tree. 
"I look at a piece of wood and I think, 'I can make an animal out of that,'" he explained. 
The piece he chose on this day was L-shaped precisely because he knew it would be right for turning into a crocodile. Placing it on an old tree trunk, he cut away expertly at it with a machete, chatting amicably as he carved. Melchor is an expert who can use the same machete blade to cut large, thick pieces of wood as well as paper-thin slices. 
"I make everything without a guide," he said. "My mind has the figure engraved in it." 
The most he'll do on occasion is draw a thin line with a pencil. 
"I have a design that's different from other artisans," he continued. "I make little figures on bicycles and animals and bike-taxis. I work differently because I like to and because it's something that I can sell more of." 
I mentioned that carving a figure looked very complicated.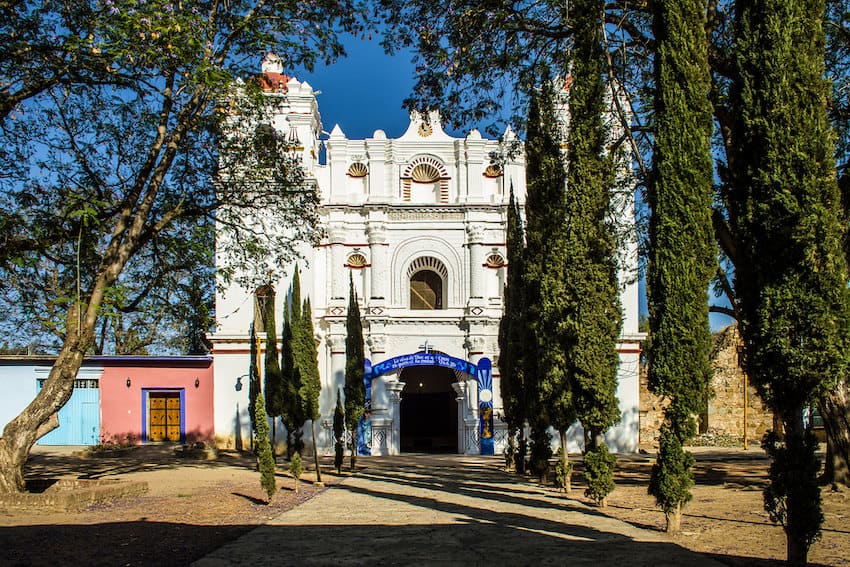 "In the beginning, yes, it was difficult to make figures," he told me, "but now, after 30 years, everything is easy."
Once the figure is carved — a process that takes a couple of hours and involves as many as six different tools — it's put in the sun to dry. After that, it's bathed in gasoline to prevent moths from burrowing into the wood and then placed in a freezer to kill any weevils that may have entered it. Finally, the figure is ready to be painted, which  takes another three to four hours.
Melchor and his wife — who helps paint his figures and also makes her own alebrijes — don't have a studio. They sell their alebrijes out of their home at Andrés Portillo #2 street and to clients who sell them in stores in Mexico and the United States.
Melchor's figures tend to be small, between 18 and 20 centimeters, and sell for anywhere between 50–60 pesos for small figures and 1,500 pesos for more elaborate pieces, like the beautiful snake alebrije he showed me. 
Not all alebrijes are as small or inexpensive: just down the street, Arturo Aguilar Melchor has a 7-foot tall figure called The Martian guarding the front of his studio. 
"This took me three days to make with a machete," said Aguilar. "This figure is in a style called rustic."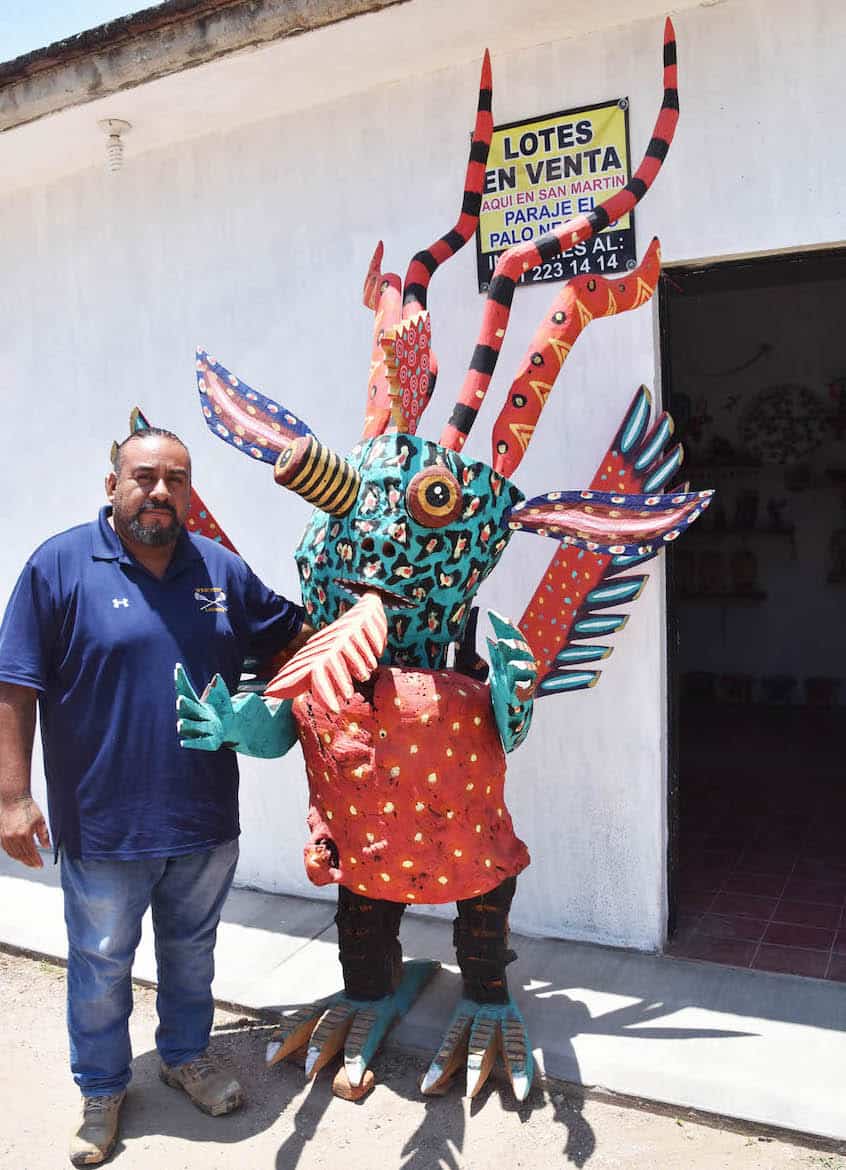 It sells for 20,000 pesos (US $1,160).
Across from Aguilar's studio, Juventino Melchor Ángeles, Martín's younger brother, was painting a figure of an animal that will form part of a band. 
"My whole family works in this craft. My children paint and I make the figures," he said. "The most popular figures are 'La Banda' — animals who are playing instruments."
About 80% of the 4,000 or so residents of San Martín make their living as artists, according to Martín Melchor. That means the streets are lined with studios and stores selling alebrijes. On weekends, a small number of artists set up tables in the park in front of the church. 
"We are here Friday, Saturday and Sunday from 10 to 6," said Plácido Melchor, sanding the figure of a rabbit. "Or until the last client leaves."
Although the majority of the town's artists focus on making alebrijes, some, like Criselda Velazco Sosa, make other items out of wood. Velazco makes small, intricately decorated mirror boxes made of pine that she paints freehand using a tiny brush and without any guides. 
"It takes about eight hours to paint each piece," she told me.
There aren't a lot of places to eat in the town. There's one family restaurant that sells quesadillas, gorditas and tacos. Los Girasoles, San Martín's only full-scale eatery, is located just behind the town hall. 
There are more restaurants and lots of food stands on Route 175, which is the main road leading to San Martín, so you can make a day of it. 
Although there are only a handful of artisans in the park most weekends, there will be 80 during Oaxaca's Guelaguetza, the city's huge annual dance festival, which will take place this year July 17–24. Plácido said that the artists will be in San Martín's park from July 14 to Aug. 1. 
Joseph Sorrentino, a writer, photographer and author of the book San Gregorio Atlapulco: Cosmvisiones and of Stinky Island Tales: Some Stories from an Italian-American Childhood, is a regular contributor to Mexico News Daily. More examples of his photographs and links to other articles may be found at www.sorrentinophotography.com He currently lives in Chipilo, Puebla.