Few things said "Americana" in the mid-20th century like John Wayne strutting into an Old West saloon and challenging the bad guys.
But would it surprise you to find out that more than a few Westerns, then and now, have been filmed in the Mexican state of Durango?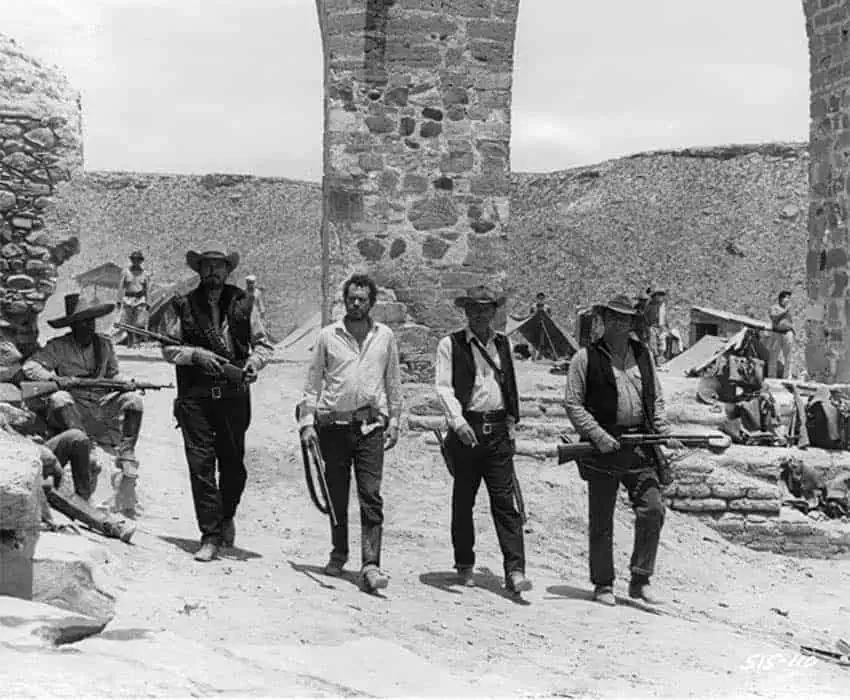 From the 1950s to the late 1970s, the state was a go-to area for filming, with just about every big star from the era spending time there. To date, the state has hosted over 150 domestic and international filming projects, the vast majority westerns.  
So why shoot such movies, which often glorify U.S. history, here? 
Quite frankly, economics. Even in those days, the difference in labor, lodging and other logistical costs more than offset travel expenses from California. Durango also has a wide variety of micro-climates that mimic various parts of the western U.S., but within less area.
Durango's heyday began with the 1954 film "White Feather," starring Debra Paget and Robert Wagner, which quickly alerted the rest of Hollywood of the advantages of filming there.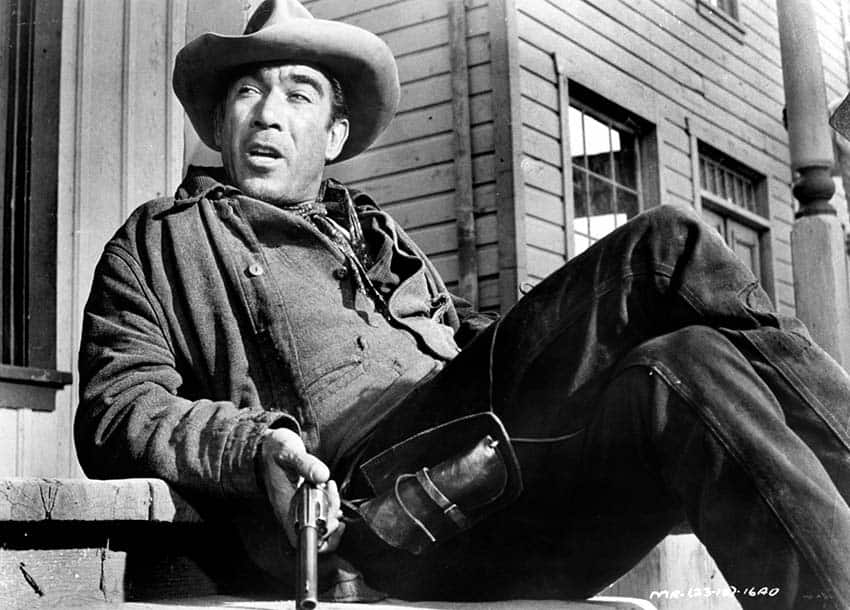 During westerns' golden age, Durango hosted many movies — all or in part — including "The Tall Men" (1955), "Guns for San Sebastian" (1968), "The Good, The Bad And The Ugly" (1966), "The Wild Bunch" (1969), "A Man Named Horse," (1970), "Pat Garret & Billy the Kid" (1973), and "Goin' South" (1977), bringing actors like (Mexico-born) Anthony Quinn, Glenn Ford, Clark Gable, Sidney Poitier, Rock Hudson, Susan Hayward and Jack Nicholson. 
John Wayne alone had a huge impact here, filming the "The Sons of Katie Elder" (1965), "The War Wagon" (1967), "The Undefeated" (1969), "Chisum" (1970) and "Cahill U.S. Marshal" (1973) here.
One drawback to Durango was that most of its architecture does not match that of mission or "gringo" wood-slat construction. Hollywood compensated by building sets in various parts of the state, particularly in the Guadiana Valley just north of Durango city. 
The golden age of the western died with Wayne in 1979, with Durango's film industry struggling ever since.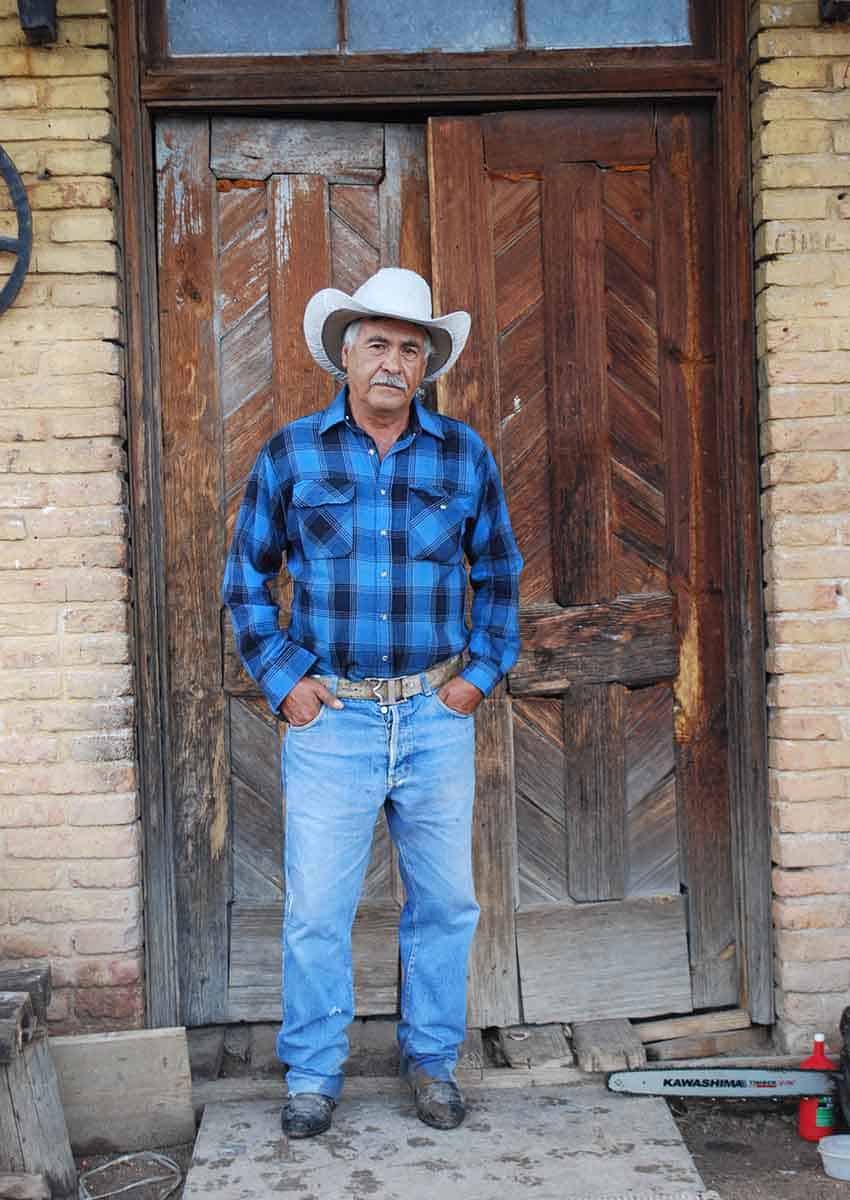 Later projects filmed in Durango included non-Westerns like "Caveman" (1981) with Ringo Starr, "Revenge" (1990) with Kevin Costner, and "The Mask of Zorro" (1998) with Antonio Banderas.
However, when Hollywood does shoot a western, Durango is on directors' shortlist, with films like "Wagons East" (1994), "Bandidas" (2006), and the "Texas Rising" television miniseries (2015). Currently, Viggo Mortensen (of "Lord of the Rings" fame) is directing and starring in "The Dead Don't Hurt," scheduled for release later this year. 
Mexico has had its own acclaimed movie industry since the late 1930s, producing actors, writers and more. Durango actress Dolores del Río was one of the most beautiful in Hollywood in the 1940s. Mexico City-based producers began filming in the state around the same time and still regularly film movies, television shows and commercials there. 
But cinema is a fickle business. Not only do audiences' tastes change, but other places in Mexico such as Baja and Mexico City now woo film projects, providing backdrops that Durango cannot, and better infrastructure. Durango was particularly appalled when Banderas' 2003 film "And Starring Pancho Villa as Himself" was filmed in San Miguel de Allende, Guanajuato, given that Villa was Durango's native son. 
The death of John Wayne hit Durango hard, especially his La Joya ranch, just north of Durango city. Wayne bought the extensive property with flatlands, tall rock peaks and even a waterfall in the late 1960s to develop his later movie projects.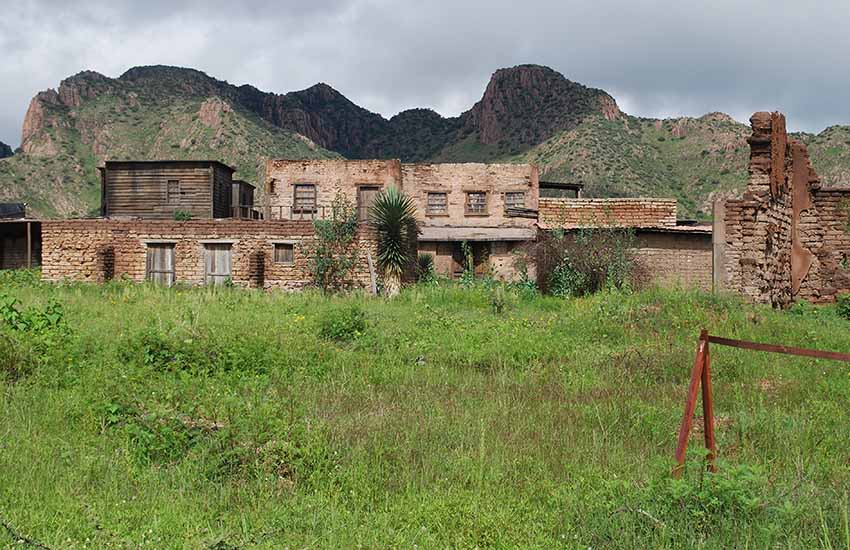 After his death, his family never claimed the land, and no films were shot there until Bandidas (2006), after the Lozoya family, who had worked there, succeeded in gaining the property title. 
Film projects are still important for La Joya and the rest of Durango today, even if they can temporarily displace entire communities. They provide windfalls of income for local businesses and residents hired as crew and extras.
Local papers are all over the story when a new project is announced and are as persistent as any Hollywood reporters with visiting stars (supposedly much to actor Brendon Fraser's dismay when he was filming "Texas Rising)" here. 
But Durango still struggles with how to promote itself as a film location in the 21st century, still pushing its past Hollywood glory and its "most beautiful sunlight in the country." This has the effect of keeping its reputation as a niche location for westerns these days.
But the natural beauty, and even some of the old sets, are still here to discover, most of which have not changed much since John Wayne strutted around here. They include the arid La Perla in the Nazas municipality; the river and reservoirs of Los Salones; the Saltito waterfall; the wind-rounded rocks of mountainous Mexiquillo; and the sinuous and treacherous highway aptly named Espinazo del Diablo (Devil's Spine).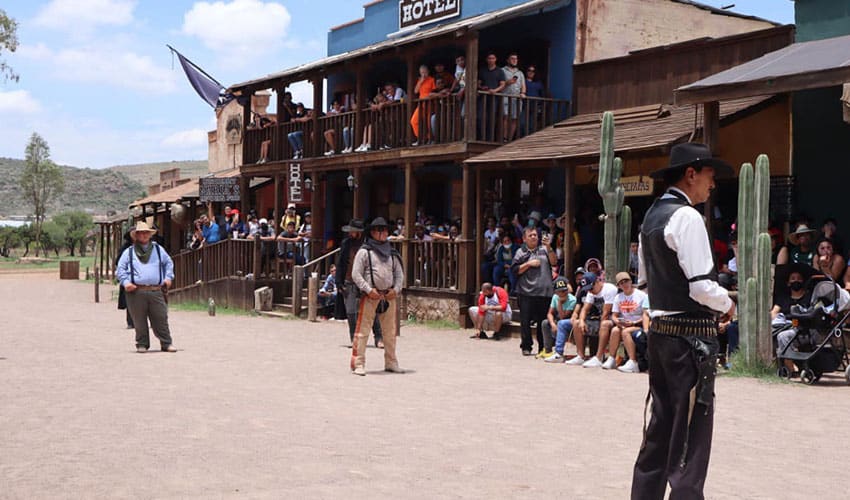 Although many sets were constructed in various parts of the state, three remain economically active. Both the La Joya Ranch and Chupaderos have "lives" beyond filming movies with people living and working in them (of course, when there is no filming). Calle Howard was revamped into a tourist attraction called Paseo de Viejo Oeste, complete with kitschy cowboy-and-Indian shows. 
For old movie buffs, Durango is certainly an interesting place to explore, and the various filming locations a good way to get to see what the state has to offer. The capital has an annual Festival de Nuevo Cine Mexicano, a cinematic library and a movie museum, Museo Temático de Cine de Durango. It is easiest to get to from Mazatlan, but the long drive from Mexico City is interesting in its own right.
Leigh Thelmadatter arrived in Mexico 18 years ago and fell in love with the land and the culture in particular its handcrafts and art. She is the author of Mexican Cartonería: Paper, Paste and Fiesta (Schiffer 2019). Her culture column appears regularly on Mexico News Daily.