When U.S. tile artist Isaiah Zagar began his first projects in Mexico, little did he know how far his students would take what he taught them – both literally and figuratively. 
From Puebla to Iowa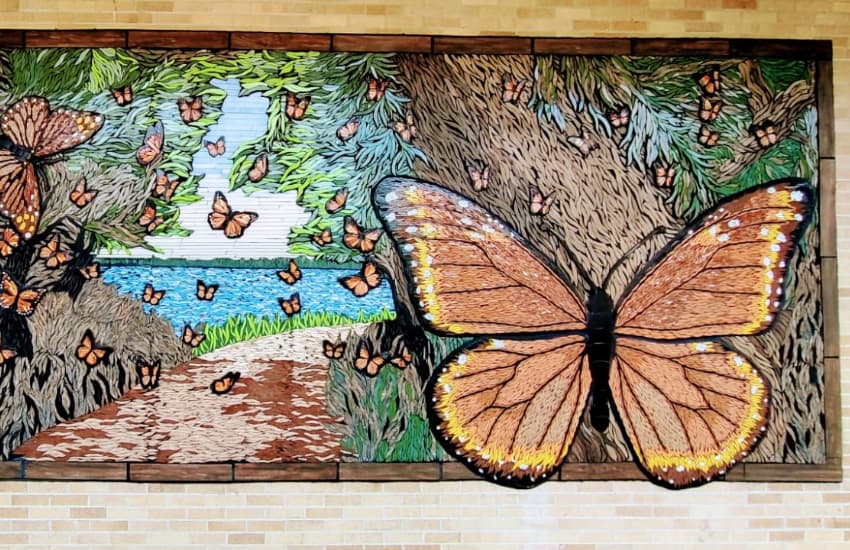 A mural in the tiny mountain town of Zacatlán, Puebla sparked the establishment of Vitromurales, a non-profit dedicated to transforming derelict walls into works of art that bring locals together and tourists to see what they create. 
They refined Zagar's techniques to create their own unique style, which captivated art lovers in another small town far to the north – Storm Lake, Iowa. Witter Gallery board member Patricia Hampton was so blown away by what project coordinator Maricarmen Olvera Trejo and her team accomplished that she knew she wanted to create something similar there. 
This month, a mural dedicated to monarch butterflies and Storm Lake's immigrant communities was unveiled at the town's Buena Vista University. It was a natural combination as the town is on one of the insect's migration routes between Canada and Mexico, and half the town speaks a language other than English. 
The Buena Vista mural is the largest project completed so far by Olvera Trejo and her crew, but it's by no means the only one. Previously, the Zacatlán artists coordinated various projects based on local culture and scenery. This includes a portrait of Pulitzer-prize-winning journalist and resident Art Cullen, who was left "speechless" by his likeness in cut tile but did write in an op-ed that the work opened possibilities to "…transform [Storm Lake] by public art."
The role of philanthropist Dick Davis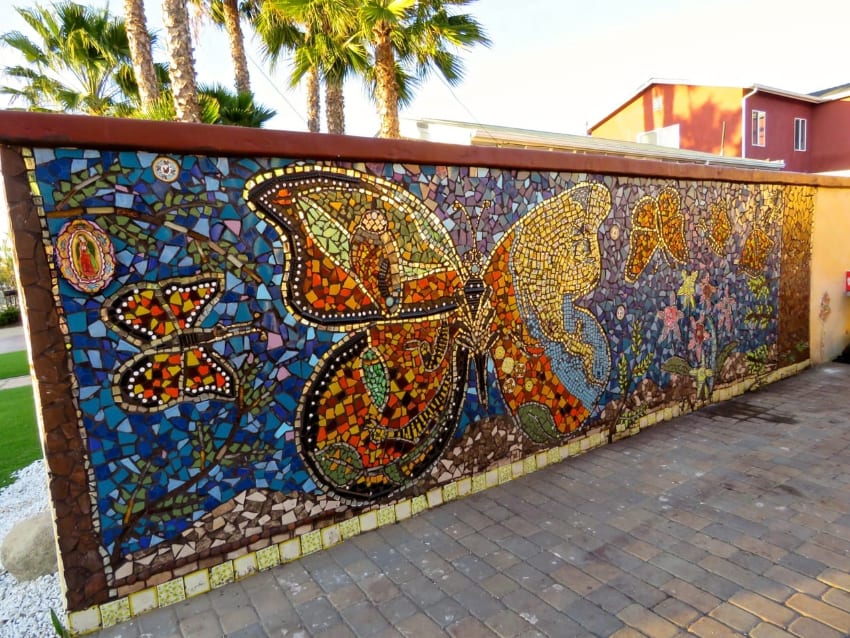 Serendipity played a role in bringing these two towns together, but it wasn't magic. The catalyst for these projects is retired stockbroker and philanthropist Dick Davis. He met Maricarmen Olvera Trejo during his travels in Mexico and later artist Isaiah Zagar in Philadelphia. 
It was his idea to do the first mural in Zacatlan, but Olvera Trejo's tireless advocacy got residents to help embrace tile art. 
Davis' meeting with Storm Lake's Patricia Hampton was also by chance, and he wasted no time presenting the Zacatlán community's accomplishments. 
While Storm Lake has truly embraced the concept of community transformation through tile work, the murals here are not the first that Davis has sponsored in the U.S. 
Tile murals in California and Arizona
After Zacatlán put Vitromurales on the map, Davis arranged for the artists to create a bear-themed mural for the Vallejo Charter School in his home state of California. The purpose was to promote the art and cultural exchange that happens naturally as Mexican artists work with U.S. counterparts and the general public. 
In addition, he tapped San Luis Potosí artist Marisa Martínez to create murals in Carlsbad and Alleghany. Her work with Davis began with a project to cover a fountain in her city's iconic Tangamanga Park, impressing Davis with her advocacy for tile work in the state. 
The Carlsbad mural, called The Monarch Migration Wall Mural, was co-sponsored by Butterfly Farms in Vista, California. Its theme is the conservation of the Western Monarch butterfly, which migrates to the coast of California instead of Mexico. The project's novelty initially caused some confusion, with participant Monica Mier noting that "A neighbor thought we were creating graffiti and protested." But with the mural now well-established, "People drive by and stop."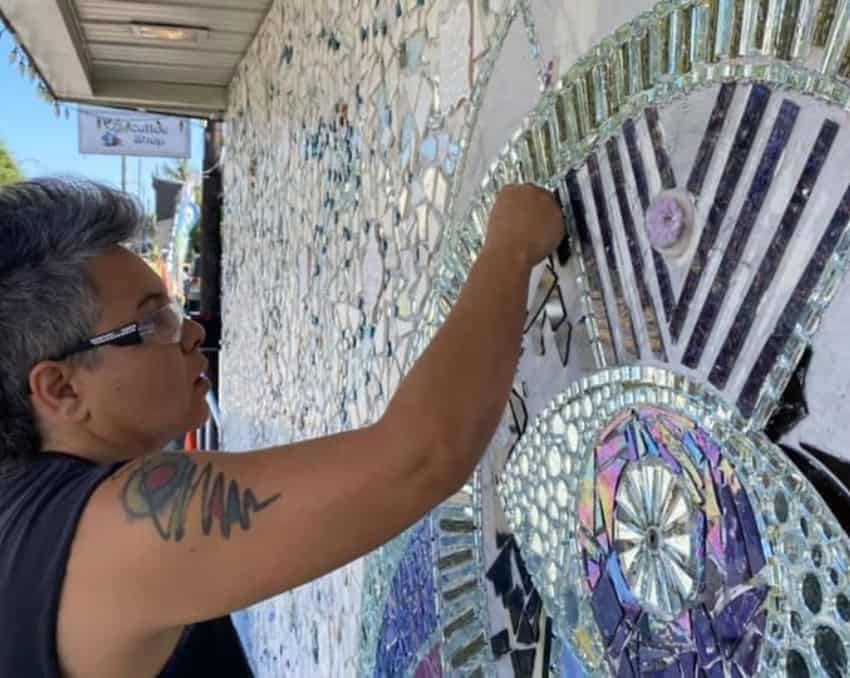 The Alleghany mural is located in a near-ghost town in Sierra County and is dedicated to the area's mining history. 
Martinez has not limited herself to work sponsored by Davis. Through personal connections, she was invited to create a surrealist-inspired mural on the cinder block wall surrounding a private home in Laveen, just outside Phoenix, Arizona. This mural is called Árbol de la vida or Tree of Life, based on the planet's animal life. In the center of this mural is "…the Eye of God, which sees all," says Martínez. The home's owners were so impressed with the work that she will be completing a second piece in December in a similar style. 
From Puerto Vallarta to Pennsylvania
Martínez is not the only artist to find opportunities on her own. Natasha Moraga runs a community-based tile mural program in Puerto Vallarta that has transformed a number of the city's iconic sites. Although not connected to Davis, she did get her original inspiration from Zagar and his work.
CoExist Gallery owner Shawn Gold came across Moraga's work in Puerto Vallarta and knew he had to do something similar on his building in the former steel town of Steelton, Pennsylvania. He contacted the artist and the two began setting up a project that would not only cover three sides of Gold's building but adapt the history and culture of the community.
The design of the finished project was a collaboration among Moraga, glass artist Carrie Strope of Calyx Glass in Nebraska, and members of the Steelton community who submitted ideas. In addition, a local company donated a piece of steel forged in the town that once formed part of the Golden Gate Bridge.
Completed in 2021, the community aspect was just as important to Gold as the art. "We want[ed] to bring the community together and provide a sense of ownership… something that a lot of people could contribute to." 
Why murals in the US?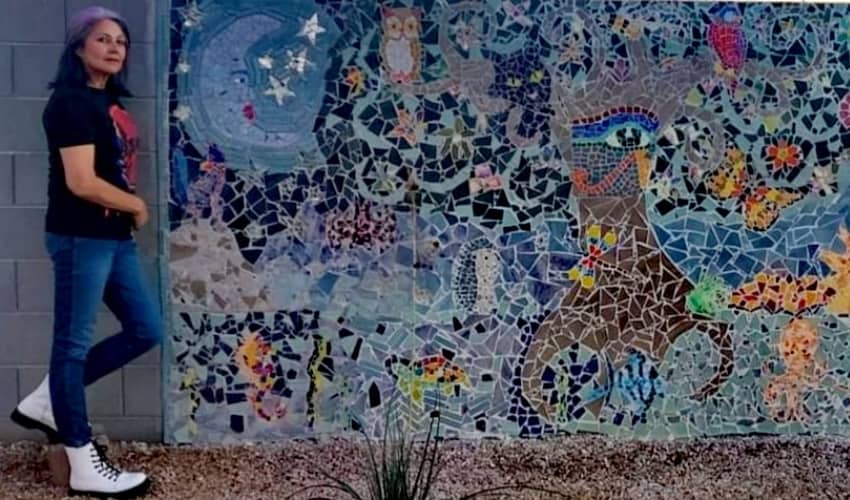 For the communities receiving the murals, the attractions include the durable beauty of the tile as well as the impressive ways that Mexican artists have found to refine the techniques taught by Zagar. 
The human connections created through these projects are just as important. Artists in the U.S. are introduced to what the Mexicans have developed, with some receiving benefits that have nothing to do with art. Buena Vista University Spanish students took advantage of the Zacatlán artists' presence to practice their language skills, and another group of students will head to Puebla in the spring to do the same. 
Participating physically in the projects is not practical for the long-retired Davis, but "… the artists create and work, that gives me a vicarious feeling as if I'm engaged, rocking and rolling!" He adds, "I support public art, cultural preservation, and cultural exchanges that transform communities and neighborhoods."
Leigh Thelmadatter arrived in Mexico over 20 years ago and fell in love with the land and the culture in particular its handcrafts and art. She is the author of Mexican Cartonería: Paper, Paste and Fiesta (Schiffer 2019). Her culture column appears regularly on Mexico News Daily.