Mexico's most distinctive holiday is here. A week of festivities culminates on Nov. 2, when the nation celebrates Day of the Dead. The annual honoring of departed ancestors sees families across Mexico visit cemeteries to leave offerings for lost loved ones, and gather as a family to enjoy communal meals and traditional pan de muerto (bread of the dead).
But besides being a sacred tradition, Day of the Dead is also a significant economic driver. According to the Tourism Ministry, this uniquely Mexican celebration is a major draw for foreign tourists. Family reunions also increase domestic tourism, as well as spending on food, offerings, costumes and events.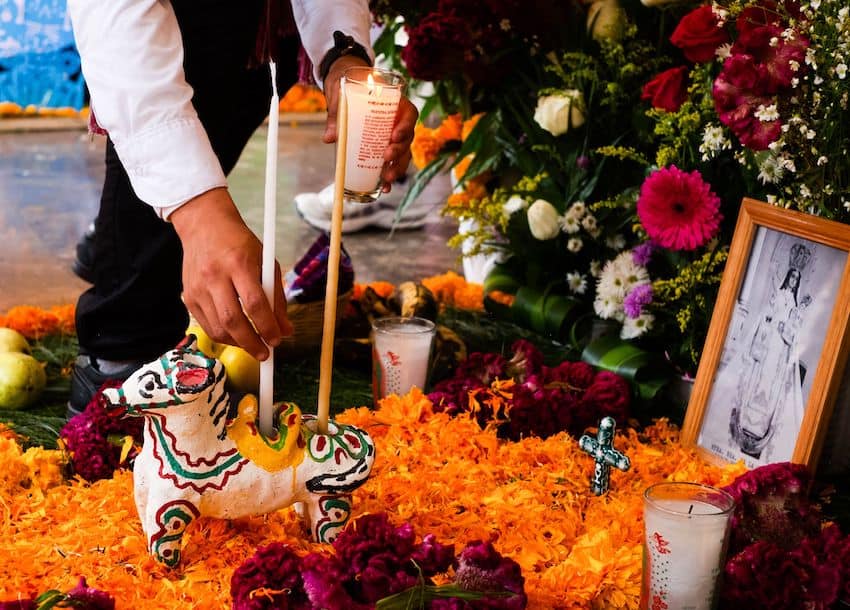 So, what is the impact of Day of the Dead on Mexico's economy, and the finances of Mexican families? This edition of Mexico in Numbers breaks it down.
How many Mexicans celebrate Day of the Dead?
According to a Statista survey conducted in Mexico between October 2019 and March 2020, 91% of respondents said they celebrated Day of the Dead. Given that Mexico's population is about 127.5 million, that's 116 million people – plus foreign visitors.
A survey by the National Alliance of Small Merchants (ANPEC) found that 70% of Mexicans consume pan de muerto, 50% put up an altar, and 15% take offerings to their loved ones in the cemetery.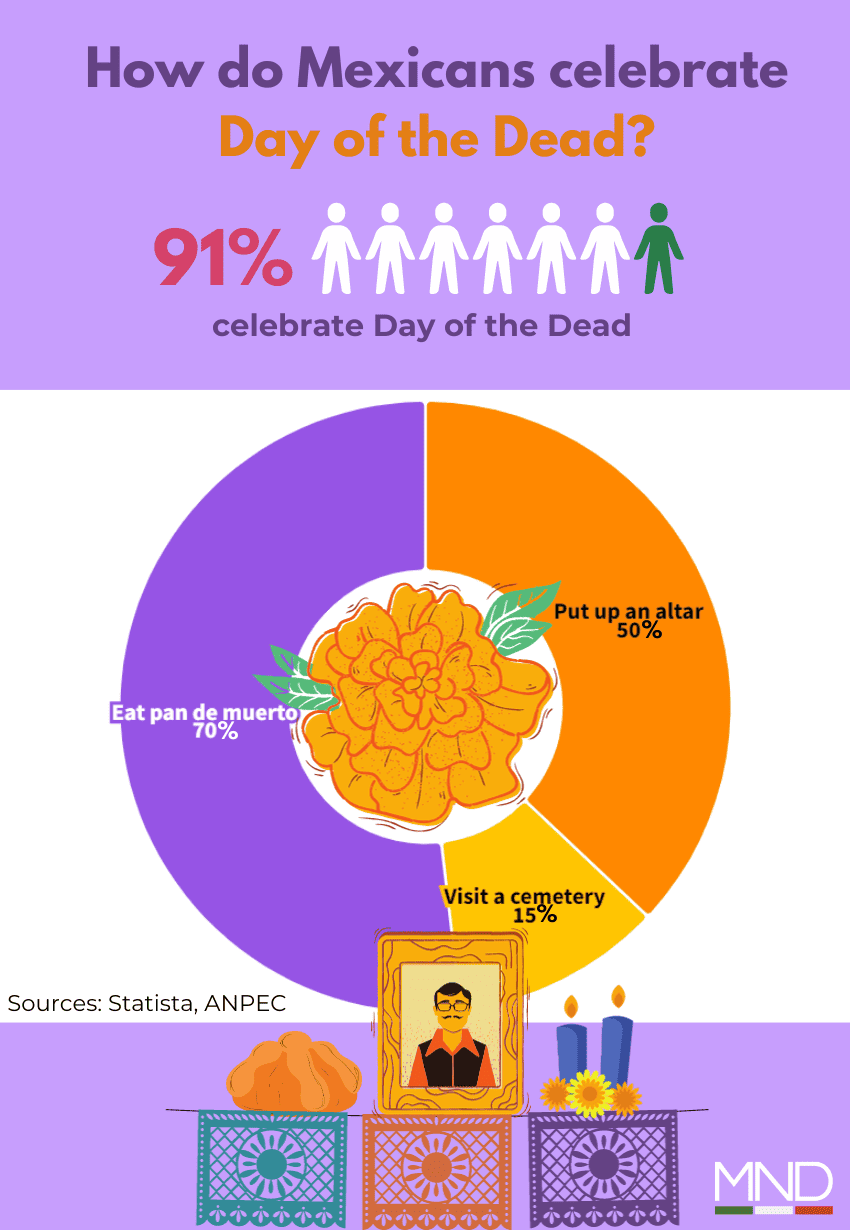 How much is the average family expected to spend on Day of the Dead?
ANPEC's survey found that the average Mexican family spends between 1,100 and 1,500 pesos (US $61) on Day of the Dead, broken down as follows:
–        Food and traditional dishes: 350-400 pesos (US $19-22)
–        Ornaments: 250-300 pesos (US $14-17)
–        Candles: 150 pesos (US $8)
–        Transport: 250 pesos (US $14)
Many families spend much more, especially if they travel, hold a traditional large family meal or throw a Day of the Dead party. A typical meal may cost up to 1,500 pesos (US $61), while a party for ten may cost up to 2,000 (US $110).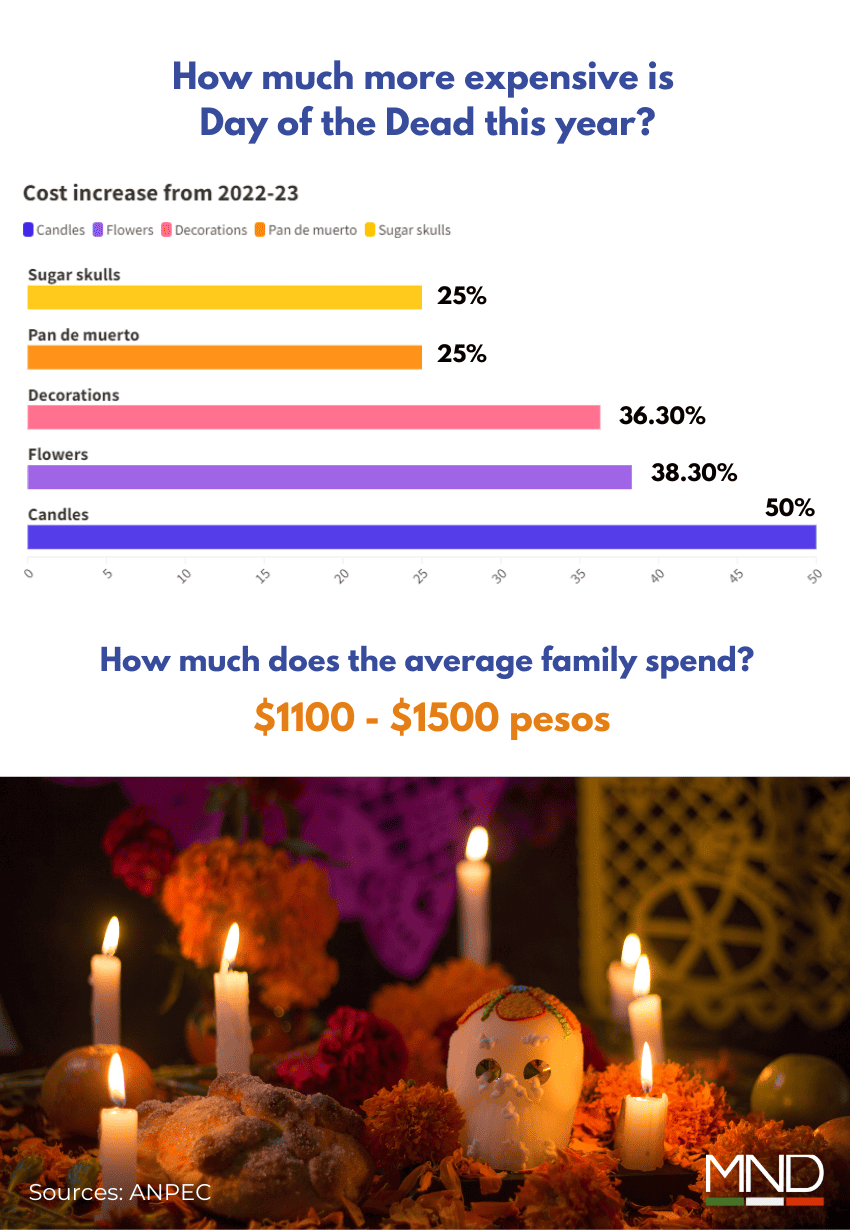 How much more expensive is it to prepare an altar this year?
Inflation has pushed the average cost of Day of the Dead altars up 30% from 2022, says ANPEC. The cost of candles has increased by 50% from last year, flowers by 38.8%, decorations by 36.3%, and pan de muerto and sugar skulls by 25%.
How much revenue will Day of the Dead generate in Mexico?
Nationwide, Day of the Dead is expected to generate 41.2 billion pesos (US $2.28 billion) in tourist revenue this year, according to Tourism Minister Miguel Torruco Marqués. The figure includes hotel costs for an estimated 2.37 million tourists, as well as travel costs for 4.44 million Mexicans visiting family.
In Mexico City alone, authorities have estimated that Day of the Dead activities will generate 11.2 billion pesos (US $623 million). This includes 2 billion pesos (US $109 million) in hotel costs, $1.9 billion pesos (US $104 million) from cultural events, 1.7 billion pesos (US $93 million) from local visitors, 4.3 billion pesos (US $238 million) from offerings, and 1.2 billion pesos (US $65 million) from costumes.
With reports from Expansión and El Economista