With all the coconuts along Mexico's coast, you might think the tree is a native, but not so.
Their existence here is a testament to Mexico's colonial connection to Asia, which links two very different beverages in Mexico: Pacific coast tuba and the iconic mezcal/tequila. 
Spain's conquest of Mexico and the Philippines led to a lucrative sea trade route called the Manila Galleon. It existed to move Asian luxury goods and silver, but it also brought a wave of new foodstuffs to Mexico and about 5,000 mostly Filipino immigrants. 
With them, they brought the coconut tree, an important source of building materials, as well as food and alcohol. The new flora did so well that coconut plantations quickly sprung up in the state of Colima and elsewhere, crowding out most of Mexico's native palms. 

To protect certain agroindustries in the motherland, the Spanish crown prohibited the production of alcohol and cooking oil. As part of those prohibitions, Spain ordered Mexico to fell all coconut trees in 1612.
In the end, Madrid neither eliminated the coconut tree nor the making of alcoholic beverages, but the laws did have long-term consequences.
One consequence is that records on this history are spotty and inaccurate. Vino is translated as "wine" in English, but by extension, the Spanish used it to refer to alcohol in general, no matter how or from what it was made. So, many records referred to both fermented and distilled coconut alcohol as "vino de coco."
Filipino-derived words are better for distinguishing what is being discussed. The Tagalog word ubâ refers to the fermented sap of the coconut tree, which eventually changed in Mexico to tuba. The drink lambanóg is ubâ distilled — a process Mexico's pre-Hispanic people have traditionally been thought not to know how to do until the Spanish taught them.
But many pre-Hispanic groups had known about the sugars in cooked agave hearts, and at some point, the Mongolian still, an Asian still, was adapted to this process of turning agave hearts into an alcoholic beverage — nowadays, mezcal. 
Today the Mongolian still can be found in use as far away from Colima as Oaxaca and Durango and San Luis Potosí.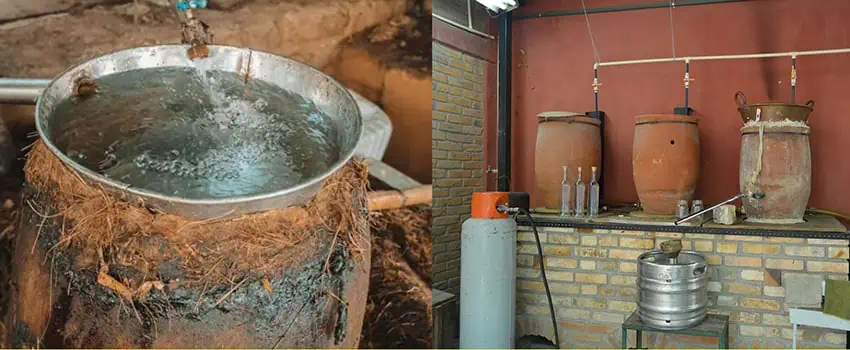 Most in Mexico have forgotten the Asian origin of the still and associate it with Mexico's indigenous groups. But its existence in Mexico carries a potential implication that intrigues some historians: did indigenous Mexicans learn how to distill agave hearts into mezcal not from the Spanish but from Filipino migrants? 
If Mexico's indigenous people learned distillation from the Spanish, it seems likely that the traditional still here would be closely related to Arab and European stills, which favor the use of an exposed coil rather than a pan of water. Furthermore, more recent historical research seems to indicate that mezcal is the "godchild" of lambanóg. In 2007, researchers from the Yucatán Center for Scientific Research in Mérida presented a study that asserted to show from botanical, archaeological, and ethnohistoric data that agave distillation began in Colima in the 16th century through adaption of Philippine coconut spirits distillation techniques.
Oddly, current coconut-based drinks and other preparations to be found today on Mexico's coasts are new inventions mostly inspired by tourism. Coconut palm sap seems to still be collected in Mexico, and there is a drink called tuba in coastal Jalisco and Colima — but it is not ubâ.
The drink is a sweet cocktail that almost certainly has coconut milk, ice and sugar, often topped with nuts and/or dried fruit. It may or may not contain the sap of the coconut tree, fermented or not. If Mexico's tuba has alcohol in it, it's very low, much like ubâ.
Authentic or not, tuba is an extremely important part of Colima culture, available on just about every corner. The drink has been so nativized in Colima that most believe that it has pre-Hispanic origins. One vendor in Colima city told researcher Paulina Machuca, writing in the academic publication Encartes, that even King Colimán — the pre-Hispanic leader of the indigenous Colimas — drank it.
Lambanóg seems to have completely disappeared in Mexico. All that is certain is that no one produces or even experiments with a distilled coconut liquor today, according to Mechuca in her 2018 book "El vino de cocos en la Nueva España. Historia de una transculturación en el siglo XVII. (Coconut wine in New Spain: History of a 17th-Century Transculturation)."
It is relatively certain, she says, that lambanóg went into decline by the end of the 17th century, but the lack of records means that it could have disappeared anytime from the 18th century to early 20th. Why is not known either. It may have been the combination of multiple factors.
For one thing, agave grows over most of Mexico and, until recently, was easily harvested wild. The ban on coconut palms meant that other crops took their place for much of Mexico's modern history. Another is that early Filipino migration ended by the late 17th century. Since then, their descendants have assimilated into the general population.
The coconut and its commercial cultivation has not experienced the comeback that the wine grape has in recent decades. Mexico is the seventh largest producer of coconuts in the world, exporting to the United States and elsewhere. However, it contributes less than 1% of Mexico's total agricultural GDP.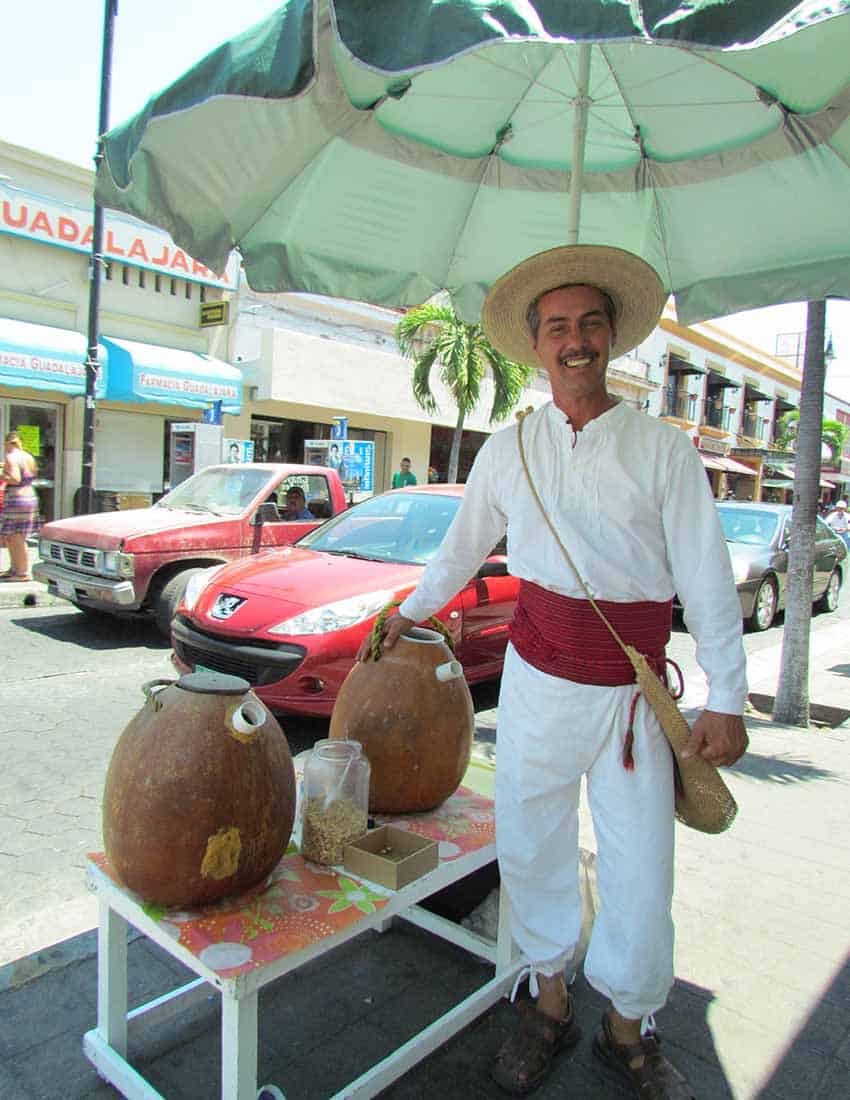 The lack of academic interest in the coconut and its alcoholic derivatives is notable, especially compared to the documentation on mezcal or the pre-Hispanic fermented alcoholic beverage pulque or even beer. But this is changing in places such as the University of Guadalajara and the Colegio de Michoacán.
Mechuca feels that a renewed interest in coconuts historically and commercially is important, but "we need to make sure that new economic projects, [including a revival of lambanóg] does not damage the environment and benefits [local] communities…"
Leigh Thelmadatter arrived in Mexico 18 years ago and fell in love with the land and the culture in particular its handcrafts and art. She is the author of Mexican Cartonería: Paper, Paste and Fiesta (Schiffer 2019). Her culture column appears regularly on Mexico News Daily.